Coronavirus: Thousands queue for face masks in HCM City

Thousands of people queued for hours on Ho Chi Minh City's Nguyen Gian Thanh Street to buy face masks on February 16.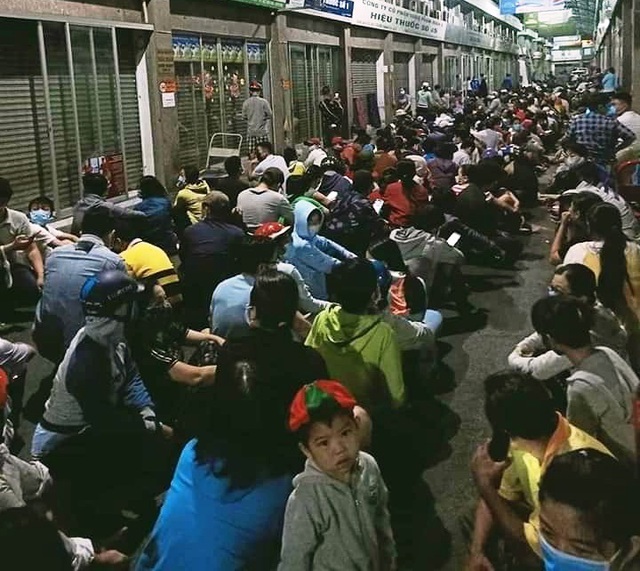 Thousands queuing for face masks on February 16
Nguyen Hong Van from District 3 said she read about the sale online but when she arrived at 7.30 am, she saw many people that failed to buy face masks.
"The notice said face masks would be sold at 7.30 am but when I came, they were all sold out. Face masks are sold for VND400,000 (USD17) or VND500,000 each box of 50 masks online," she said.
Nguyen Nhung said she bought two boxes and a hand wash bottle for a total VND115,000 (USD5) but she arrived at 3 am.
"When I came there at 3 am, hundreds of people already in the queue. At 5 am, the shops stopped receiving more customers since there were already 1,000 people. They started selling each person two boxes of face masks and a hand wash bottle then," she said.
Hoang Thi Lam said she was afraid of going to crowded places but she was willing to queue with hundreds of other people in order to buy masks for her daughter who is an operator.
Only people who arrived before 5 am were able to buy face masks, thousands of other people had to return home disappointedly. Many shops are selling high-quality face masks that cost VND40,000 (USD0.7) to VND50,000 each. The American-made masks can cost up to VND100,000 each. The prices are even more exaggerated on the internet as a bulk of 50 boxes of face mask is sold for VND23.5m.
Pham Khanh in District 10 said, "I wonder how many people in the queue are in real need of face masks and how many just want to buy face masks at cheap prices to resell them. People should be more aware of the situation and sharing with each other."
Firms in HCM City are speeding up their face mask production. Ton That Thinh, representative of Quang Thinh Pharmaceutical and Medical Equipment JSC, said they were manufacturing nanosilver face masks that can be washed five times and used for a month.
"We are making 2,000 masks a day and aim to make 5,000 masks in the future. Each mask will be sold at VND26,000 (USD1)," he said.
Many face masks manufacturers in HCM City also complained that even though they sold the masks to the pharmacies and shops at right prices, the shops then overcharged customers.
According to the HCM City Customs Department, over 36 tonnes of face masks were exported via Tan Son Nhat Airport from January 30 to February 4. The masks were mostly exported to China, Hong Kong and some were exported to Singapore and Malaysia.
Face masks are exported by air after the coronavirus outbreak emerged in Wuhan. Dtinews

The Vietnam National Textile and Garment Group (Vinatex) is exerting efforts to produce around 6 million antibacterial face masks in February to meet increasing demand amid the novel coronavirus disease (COVID-19) outbreak.

Many textile and garment businesses are scrambling to make face masks given the coronavirus outbreak-triggered lack of surgical masks.