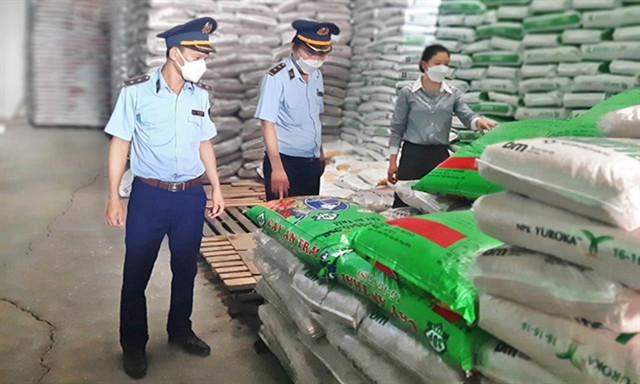 Market management force inspects a fertiliser warehouse. The General Department of Market Management said fraudulent trade was growing quickly in the first half of the year.
Counterfeit products have been witnessing an upsurge recently as counterfeiters move online to hide behind the anonymity of the Internet.
Tran Huu Linh, Director of the General Department of Market Management, admitted that fraudulent trade was rampant in the first six months of 2022.
The department inspected 30,000 facilities and detected 17,300 counterfeiting cases, imposing total fines of VND113 billion (US$4.8 million). Of which, 54 cases were reported to the police for further investigation.
Counterfeiters target a wide range of products, from cigarettes and cosmetics to petrol and fertilisers. They leverage e-commerce to conceal their illegal practices and have delivery firms transport their products without the firms' knowledge of inauthenticity.
"Many consumers are ready to buy an item they know is a knockoff to have a cheap copy of a brand name. Fraudulent trade is hard to root out", he explained.
Nguyen Huu Tuan, Head of the E-commerce Management Office under the Ministry of Industry and Trade, underscored the uncooperativeness of many genuine firms as a factor encouraging fraudulent trade.
"Firms know that their products have been counterfeited, but they cover it up. They sometimes appear uncooperative, withholding vital information from the authorities," he said.
The head urged firms to rely on technology to defend themselves commercially. He suggested anti-counterfeiting stamps and tracking codes to help consumers spot genuine products more efficiently.
He also called on consumers not to buy name-brand products for pennies on the dollar since such purchases incentivise counterfeiting.
Pham Quoc Loc, Director of the URC Hanoi Factory, was concerned that counterfeiting had been causing substantial financial damage to consumers and reputational damages to producers.
To keep the issue in check, he revealed that his factory had invested massively in technology to produce packaging that is difficult to counterfeit.
It has also launched media campaigns to help buyers distinguish between fake and genuine products.
Additionally, it has cooperated closely with the authorities by giving tip-offs that could lead to ring busts.
Bui Kim Hieu, Head of the Civil Code Department under the Institute of Legal Research on Business and Consumer Protection, noted that a fully-fledged legal framework had been implemented to prevent counterfeiting.
Firms are recommended to file for industrial design, trademark and patent protections to have their products uniquely recognised in the market.
They are also recommended to hold informative seminars to encourage consumers to say no to products with unclear origins.
"Firms must claim ownership to their trademarks through a registration of trademark protection under the Intellectual Property Law," he said.
Nguyen Dang Sinh, Chairman of the Vietnam Association for Anti-Counterfeiting and Trademark Protection, underscored registered trademarks as a significant legal ground for product protection.
Unfortunately, many firms fail to register their trademarks, leaving their products vulnerable to counterfeiting.
The chairman urged firms to waste no time on trademark registration as it is the only way to have their products legally protected.
Source: VNS