Minister of Information and Communications Nguyen Manh Hung said the Covid-19 pandemic poses a great challenge ad many activities have been delayed. But challenges come with opportunities. The Covid-19 pandemic helps us to rethink about many things. It is a breaking point in development. Many values and habits will change.
The Covid-19 pandemic reminds us that the world is more fragile than we think. Whenever humanity is too confident in themselves, that is the time of problems.
Globalization, cross-border flows of people, capital, goods and data have also brought a free flow of epidemics and crimes.
Only when a crisis occurs do we see the shortcomings of states and institutions. When things are going well, the worst case must still be taken into account.
Recent crises are often dual crises, not but also triple or more. Dual crises is the nature of a world in which everything is connected.
The world has more experience in dealing with economic crises than health crises. Non-traditional crises are more likely to occur, and often globally. That will be the great challenge for humanity.
Opportunities rise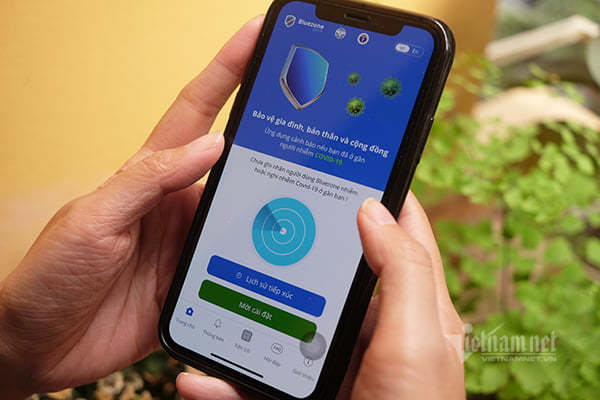 Bluezone application helps identify suspected Covid-19 cases.
The Covid-19 pandemic offers the opportunity to accelerate digital transformation across the entire nation: the economy, the society; the state, the enterprises; the whole community, the entire people.
Vietnam has a comparative advantage in digital transformation. Vietnam has the advantage of having many strong telecommunications and IT enterprises, and this is the time to bring into full play the advantage to change the country's rankings. Vietnam can take this opportunity to invest heavily in digital transformation and develop digital technology enterprises.
This is also an opportunity for developing the domestic market of 100 million people is the market, the largest resource in Vietnam. It is only during the pandemic that this value becomes apparent. Vietnamese businesses must consider the domestic market as the cradle to grow, mature and go global. It is also the time for the State is to pay attention to developing the domestic market, as a long-term plan.
Opportunities to build a self-reliant
"Make in Vietnam" economy. When the country has an emergency, it can only see the meaning of a self-reliant economy. Despite globalization and the opening, isolation must still be taken into account. Isolation without self-reliance means a higher risk.
This is a good opportunity to invest in healthcare, increase the use of technology in healthcare, remote medical examination and treatment, promote domestic production of medical equipment, to fight epidemics and create long-term capacity for the healthcare sector.
This is an opportunity to decide on issues that have been discussed but not yet decided, because when it is difficult, it is easier to make a decision. The State and enterprises can also take advantage of this opportunity to promote digital transformation, decide to apply new governance models, new business models, expand space, and create new products and services, based on new technology.
The Covid-19 pandemic also offers an opportunity to shift investment globally to disperse risks. Vietnam could be a destination for that shift. After 30 years of attracting foreign investment (FDI), we have had a new generation of FDI, which is conditional FDI, attracting high technology, large technology corporations, focusing on research and development.
In addition, the Covid-19 pandemic has aroused the core cultural values of Vietnam, the preeminent of the regime. And this is the strength for Vietnam to make breakthroughs. Countries develop based on spiritual and cultural strength. And this is also the lasting difference for Vietnam to compete for development.
Another opportunity from the Covid-19 pandemic is the effective and successful fight against epidemics in Asia, marking the rise of Asia. Asian values, from regime, institution to culture, will be affirmed after the pandemic, as the beginning of the Eastern era, which will create a new foothold for Vietnam. The world will look east more. This is an opportunity for us to stand shoulder to shoulder with other countries and contribute to the development of mankind.
The two-handed model, a free market and a strong state, have been confirmed in the Covid-19 prevention. Vietnam is more confident in its model, a strong market and a strong state model, to go up strongly. Market oriented, rapid development, innovation must go with good governance, modern governance. Scattering has to go toward focus. We will move towards these directions.
Covid-19 also makes us rethink excessive material consumerism, devastation of nature, and the disregarding of spiritual life. Digital transformation urges reduction of material spending, increase of time spent in spiritual life, and this is also a strength of Asia, a strength of Vietnam. Digital transformation has a new mission.
"Home-based economy" trend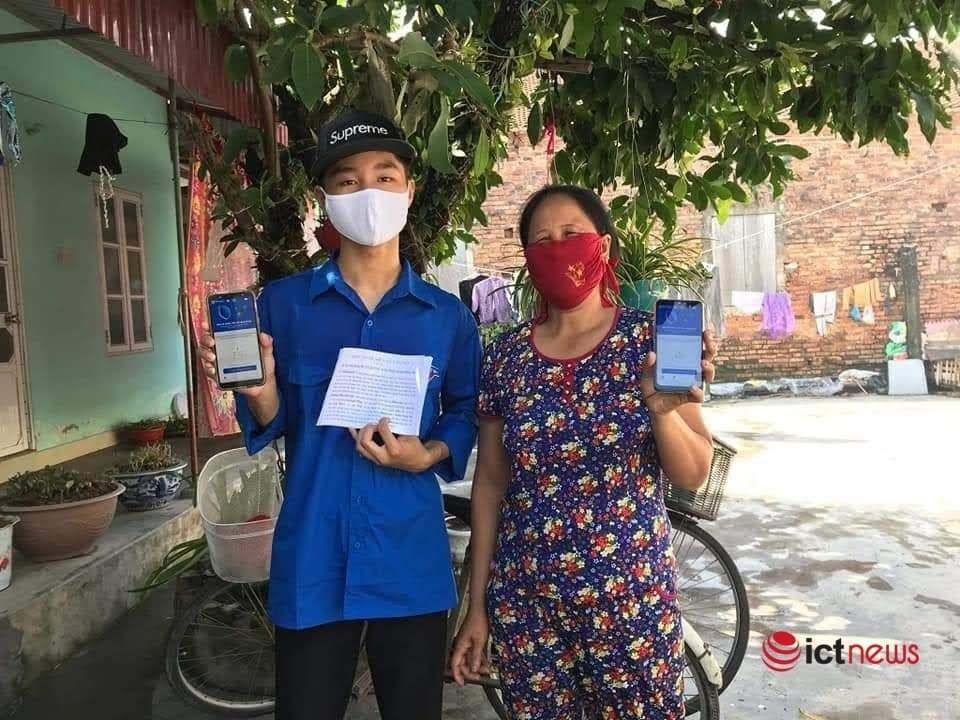 Youth Union members come to each family to help people install and use Bluezone application.
Some economists have introduced the concept "home-based economy". Maybe this is not a really new concept. But the Covid-19 pandemic gives the "home-based economy" a new launch pad to truly come to life, even when the epidemic is over. Many economic activities in the past were still limited by the habits of the user, but Covid-19 has and will break those habits.
Although the home-based economy will not completely replace the traditional economy, if the home-based economy is fully utilized, it will help society operate more optimally and reduce stress on traffic and energy costs as well as save traveling time.
For example, if traditional education emphasizes the element of community, then the present period is an opportunity for digital education to manifest excellence. These are not just lectures delivered via online television, but with the latest technologies such as virtual reality, which make lessons more vivid.
In the field of healthcare, the Covid-19 epidemic has shown many advantages such as remote medical examination, which reduce pressure on hospitals and also reduce the possibility of cross-infection for patients.
From another perspective, the Covid-19 pandemic caused a crisis not only in terms of health, but also an economic crisis for a number of businesses. Then as a consequence, the unemployment rate will increase, there will be more people idle, so we also need to immediately think of a digital platform that helps these people quickly switch skills to rejoin into the labor market.
The Vietnamese digital technology business community should together provide many services on online platforms, from education, to healthcare, shopping, entertainment...
Usually, success often comes in the midst of crises. And this is a rare opportunity for digital technology businesses so that the lives that Covid-19 have taken and the effort that we are all making together against the epidemic will not be wasted.
VietNamNet