Nguyen Ton Quyen, former deputy chair of the Vietnam Timber and Forest Product Association (Vifores), said Vietnam needs to change production and business methods as woodchip exports to China have decreased sharply amid the Covid-19 epidemic.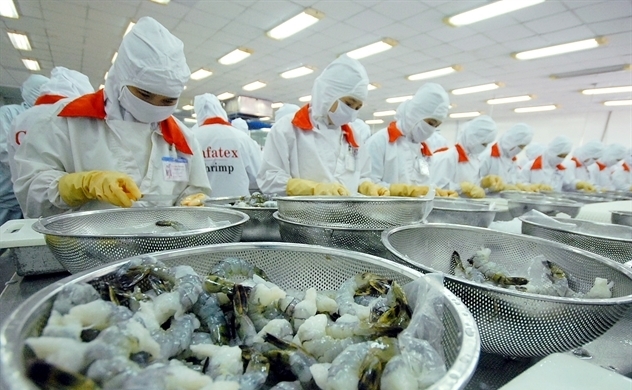 However, Quyen believes that this is the opportunity for the wood processing industry. Vietnam needs to boost the export of processed products. Woodchip exports don't bring high value or contribute to sustainable development.

"Once woodchip exports decrease, domestic woodwork workshops will have more materials to make artificial boards, MDF (medium density fibreboard) to create products with higher added value," he said.

Vietnam needs to change production and business methods as woodchip exports to China have decreased sharply amid the Covid-19 epidemic.
Enterprises have begun changing their production. Three or four enterprises which specialize in exporting woodchips have bought equipment to make MDF, according to Quyen.

The seafood sector is one of the worst hit by Covid-19. Chinese importers have asked Vietnamese enterprises to halt the delivery until February 9, or until there is information about the resumption of activities from the Chinese government.

Meanwhile, the suspension of flights between Vietnam and China, plus the difficulties n transportation have caused problem for the operation of enterprises of both countries.

According to Nguyen Hoai Nam, deputy secretary general of the Vietnam Association of Seafood Exporters and Producers (VASEP), there has been no cancellation of orders because of the Covid-19 epidemic, but there have been notices about order adjustments or delivery delays.

Chinese partners have promised to receive deliveries from February 16. Meanwhile, some large shipping firms have stopped orders to carry goods to China. Large customers in Japan have requested not to ship goods to China.

However, Nam can see two opportunities in the difficulties. First, Vietnam's enterprises now can boost the export of canned and frozen products.

It is expected that consumers' habits will change after three to five months. The demand for fresh products may decrease, while the demand for frozen and canned food may increase.

Second, Vietnam's tuna exporters now have an opportunity to boost sales. China is one of five biggest tuna sellers. However, because of the epidemic, other countries have stopped buying Chinese products.

According to Minister of Agriculture and Rural Development Nguyen Xuan Cuong, Vietnam and China cannot continue negotiations for opening farm produce markets.
Meanwhile, the export of farm produce across border gates is stuck because of the strict measures taken by the two sides to control the epidemic.

However, he said if farmers and enterprises can increase the cold storage of produce, processing and apply measures to consume 30,000 tons of fruits a month, the problems will not be too serious.
Linh Ha 

Some retailers have reportedto the Ministry of Industry and Trade (MOIT) that there is no more farm produce to rescue. But farmers still complain that their farm produce remains unsalable.

Thousands of trucks are still heading for the Vietnam-China border gates, though the exports are getting stuck because of the Covid-19 epidemic.