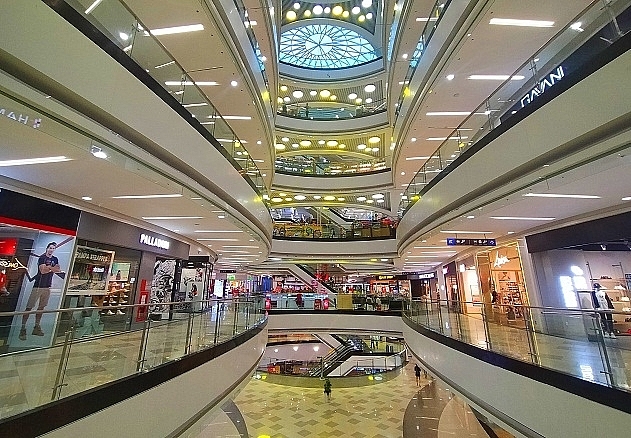 During the COVID-19 outbreak, Van Hanh Mall in Ho Chi Minh City receives very few visitors, even during the peak hours in the afternoon. 
There are many unknowns and each property sector is responding differently – but the effects are expected to be both temporary and long-term.
 
Coming as it has, during a period of trade tension and social unrest, COVID-19 has piled yet more pressure on the local economy and weakened prospects for the local property market.
Stephen Wyatt, country head of JLL Vietnam, told VIR that COVID-19 situation is evolving, so it's premature to speculate on the short-to-medium-term impact on Vietnam's real estate market.
"From what we understand, some local governments in China are introducing a number of supportive measures to help small- and medium-sized enterprises cope with the impacts of the novel coronavirus outbreak. In the short term, we can expect to see more businesses prioritising short-term cost reduction. In the long run, the uncertainty may cause occupiers to be more cautious and adopt more conservative leasing strategies."
From a JLL Vietnam perspective, on a market-wide level, the effect of this outbreak is still limited. "We expect the impact to be short-term, and most investors and operators are adopting a wait-and-see attitude and delaying making major decisions," he added "In the short-term, we expect that businesses will delay real estate decisions until the impact of the coronavirus becomes clearer. More immediately, we anticipate a period of moderating demand with short-term cost reduction overtaking long-term planning."
Troy Griffiths, deputy managing director of Savills Vietnam, said that hardest-hit have been the retail and hospitality sectors followed by offices and industrial space while the residential market has not been immune.
"The signs of widespread distress in the investment market have so far not materialised and many landlords will have decided to wait this one out if their holding power allows. Market fundamentals are unchanged with negative real interest rates," said Griffiths.
Griffiths added that an outbreak which lasts beyond June, a pandemic, or further mutation are all factors which could change market dynamics quite quickly and result in a broader sell-off.
Rents have had to react to market conditions and commercial landlords have generally been open to consider at least short-term relief measures for tenants. Previous government measures aimed at heading off an asset bubble remain in place and could be unwound if necessary, while new relief measures could be introduced. Some impacts may be longer-term, accelerating technology-driven changes in the ways we live, work, and shop.
Looking deep into the Vietnamese property market, Griffiths said that healthcare and home deliveries are the net winners while retail and hospitality are likely to suffer.
Recent examples of Hong Kong (China) retail landlords discounting rents by 40 per cent are unlikely to be needed in Vietnam.
"Vietnam was the first country to eliminate SARS and continues to set a strong example in containment. As the sensitivity wanes then a China + 1 model may be pursued for manufacturers, which would result in greater demand for Vietnam industrial space, as corporations seek to mitigate risk and diversify locations," he said.
According to Savills, the pandemic's effects on the tourism industry are significant and have yet to be quantified. However, actively responding to any scenario as well as being ready to respond when the pandemic is under control will ensure that the industry can reduce losses in the short term.
In the long run, with Vietnam successfully controlling diseases, the tourism industry will greatly benefit as the country will be seen as a friendly and safe destination. The shift of investment capital in the region will be advantageous for Vietnam in becoming a more attractive investment destination, contributing to promoting economic growth in general and the real estate market in particular. VIR
The coronavirus epidemic has sent many of the economic activities into a tailspin.

The current best guess of a 1% death rate does not apply to everyone.