Covid-19 reshapes travel trend
The travel trend among tourists has changed significantly, with a heightened level of travel safety and more sustainable travel offerings emerging as a top priority as well as evolving preferences over where and with whom people travel,
after Covid-19 broke out, according to a survey conducted by online accommodation booking website Booking.com and released on November 16.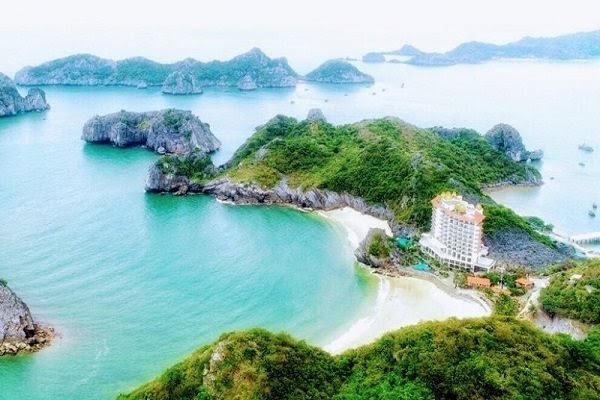 A tourist site in Haiphong City. The travel trend among tourists has changed significantly after Covid-19 broke out – Photo: VNA
Over 20,000 tourists from 28 nations, including Vietnam, participated in the survey, which indicated that almost 73% of Vietnamese travelers appreciate more simple experiences such as spending time outdoors or with the family while on vacation. Some 63% are seeking more rural, off-the-beaten-track experiences to immerse themselves in the outdoors.
Travelers tend to look for accommodation closer to home, with 54% preferring to stay in a vacation home or apartment. Some 65% will opt to eat in more as opposed to eating out at restaurants. Relaxing trips will also be high on the travel agenda in the new normal, with 43% saying it was their preferred type of trip, followed by beach breaks (42%) and city trips (24%).
As many as 71% of Vietnamese tourists agree that technology will play an important role in controlling health risks—particularly minimizing human interaction—when traveling, while 68% said that accommodations will need to use the latest technologies to make travelers feel safe. Almost 63% will want more self-service machines instead of ticket desks.
Due to the global spread of the disease, domestic tourism has become more sought after. In the future, short-distance trips and simple and familiar experiences will be prioritized rather than new and strange tours.
Some 57% of Vietnamese respondents still plan to travel in the country in the next 7-12 months and 48% plan to do so in the longer term in over a year's time. When it comes to local travel, 46% plan to explore a new destination within their home region or country and 44% will take the time to appreciate the natural beauty of their home country and 54% intend to travel to a place they have already been to for its familiarity, whether locally or not.
Some 61% of Vietnamese visitors said they will not be comfortable traveling until a coronavirus vaccine or treatment is in place. During the lockdowns, 65% of Vietnamese travelers reported being excited about the prospect of being able to travel again, while 57% indicated they are more appreciative of travel and will not take it for granted in the future.
The time they spent at home has made Vietnamese travelers crave the world outside more than ever, with 56% of them asserting a heightened desire to see even more of the world, and 52% wanting to travel more in the future to make up for the time lost in 2020.
As such, travel companies are expected to get creative in 2021 with new itineraries and recommendations designed to capture the imaginations of travelers who missed out on trips in 2020 and who will be looking for somewhere stunning to explore to make their next trip more meaningful, according to Booking.com.
Travelers will be scrutinizing their spending in 2021, with 76% of Vietnamese visitors indicating they will be more price-conscious when it comes to searching for and planning a future trip. 
In addition, 67% are more likely to hunt down promotions and savings—behaviors that are predicted to last for the next few years.
However, the value consumers expect will go beyond price tags, with nearly 71% stating they want travel booking platforms to increase their transparency about cancellation policies, refund processes and trip insurance options. Furthermore, 27% consider refundable accommodation a must-have for their next trip, as do 35% when it comes to the flexibility to change dates without being charged.
Some 75% of Vietnamese travelers will take more precautions due to the coronavirus and will expect the travel industry to help them gear up for this new normal. The Government, travel associations and service providers will have to work cohesively to set consistent standards to help keep travelers safe.
At the same time, 75% will only book a particular accommodation if it is clear what health and hygiene policies it has in place, with 80% favoring accommodations that have antibacterial and sanitizing products.
"The year 2020 has been challenging for the travel industry globally with significant shifts in travel expectations and behaviors," said Anthony Lu, regional director of Booking.com in Vietnam. SGT
Van Ly

Ninh Binh province in Vietnam's north is the perfect spot for a one-day getaway out of Hà Nội, with various tourist landmarks all within striking distance of the capital city and just waiting to be discovered.

Leading tourist companies in Ho Chi Minh City are seeking to establish criteria for safe destinations to reboot tourism and prepare for international arrivals in the near future.