Covid-19 vaccination side effects are mostly mild
Many health-care workers have experienced side effects following Covid-19 vaccinations but most of these have been mild.
On March 8-9, 522 health workers in Hanoi, HCM City, Hai Duong and Gia Lai provinces received the AstraZeneca vaccine.
They included 107 employees of the Hanoi-based Central Hospital for Tropical Diseases, 104 staff members of HCM City Hospital for Tropical Diseases, 206 health workers in northern province of Hai Duong and 69 people in the Central Highlands province of Gia Lai.
At the Hanoi-based Central Hospital for Tropical Diseases, Dr. Vu Minh Dien, Deputy Director of the Center for Disease Control, said that within 30 minutes after vaccination, there were no cases of side effects reported.
After vaccination, there is a high rate of vaccinated people experiencing side effects, but the reactions are mild. The most common reactions are feeling pain at the injection spot, having low fever, and feeling tired.
"These are all common post-vaccination effects. So far, there have been no cases of anaphylaxis," Dr. Dien said.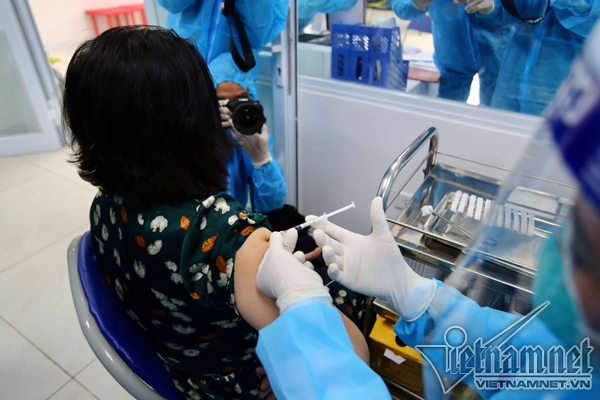 A health worker at the Hanoi-based Central Hospital for Tropical Diseases was vaccinated with AstraZeneca vaccine on the morning of March 8. Photo: Pham Hai
Dr. Dien said that he was the 44th person to be vaccinated at the hospital and he only felt a little tired and he could still work normally.
The doctor said that his hospital would continue vaccinations in the next 3-5 days. The hospital has been allocated 450 doses of vaccine in phase 1, which will be used on 420 health workers.
At Hanoi-based Thanh Nhan Hospital, the first 36 medical staff were vaccinated on the morning of March 9. Dr. Tran Thi Lan Huong, the hospital's deputy director, said there were 10 cases reported with mild post-vaccination reactions such as having low fever, feeling painful at the injection spots, and muscle fatigue. There were five people who had a fever of over 37 degrees Celsius and felt tired and were allowed to stay home.
In Hai Duong province, only two cases had fever of over 38 degrees Celsius. The others reported mild reactions such as feeling pain at the injection spots or tired.
So far, the National Expanded Immunization Program has recorded two people who experienced anaphylaxis of degree 2, including one case in Gia Lai province, who has recovered.
According to the results reported from four clinical trials with nearly 24,000 volunteers who were vaccinated with AstraZeneca in the UK, Brazil and South Africa, the rate of people who felt pain at the injection spots accounted for 54-63%, 52-53% had headache and felt tired, 44% reported muscle pain, 33.6% had low fever, 7.9% had fever of over 38 degrees Celsius, 31.9% had chills, 26.4% had joint pain and 21.9 % felt nauseous.
However, most side effects went away after the first few days. By the seventh day, only 4-13% reported at least one local or systemic symptom. After being vaccinated with the second dose, the side effects were much lower.
Only about 0.7% of people reported having serious side effects after the first shot. As such, there are no concerns about the safety of the vaccine.
Thuy Hanh

Five Vietnamese volunteers who received jabs as part of the national rollout of the AstraZeneca vaccine against COVID-19 have experienced several side-effects, according to the Ministry of Health.