Last Thursday (Wednesday in the US), I was probably not the only one waiting for something in US President Joe Biden's State of the Union speech to both houses of Congress. Something would be new, as Mr. Biden had promised that America would reintegrate into the world, a world in a pandemic, and in need of commitment and strong action from every country.
US President Joe Biden. Photo: Reuters
Although the epidemic is out of control in India, Brazil and third world countries, Mr. Biden's speech did not mention anything about America's contribution and support to the global war.
President Biden's concession
"Biden is starting out his tenure bringing despair to millions who will have to wait years for a vaccine," said Gregg Gonsalves, an epidemiologist at Yale University. "We need to crush Covid now, not in 2022, 2023 or 2024. Currently, Biden is punting, relying on theatrics - pledging 60 million doses from AstraZeneca (from the US stockpile) when billions are in need - rather than stepping up with a bold policy."
One bold policy that experts like Gonsalves refer to is the rapid transfer of patents and technical know-how to countries in need, in order to expand global vaccine production capacity.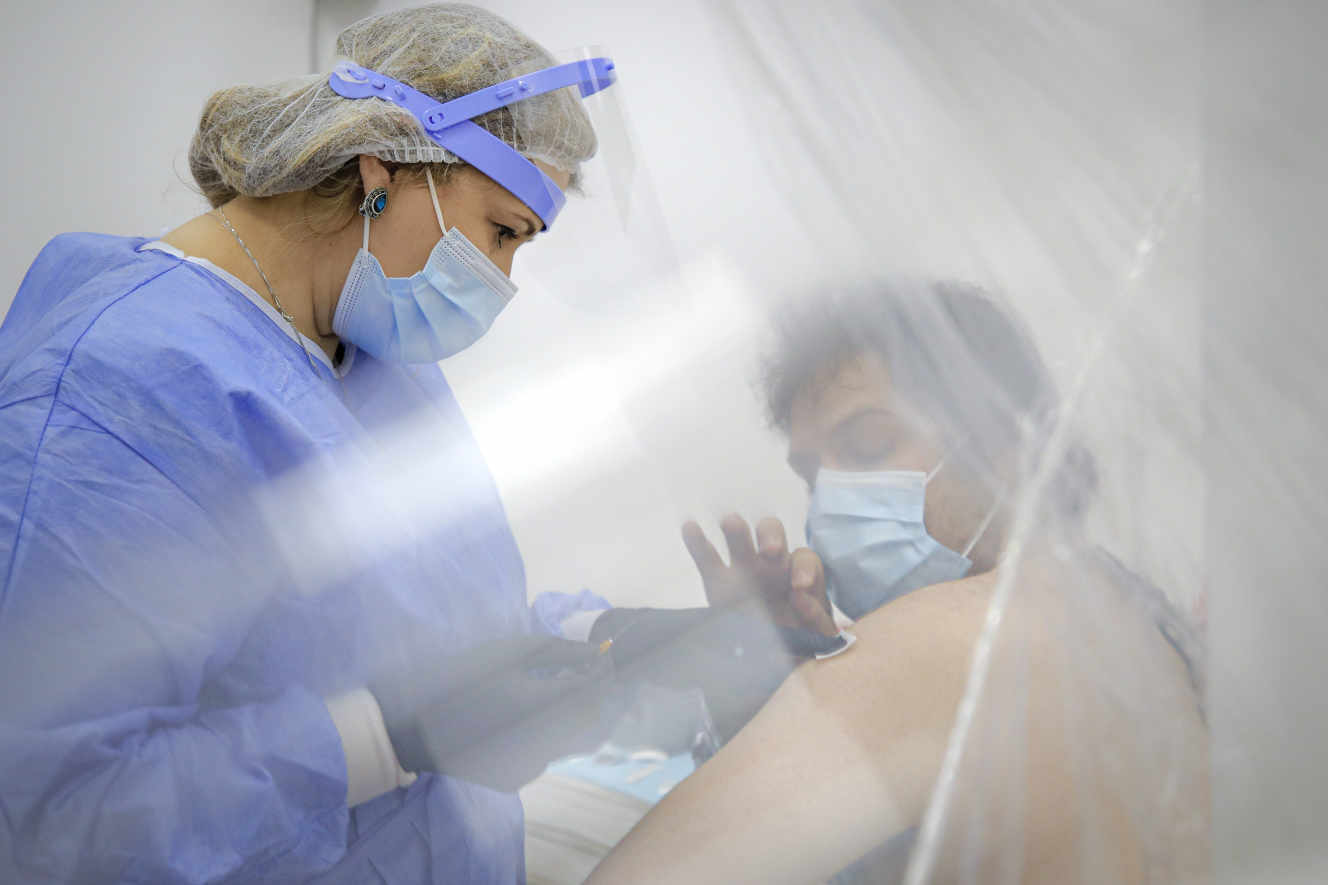 Vaccinations in Bucharest, Romania. Photo: AP
Global health experts emphasize that the US government has spent tax money to invest in the development of vaccines. The US has fully funded Moderna's clinical trial while Pfizer received a US$1.95 billion grant from the government, along with pre-purchase contracts to ensure profits for vaccine developers. This allowed the U.S. government to have greater influence over the sharing of licenses and know-how.
The US National Institutes of Health (NIH) also owns a number of vaccine patents, and Barney Graham, deputy director of the NIH's vaccine research center, told the Financial Times last week that everything released from a government lab will be subject to a non-exclusive license, so it cannot be intercepted by a single company.
When running for office last July, Biden pledged to "absolutely, actively" not let intellectual property rights prevent vaccines from being released to the world. At the time, Biden even criticized Donald Trump that protection of patents lacks "any human dignity".
But in the end, Biden gave in, avoiding confrontation with the pharmaceutical industry, and the US media could not find a clear answer from the administration about giving up the patent. Instead, US government agencies cited a $4 billion contribution to the COVAX initiative and Biden's future sending of 60 million doses of AstraZeneca to countries in need.
This is certainly not enough for COVAX's relatively conservative goal of immunizing 20% of the world's population in each country and for high-risk groups and health care workers.
On April 15, UN Under-Secretary-General Amina Mohammed called for an additional $2 billion by June to get 2 billion doses, but at that time India had not imposed an export ban on vaccines. And now, COVAX will not only lack money but will also lack vaccine suppliers.
Last October, South Africa and India proposed that the World Trade Organization (WTO) grant license exemption for inventions in the case of a national emergency based on the WTO Agreement on Trade-Related Aspects of Intellectual Property Rights (TRIPS). This statement was developed based on the world's painful experiences from the HIV/AIDS crisis when countries did not have suitable medicines because of many years of patent restrictions.
New 'ghost'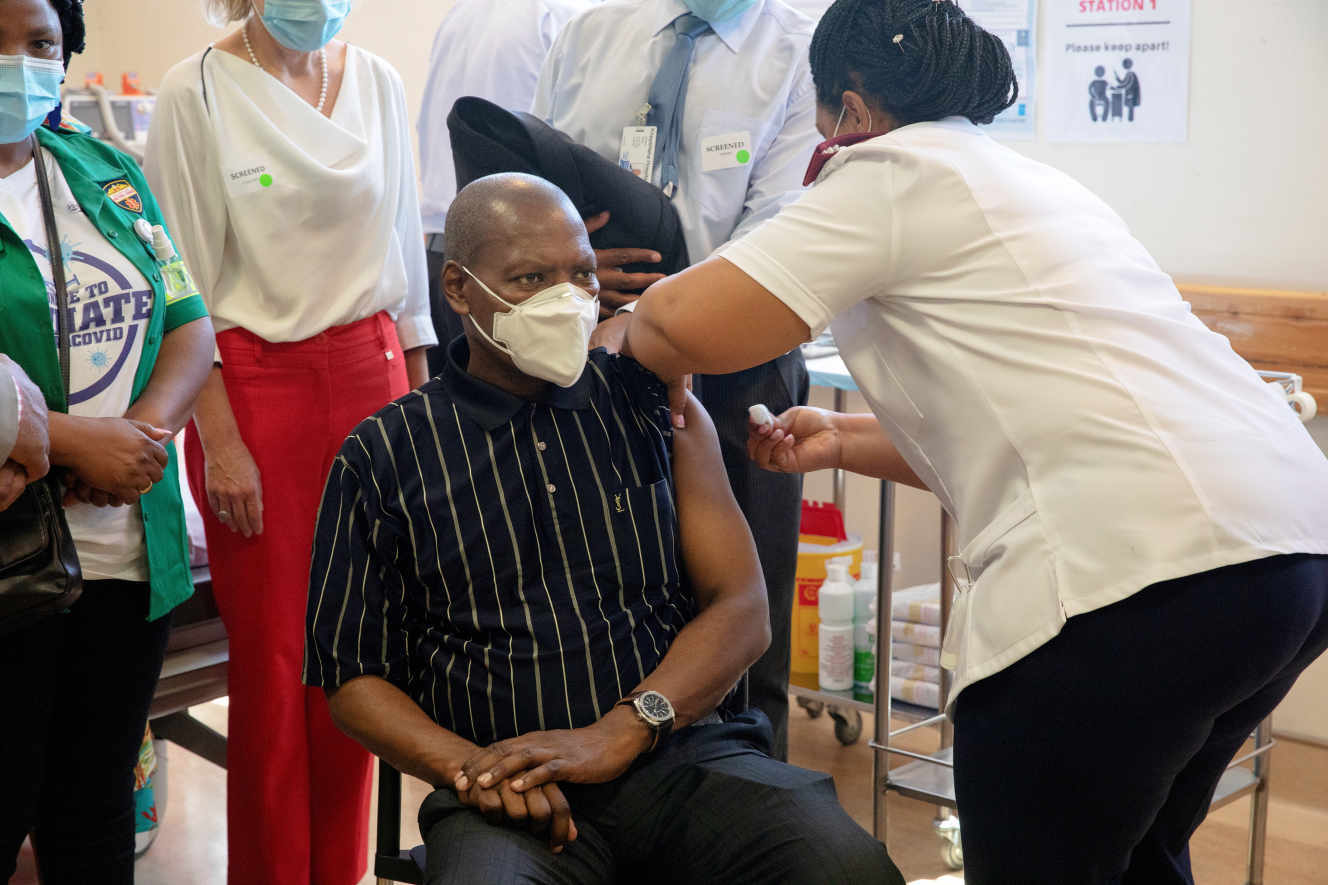 South African Health Minister Zweli Mkhize receives a Covid-19 vaccination on February 17. Photo: Reuters
The proposal of South Africa and India has the support of 140 countries but none of the key countries that hold such patents, especially the US. The US government has tried to avoid it, and pharmaceutical giants such as Pfizer, Moderna, and Johnson & Johnson do little when they do not receive the right signals from Washington.
The TRIPS proposal was also endorsed by the Director-General of the World Health Organization (WHO) AdhanomTedros and the Director-General of the WTO Ngozi Okonjo-Iweala. Tedros warned that an "America First" approach would harm the US.
Foreign affairs experts have a similarly pessimistic view, noting that China and Russia are benefiting from their vaccine diplomacy and the US reluctance. There have been many public complaints about the weak access of the Biden administration to the global deployment of vaccines.
The gap between nations is widening, and a new "ghost" is threatening the world: the specter of global geopolitical agreements as it is dominated by vaccine-customer relationships, determined by the asymmetry in global supply.
It seems that geopolitical dominance changed the US administration's approach. What US Trade Representative Katherine Tai brought to the TRIPS session a week after President Biden's disappointing speech caused many people to be optimistic.
A short statement shared on the US Trade Representative's website and Katherine Tai's twitter, said: "The US supports the waiver of IP protections on Covid-19 vaccines to help end the pandemic as we'll actively participate in WTO negotiations to make that happen."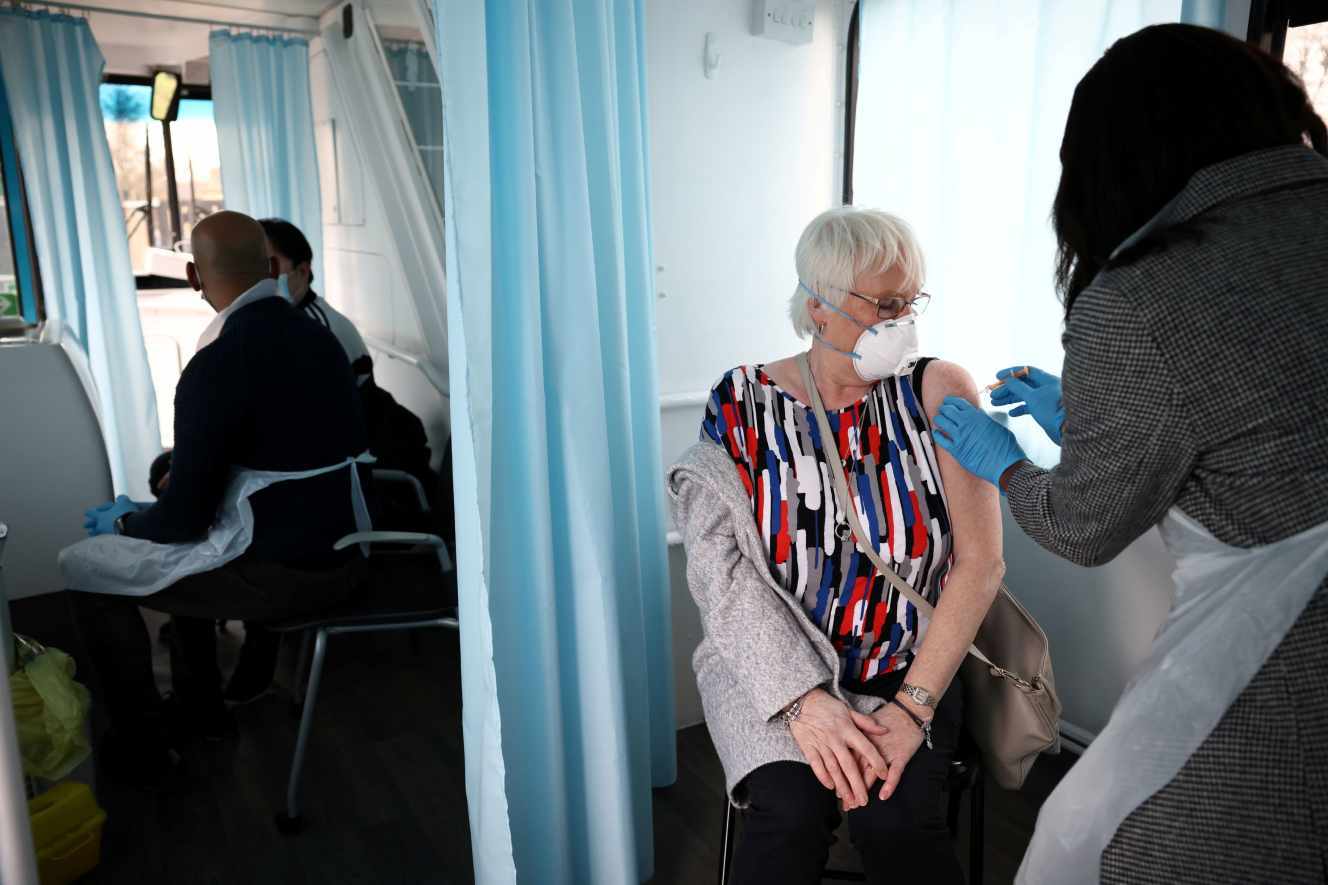 A bus transformed into a mobile vaccination site in London, England on February 14. Photo: Reuters
WHO Director-General Tedros Adhanom, on his Twitter, immediately called this "a great moment in the fight against Covid-19 pandemic" and said "it reflects the wisdom and leadership" of America.
Professor Matthew Kavanagh (Center for Global Health and Political Initiatives, Georgetown University) called the statement "a major and important change in the geopolitics of approach" and said that the changing US position would involve a host of allies, and in particular, would push Europe to support the initiative.
The world is in chaos waiting for more vaccines.
But things don't seem so easy.
German Chancellor Angela Merkel immediately opposed the US position. This approach, she said, would create "serious harm" to vaccine production.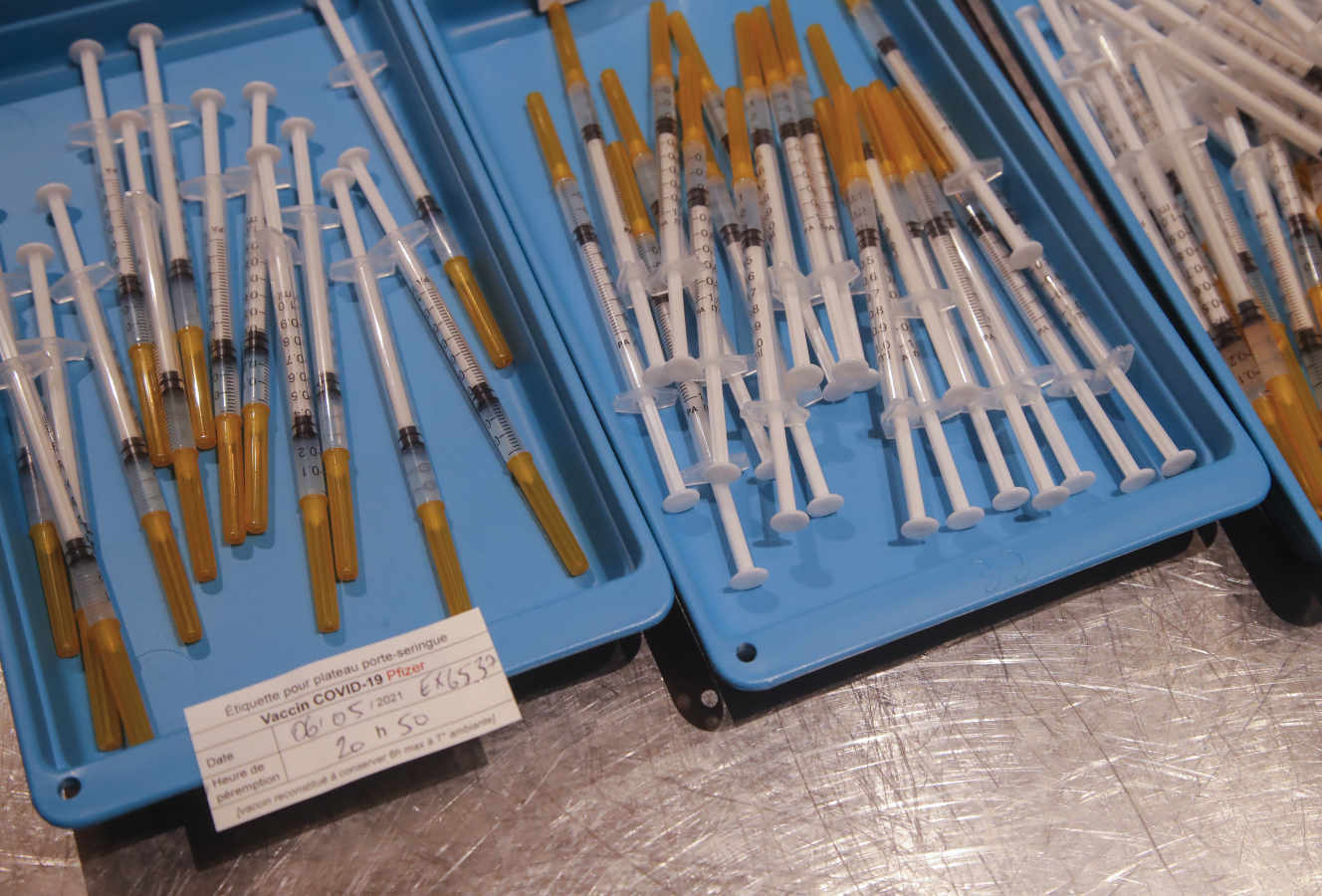 In a vaccine center in Paris, France on May 6. Photo: AP
The prices for shares of pharmaceutical companies such as Moderna and Pfizer began to fall following Tai's statement, but these groups are expected to eventually find a way to fend off the government's efforts.
Within the US administration, White House spokeswoman Jen Psaki said last week that officials are considering whether to promote US vaccine production with the goal of exporting instead of transferring know-how abroad.
And such mixed views, along with the WTO's consensus-based bureaucracy, are likely to prolong the time to reach an agreement. Negotiations are scheduled to begin in June, and by then, perhaps the pandemic in India or Brazil will have peaked.
The waiver of IP protections on vaccines is only a necessary step. Expanding the global supply chain based on open licenses will also require the support of vaccine manufacturers in terms of technological know-how.
Technology transfer and accelerating the global vaccine production chain to supply the world will actually protect the US and developing countries, but it seems that the lack of cooperation will make it difficult. This path has become longer. No one will benefit from this delay, other than the pharmaceutical companies.
Pham Quang Vinh

Vaccine nationalism has become alarming, as politicians have criticized the previous US President Donald Trump for his "America First" doctrine.

Last week, my friend told me that his daughter, who is studying in the US, had just been vaccinated against Covid-19 just one day after returning in the US to attend college.