VietNamNet Bridge – The demand for essential and consumer goods has slowed as local buyers are trying to make ends meet with their meager incomes, and this is the main reason for the low growth of the price consumer index (CPI) nationwide over the past time.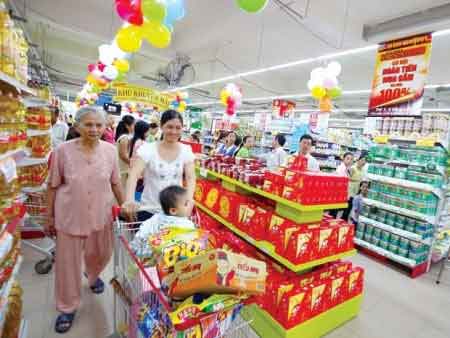 With the meager CPI growth, it is sad that many local companies are struggling with mounting inventories and stagnant production.
Low CPI growth
After dropping by 0.19% last month, the April CPI posted a minimal growth of 0.02% nationwide. As per a report of the General Statistics Office released on Wednesday, a number of commodity groups with greater weighting on the basket of commodities used for CPI calculation fell last month, which is the main reason behind the low April CPI.
For instance, food and catering services as the most-weighted group in the commodity basket posted a decline of 0.91% month-on-month while food and foodstuff in the group both tumbled.
Similarly, the group of housing and construction materials plunged 0.44% this month. The fact shows that the group's price volatility as observed last month is largely due to gas and construction materials price falls.
Post and telecom group also followed the downtrend, with a reduction of 0.15%.
It is noted that medicine and healthcare services surged considerably, at 3.63% from last month, with medical services alone jumping 4.51%. The traffic group picked up 1.2% as a result of a fuel price hike on March 28.
Rural areas continued to show higher CPI than in cities, which stayed at 0.03% and 0.01% respectively. While this month's CPI of most provinces and cities slumped versus last month, the index in some localities is extremely high, with Haiphong recording a surge of 3.65%.
Less merry, more worried
Economist Ngo Tri Long insisted that the low April CPI indicates goods prices are already stable. But he noticed the price stability is bad news rather than good news as weakened aggregate demand has continuously driven inventories higher and made production stagnant.
"For instance, the electricity, water and construction materials group fell this month as cement and steel are still unable to find buyers in the context of the current frozen real estate market and producers are forced to pull down prices to release the inventories," Long said.
The Daily observed that supermarkets as well as small retail stores have continued facing business difficulties due to slowing purchasing power.
At many supermarkets in HCMC, the image of people queuing up in long lines waiting for their turns at cashier counters as seen at weekends before now has become the history.
Source: SGT