VietNamNet Bridge – On the bank of the Red River, there is situated a seven-century old pottery village. Bat Trang, the most famous and long-standing pottery village in Viet Nam is an interesting attraction in the capital that tourists should not miss a chance to visit.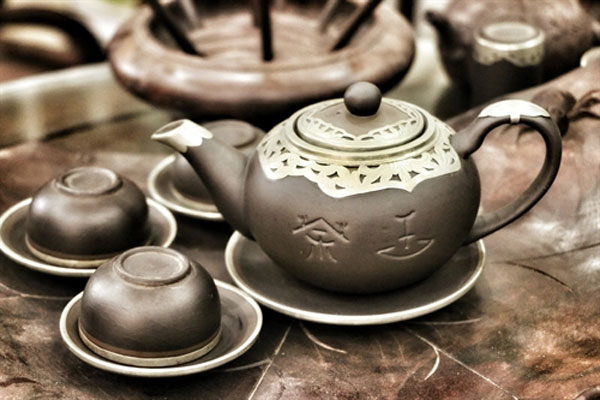 A tea set made in Bat Trang. -- Photos: Doan Tung (VNS)
I wish I could marry you/ I will buy Bat Trang bricks to build our house/ Building vertically then horizontally/ Building a semicircle pond where you can wash your feet.
The humorous and beautiful folk verses honour the quality of Bat Trang pottery.
On the bank of the Red River, there is situated a seven-century old pottery village. Bat Trang, the most famous and long-standing pottery village in Viet Nam is a landmark in the capital that tourists should not miss a chance to visit.
The fact is that Bat Trang bricks are the pride of people in the north of Viet Nam. They are firm, durable, not wet on humid days and not easily stuck to by moss. Not only Bat Trang's bricks, but also their celadon (greenware), crackle-glazed vases, dinnerware, decorative objects and traditional designs are popular around the world.
Ornate: Vuong Manh Tuan presents the jar made from tu sa pottery. He's one of the veteran artisans in Bat Trang Village.
Many generations of Bat Trang potters have worked hard to preserve the art of making ceramics by hand. They make sophisticated artworks, meanwhile they have also developed the trade of making pottery in modern ways. Here in Bat Trang, tradition and modernity are mixed.
Red clay pottery master
Artisan Vuong Manh Tuan in Bat Trang was born in 1964, and has spent nearly 50 years working in the ceramic industry. Tuan is a descendant of the Vuong family, one of five clans that established the trade village in the 14th century.
He started following his dad and uncles to their work grilling clay and making ceramics when he was very young.
He's famous for red clay pottery, and is the only one in Bat Trang who successfully mastered the way to make red clay teapots. These teapots originated from Jiangsu, China, where a special red clay for the teapots exists.
Tea drinking has existed for a very long time in Viet Nam. Over the years, Vietnamese people have preserved the art and turned it into a common cultural feature in their daily lives. When Chinese merchants brought red teapots to Viet Nam, they became the favourite choice of Vietnamese tea enthusiasts due to the teapot's artistic and cultural value.
"Drinking tea is a elegant hobby. Drinkers are not only attracted by the scent, the taste of the tea, but also impressed by tea service articles," Tuan said.
"A red teapot shines sand light from the bottom and tinkles like a bell or the sound of metal when knocked on," said Tuan.
"The longer a teapot is used, the harder and more shiny it becomes. The clay teapot turns as brown as copper. Moreover, the minerals in the clay to make the teapot harmonises with the tea leaves to make a wonderful taste and scent. The fragrance of the tea and the hot temperature of the water can last for a long time."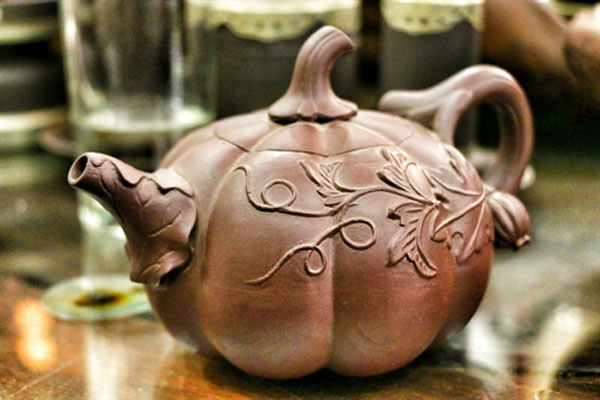 Novel teapots: To serve tu sa pottery collectors, Tuan created sophisticated tea sets in different sizes and forms, for example, pumpkin-shaped and lotus-shaped teapots, as well as bronze and silver-rimmed teapots.
"That's why red clay teapots became precious and treasured by tea connoisseurs," he said.
In 1988, Tuan opened a pottery oven at home. Tuan said the key to making pottery is to have creativity, passion and an understanding of the materials.
Being different from other artisans, he often looked for new materials. He travelled to many places that are well-known for ceramics, like Phu Lang (Bac Ninh Province), Que Quyen (Ha Nam), Chu Dau (Hai Duong) and China.
He always brought samples of local clay with him to study and research. Gradually, he found the method of mixing different kinds of clay to make red clay pottery.
To make a red teapot, it requires several processing stages, each showing the meticulous care of the craftsman. The materials, kiln temperature and the gloss of red teapots are different from other tea service articles, which creates unusual features and have great artistic value.
"The red-clay pottery is made with my own formula of blending the materials. The temperature in the kiln must reach 1,200 degrees Celsius," he revealed.
Tuan is so proud that the clay in his homeland is excellent and can be used to make wonderful objects.
"In the past, to have a red-clay tea set, you had to order from China, and in many cases, you might get a counterfeit. Now you don't need to go to Jiangsu, in Bat Trang we also have red teapots. We're proud that Viet Nam has its own pottery of high quality and that it has its own characteristics."
From teasets, Tuan developed a red clay pottery genre by making dinnerware including bowls, ash-trays and toothpick containers.
To serve red clay pottery collectors, he created sophisticated tea sets in different sizes and forms, for example, pumpkin-shaped and lotus-shaped teapots, as well as bronze and silver-rimmed teapots. Each object is made by his hands with meticulous care.
He also mass-produces red-clay tea sets in a simple style to meet the demand of a large number of customers.
He still works every day on searching for new materials, create new designs and products to satisfy his passion for the craft and make Bat Trang pottery live long.
One more thing that makes Bat Trang pottery distinguished is the glaze, which is of high quality and a variety of colours, such as blue, brown, white, moss green, in both breaking and melting glazes.
To Thanh Son is one of the veteran artisans in the village who holds the secrets of the glazes. He spent 15 years researching to revive the cracked enamel originating from the Ly Dynasty (tenth century) and he was successful.
Son doesn't just revive the fine enamel of Bat Trang but also other traditions as well. It took three years for him to collect 3,000 old Bat Trang bricks to build Thuan An Duong, an ancient house that brings a feeling of pleasure to anyone who visits. The house bears traditional architecture with furniture, worshipping objects, calligraphic works and of course, pottery artworks made by Son.
The jars, vases and incense burners are all sophisticated with dragon and phoenix patterns. They are covered by ancient enamel which was preserved by the artisan.
To celebrate Thang Long–Ha Noi's 1,000th anniversary, Son made a 1.65m high jar that received much applause from cultural researchers and the public.
The jar is decorated with historical events from the Dinh (10th century) to Ly dynasties that leads to King Ly Thai To's decision to move the capital to Thang Long (nowadays Ha Noi).
The jar is covered with tea-coloured enamel that was polished then burned at 1,270 degrees Celsius.
"It's a pinnacle of Bat Trang pottery, a perfect pottery artwork," said Le Xuan Pho, chairman of the Bat Trang Ceramics Association.
"The relievo are very sophisticated. The ancient enamel attracts people's eyes at first sight. Son also made a breakthrough in producing pottery objects a large scale."
Keeping hands on job
All artisans in Bat Trang Village have admired Pham Anh Dao for his strong will to stick to traditional ceramic skills.
They have considered him as an active descendant of the handicraft village's ancestors. He works to revive the traditional skills to create unique products while many households have applied industrial assembly lines for mass production.
Dao's workshop is located in the middle of the old village. Visiting him, one may find him losing himself in his work.
Born as a 1.5kg baby together with a twin brother, he was fairly weak and had to take lot of antibiotics, which resulted in an ear-impairment.
He could not speak until he was seven and found it hard to study at school.
At 17, he worked as a worker at Bat Trang Ceramic Factory, where he learned a lot of techniques. Within a year, he could do difficult tasks that had often been done by well-experienced workers.
He then decided to open his own workshop to create in his own way.
While neighbours applied mass assembly lines to turn out thousands of products everyday, he made only few hundred items every month.
Yet his products were unique, none was similar to another.
He could sit for hours shaping clay, and making glazes in his own way.
Many Japanese architects, who worked nearby at the Thanh Trì Bridge construction site, often visited the village and were interested in his hand-made products
Domestic orders also started flowing to his workshop, and pieces were sold all over the country.
"I was extremely worried when we first opened our workshop in the 1980s," recalled Nguyen My Trinh, Dao's wife, who is also his "speaker", "marketing, sales assistant" and everything. "At that time, all ceramic producers in the village shifted to mass production, and hand-made products were not appreciated by customers as before."
Domestic products were also "attacked" by cheap Chinese ceramics. The couple hardly made ends meet with their small-scale production.
"I know while heating the ovens, he thought very deeply of ways to 'rescue' our family from poverty while sticking to the traditional making process," Trinh said.
"More than once, I told him to change his mind and set up industrial assembly lines but he refused, saying: 'I will not change to other ways, only the traditional one'."
Seeing his strong will, Trinh supported him at work. They had no money to hire workers, so she did all the subordinate work while Dao fulfilled the tasks of shaping, drawing and glazing.
Dao has tried to make the brown flowery glaze of 11-14th century, the blue and white glaze of 15th century as well as crackleware of 17th century.
Trinh said sometimes he got up at midnight and worked on a design that he suddenly had in his mind for fear that he would forget it the next morning.
In 2010 his workshop fulfilled a task that many generations of artisans in the village would dream to achieve: the making of a pair of giant jars by hand. Each measures nearly 2m in height; 1.2m in width, and 500kg in weight.
The jars were covered with ancient crackle glaze. They were exhibited in downtown Ha Noi during the 1,000th anniversary of Ha Noi City in 2010, and were just auctioned in May this year at VND6 billion (US$267,000).
"Dao is a rare artisan in our village, who works with his great passion," said Le Huy Thanh, vice chairman of the Ha Noi Ceramics Association. "In the past few years, more and more well-to-do people prefer hand made ceramic products rather than industrial products as in previous decades."
The couple's patience resulted in delicate products with the trademark Đạo Trinh Ceramics being more and more appreciated. They have sold more products and could afford to build a better house and workshop.
"Hand-made products requires more labour and we charge at a higher price," Trinh said. "Every year, we sign contracts worth nearly VND1 billion to domestic and overseas customers."
Trinh said she exchanged with customers mainly through email.
"Customers just figure out their ideas for the products. We design models, and send back to them. When they agree with the models, we start producing," she said.
"Yet Dao prefers creativity," she said. "He sometimes changes his mind about the designs and doesn't follow the order, which has brought us no end of troubles with hard customers."
Nowadays, there are more and more hand-made ceramic workshops in the village inspired by Dao's family.
"Dao has been the first artisan to revive the traditional way of making ceramic wares after decades of neglect," admitted Dao Xuan Hung, chairman of the Bat Trang Commune People's Committee.
Everyday, artisans in Bat Trang can be found busy working. They join hands together to uphold the traditions and develop the local trade. The products are well-known in foreign markets proving the Vietnamese craftsmen's skill and creativity.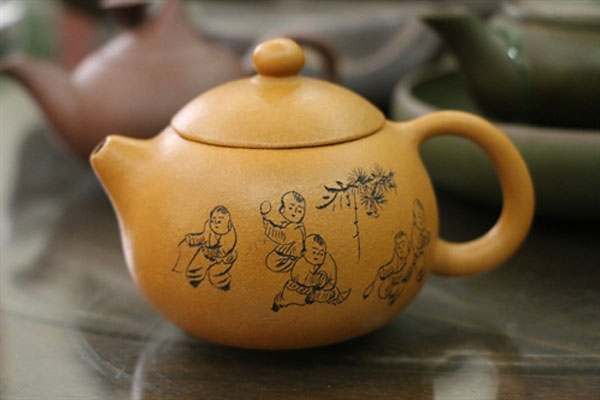 A tea pot made in Bat Trang.
Absorbed: Pham Anh Dao loses himself at work.
VNS
Minh Thu – Le Huong