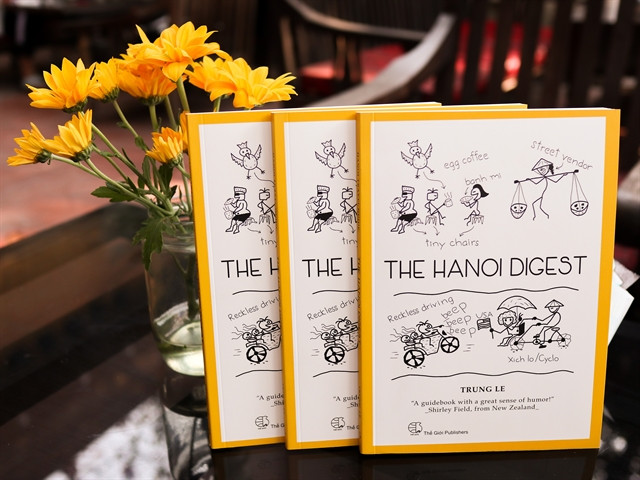 The Hanoi Digest is for tourists to Hà Nội looking for a travel guide that is creative and funny. — Photo courtesy of Lê Kiên Trung
Containing hundreds of hilarious comic drawings and jokes about Hanoian culture, people, destinations, food and drinks, The Hanoi Digest is a new kind of guidebook. It blends specialist local knowledge with humour and interesting facts on every page.
The book is a result of years of hard work by 30-year-old author Lê Kiên Trung. Thanks to his local knowledge and research, the pages have come to life, with stories such as the legendary 175-year-old turtle, why President Hồ Chí Minh or Uncle Hồ has become the greatest man in Việt Nam, and what Hanoians love or hate about foreign visitors.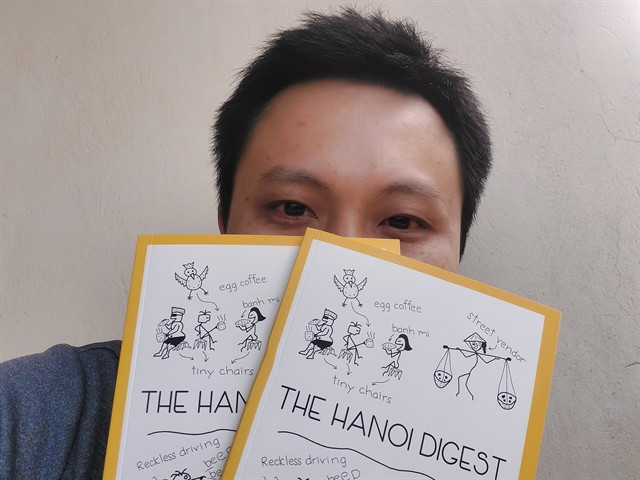 Trung is pictured with his first English guidebook The Hanoi Digest. — Photo courtesy of Lê Kiên Trung
"We have a lot of travel guidebooks/sites about Hà Nội on the market, and many of them are very informative, namely Lonely Planet or Hanoi Budget Travel Guide, and I am sure that the authors of these guides really put their heart into making them happen," Trung said.
"Unfortunately, most of them just simply work as a guide or include too many advanced words, and lack entertaining elements. So I wanted to make something that is not only informative and useful but also simple and funny. It should be friendly to many types of audiences."
At the beginning, he was just looking for something fun in English to read about Hà Nội, the city where he started his university life in 2011. He joined a Facebook group founded by some Hà Nội expats to help any newcomers to the city adapt to life here – Official Hanoi Massive.
Trung added: "I am a big fan of Hanoi Massive because this is where I can not only learn about many aspects of life in Hà Nội, but also learn real life English which keeps me away from boring English textbooks. Plus, many group members have a great sense of humour, leaving so many useful and funny comments."
The idea for The Hanoi Digest came to Trung in October 2016. He wanted to compile all of the useful Facebook threads in the group so he could share on Hanoi Massive so that new members didn't have to scroll down thousands of posts to search for valuable information. It would save them a lot of time and make sure they won't miss any valuable information about the city.
The 30-year-old author finally got his first ever file ready to be released in early 2018, which he posted on Hanoi Massive. He has received many constructive comments from its members and expats, particularly from a friend named Bruna Dall'asen, a Vietnamese Italian who came to Việt Nam for her internship.
He said: "She was amazed and thankful about how much it had helped her adapt to life in Hà Nội. But she also honestly pointed out some things that I could have made better, by adding my personal ideas and photos to describe things like many other travel guides, making it look like a book with chapters and each of them talking about one particular thing so that it's easier for tourists to follow. And I took her advice."
To make the guidebook more entertaining and different from others, Trung drew the illustrations himself instead of taking photographs. His simple but humorous drawings are greatly inspired by the series The Diary of a Wimpy Kid and an English learning channel on YouTube named EngFluent which attracts a lot of audience with a simple drawing style.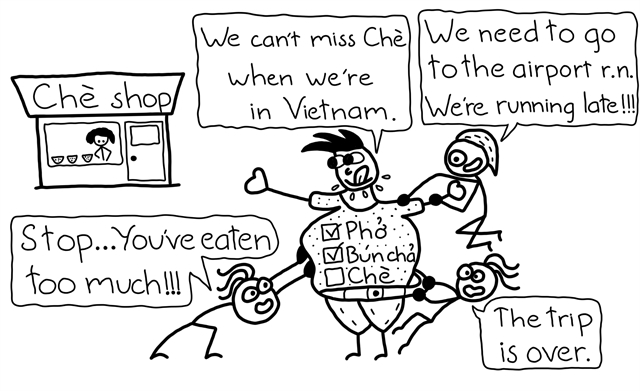 Trung's illustrations in the book are inspired by the series The Diary of a Wimpy Kid or an English learning channel on Youtube named EngFluent. — Photo courtesy of Lê Kiên Trung
Trung added that one of his major obstacles in writing his first English book, besides the drawings, was the language. As he is not an English native speaker, he doubted himself about whether or not he could write an English book.
However, thanks to the support of two British friends, who he describes as "kind, supportive and skilful, he finally finished his book. One is a English teacher who has settled in Hà Nội with his Vietnamese wife for years, and the other is a British woman who has lived in the city for nearly two decades and worked in the culture and tourism sector. They were all willing to help edit the manuscript without any compensation.
The first 500 copies of The Hanoi Digest were officially published through Thế Giới (World) Publishers few days after the 2020 Tết (Lunar New Year) holiday. But then COVID-19 came and affected Trung's initial plan to market his book. However, he spent almost three years making his book better by improving the drawings, manuscript and design.
By late 2022, the second edition of guidebook was published with 2,000 copies, and has been well received by many readers. Local people buy it for their kids. Expats buy it for themselves and as a welcoming or farewell gift for their friends and relatives who are coming in and out of Việt Nam. And tourists have started to figure out that reading this book could be one of their outstanding entertainment during their Hà Nội trip.
"I bought one of the books just for a nice read - I read it in one sitting. I love it so much I've bought three more to my family as a gift on arrival when they come to stay with me! Such a lovely informative little book and very nicely written Easy to follow and not get bored," commented reader Non Williams from the UK.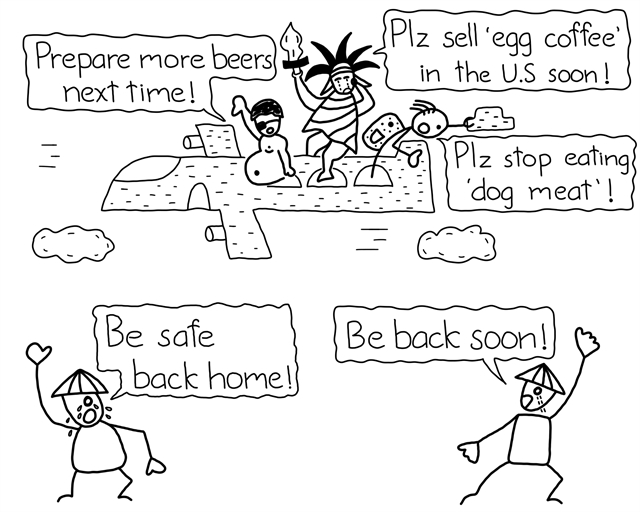 The Hanoi Digest can bring a smile to the faces of tourists during their trip to Hà Nội. — Photo courtesy of Lê Kiên Trung
The young writer revealed that although he was happy with this edition, as it "has become good enough to make people like it and they are willing to buy it".
He says he will try to improve more in the next edition, like adding more illustrative drawings to these current chapters, and creating new chapters featuring more tourist attractions of the city like Long Biên Bridge, the Imperial Citadel of Thăng Long and Việt Nam Museum of History.
He also plans to make guidebooks about other big tourism cities in Việt Nam.
"As long as my work keeps being well-received by the audience, I will keep going this way. It would probably take me less time to make them happen than it did with The Hanoi Digest, but it's hard to talk about the future. I would say it would keep creating content little by little every day. If it happens, it happens."
Source: VNS