Creative teacher inspires students to learn physics
A teacher in the Mekong Delta province of Hau Giang has developed his own teaching resources for physics so his students can conduct experiments.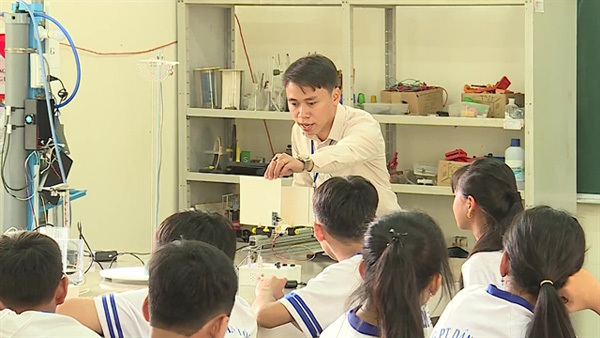 Le Thanh Liem from Him Lam boarding school and his students at the laboratory. Photo courtesy of Le Thanh Liem
Le Thanh Liem, 31, works at Him Lam Boarding School and has made the most of his technical background to create basic tools for his science classes to capture students' imagination.
According to Liem, the Ministry of Education and Training (MoET) is working to improve teachers' skills under a new general education programme which has been applied throughout the country beginning in the 2020-2021 academic year.
Modern equipment is a must for the new programme to use advanced teaching methods, he said, adding that if the Government invested in new equipment for schools nationwide, the costs would be very high.
Every year, many schools spend money to purchase teaching equipment and facilities, but many are left behind as they lack funding.
Most teachers have to use old teaching equipment and facilities and many chemicals and teaching tools cannot be used.
Liem said teachers often had to work without equipment while it was necessary for the students to practice, experiment and observe in subjects like chemistry and biology.
"As a result, students find it difficult to access new knowledge, affecting the efficiency of education," he said.
Concerned about shortcomings in teaching at the school, Liem is determined to apply advanced science and technology into existing equipment and create new facilities relevant to the modern-day.
Liem said he encountered many challenges at the beginning as he lacked funding and sometimes had to use his money to buy testing equipment.
He admits the first products he made weren't up to snuff but this didn't discourage him and he continued his research and inventing.
His project entitled 'Application of microcontroller technology to improve equipment for physics' has won him a place in the top three initiatives for 2020's 'Young Intellectual for Education' programme.
The programme, co-organised by HCM Youth Union, the Ministry of Education and Training, Tuổi Trẻ (Youth) newspaper and Thiên Long JSC, aims to encourage the renovation of teaching methods.
Liem's project was recognised for its creativity, helping teachers apply technology to create kits suitable for each subject and different regions.
It has been applied in the secondary school curriculum.
"The application of microcontroller technology to improve teaching equipment and facilities is an urgent task in the current period to bring about a friendly and exciting learning atmosphere," he said.
This also helped save costs and allowed students and teachers to use equipment in the new general education programme, Liem said.
The intelligent pressure measuring equipment is the invention Liem is most proud of.
The device was developed from simple tools capable of displaying results on a smartphone through the Blynk app. The data is stored on iCloud and can be sent via email.
In the past, students had to rely on textbooks and other indirect methods to calculate results when they wanted to measure the atmosphere and liquid pressure, Liem said.
Asked about the educational incident that left a deep impression on his memory, Liem said he would never forget the first time he instructed students attending the Science and Technology Contest for high school students at the provincial level for the 2012-2013 school year.
"My students and I were excited as our project on waterway traffic signalling system using solar energy was shortlisted."
Liem went to Can Tho University to learn about electrical circuits and then to HCM City to buy equipment for the competition.
Sometimes he even slept at the laboratory. They manufactured and prepared things for about a month. But three days before the competition, he was informed their project had been rejected.
After the first failure, Liem travelled far and wide to get more experience. Then, he decided to set up a science and technology club at the school.
His efforts paid off.
Thanks to his renovation model and assistance, some of his students have won prizes at science and technology contests at the provincial level.
Last month, Liem was among 11 outstanding teachers from Southeast Asia to receive the Princess Maha Chakri Awards which honours dedicated regional teachers whose accomplishments make significant contributions to education and human development and deserve international recognition.
According to the official website of the awards, Liem helped the school set up a "scientific-technical research club" for students who love science and technology.
"Through the club, students are encouraged to develop ideas from their real lives and use it to make their hometown more beautiful and comfortable. He also organises training sessions and workshops for teachers in science and technology so that they contribute to the nation," reads the website.
Liem said the award has changed him a lot.
"It required me to have a broader observation, paying more attention to disadvantaged students, especially ethnic minority students and participating in many activities to improve the quality of education."
Lu Xuan Hoan, principal of Him Lam Boarding School, said Liem is a young, energetic and professional teacher.
"Liem has many initiatives in terms of scientific and technological research. He also plays a role in supporting students carrying out creative and technological projects, helping them win prizes in contests at the provincial and the national level.
"Liem has served as an example for other teachers to follow. Thanks to him, the school's technological innovation movement has developed strongly," he said.  VNS
Mai Hien and Minh Hue

With a passion for scientific research, Vu Van Cat, a physics teacher at Kinh Mon 2 High School in Hai Duong province, has published two scientific articles in prestigious journals.

Tran Kieu, chair of the Vietnam Psychology – Education Association, noted that the new general education program (Program 2018) is designed to develop learners' personal capabilities.