VietNamNet Bridge – The central province of Quang Tri is rightly thought of as somewhere which has horrific war memories from a time when the province was a bloody battlefield during the revolution wars.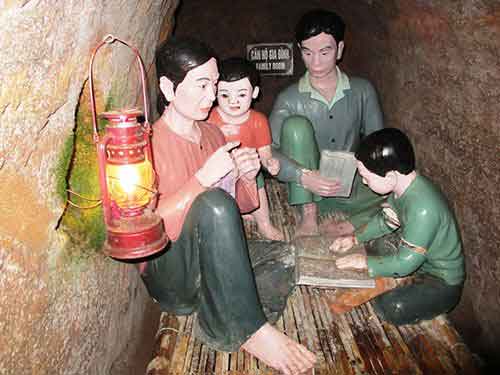 A family statue located in Vinh Moc Tunnel.
However, the province also has some stunning landscapes and interesting history, especially the Vinh Moc Tunnel system which is a huge attraction for tourists.
From Dong Ha City, the commercial hub of Quang Tri, it takes about one hour by motorbike along National Highway 1A to reach the Vinh Moc Tunnel complex in Vinh Moc Hamlet, Vinh Thach Commune, Vinh Linh District.
The route to Vinh Moc rewards travelers with peaceful surroundings with the primitive Cua Tung Beach, gentle Ben Hai River and small villages scattered amidst forests of bamboo and rubber.
Moreover, the path to Vinh Moc is shaded by bamboo lines and immense rice fields. The peaceful scenery is functioned as a nice visual breather for tourists who will no doubt feel pain as they visit an area which had such a brutal past with so many Vietnamese people dying as a result of U.S. bombing missions. Along the way, tourists can also see many historical relics.
The first stop at the tunnel is a relic museum where a tour guide will inform tourists about the significant historical facts and temporal landmarks. Leaving the small museum, tourists can take a short walk under the bamboo shade to start the journey of discovering the mysterious Vinh Moc Tunnel.
The tunnel system is like a miniature village built underground at 10 meters to 23 meters deep. It is more than 1,700 meters long and there is an interlacing transport system underground. The deeper you go down the tunnel, the narrower and colder it gets.
It has three floors. The first is about 8 to 10 meters deep and was the location for daily activities of locals while the second floor is 12 to 15 meters deep and was home to store food and weapons as well as for meetings.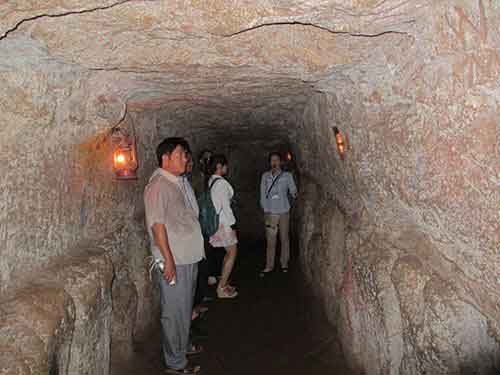 Tourists visit Vinh Moc Tunnel.
The deepest floor is 23 meters underground and is where locals protected themselves from bombing during the American War.
The system has a total of 13 doors, of which seven are linked to the sea with six linked to the hills. Around 180,000 people lived in the tunnel system for over two years.
When you are deep in the tunnels, visitors are sometimes amazed by the statues of locals who are shown undertaking daily activities. In the three underground floors, there are three wells, a meeting hall with the capacity of 50 people, a small hospital, post office, rice storehouse and telephone booth.
The tunnel has been recognized as a national historical site and was opened for public viewing in 1995.
Source: SGT