Cyclist Nguyen Thi That wins Asian Road Cycling Championships
Local cyclist Nguyen Thi That won a gold medal on March 29 in the women elite's category during the Asian Road Cycling Championships 2022 held in Tajikistan.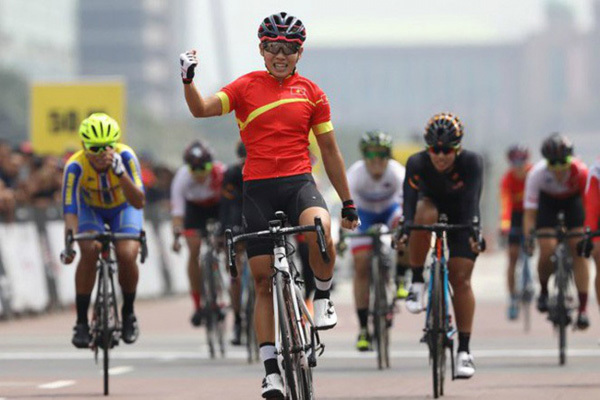 Vietnamese cyclist Nguyen Thi That wins Asian Road Cycling Championships. (Photo: VTV)
She received strong support from her teammates to hold onto top position during the race, thus overcoming 40 rivals, including those from Kazakhstan, Uzbekistan, Mongolia, and host nation Tajikistan to take first place in the women's 111km road race with a time of three hours and 11.37 minutes.
Elsewhere, Umutzhanova Makhabbat and Slovyea Anshela, both from Kazakhstan, were able to successfully grab silver and bronze medals.
This marks the second time that the Vietnamese cyclist has won a gold medal at the tournament. Back in 2018 That brought showed her strong sprinting abilities in the final metres to leave behind Chinese Taipei's Huang Tung Ying and Chang Yao to win with a time of three hours and 11.59 minutes.
The victory can be viewed as a warmup for That as she seeks to win another gold medal at the upcoming SEA Games 31, slated for May in Vietnam.
The An Giang-born cyclist also secured gold medals at the SEA Games in 2015, 2017, and 2019.
Source: VOV

National top cyclist Nguyen Thi That will return to her Belgian Lotto Soudal Ladies club in June for competition preparation.

Vietnam will compete in the 40th Asian Road Cycling Championships in Cyberjaya, Malaysia from March 17-21.