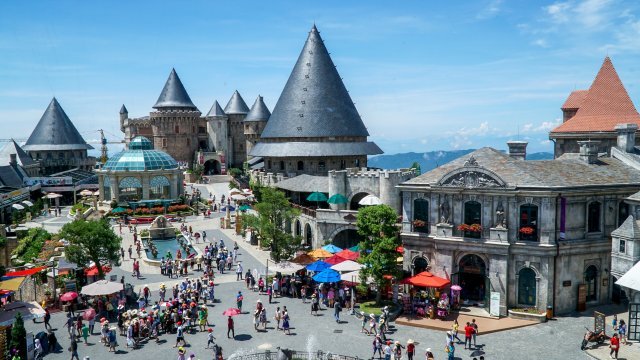 Sun World Ba Na Hills, one of the attractions in Da Nang. Photo: Viet Tuan
The conference is expected to host some 1,000 Japanese and Vietnamese guests, with the participation of the Japan Association of Travel Agents (JATA), The All Nippon Travel Agents Association (ANTA), the Japan Tourism Promotion Association, the Japan Association of Travel Agents, the Vietnam National Administration of Tourism (VNAT), the Vietnam Tourism Association (VITA), and tourism businesses from two countries.
It consists of various seminars on tourism, investment promotion and human resources development, introducing the success of tourism promotion in the two countries, especially between Japan and Da Nang, and discussing the efforts of both to attract more tourists.
This is the largest trade event involving the two countries this year and is hoped to raise the number of tourists travelling between two countries and strengthen the bilateral relationship in tourism, cultural exchange, and investment.
According to the Japan National Tourism Organization (JNTO), Japan considers Da Nang a market of great potential so its investment in the central city will grow dramatically over the course of the next decade.
Vietnam is also one of Japan's major tourism markets. In the first ten months of this year, 420,000 Vietnamese visited the country, up 27.8 per cent year-on-year.
Meanwhile, Japan was the fourth-largest source market of international tourist to Da Nang in the first eleven months of 2019, with 179,659 visitors, up 32 per cent over the same period in 2018, and is considered one of the most stable markets with the best growth.
Japan is also a key market for the long-term development of Da Nang's tourism industry and is Vietnam's third-largest source market after China and South Korea.
According to the General Statistics Office, 952,000 Japanese visited Vietnam in 2019, up 15.2 per cent against 2018. VN Economic Times