VietNamNet Bridge – A series of merger and acquisition (M&A) deals have been made recently, which show the attractiveness of the dairy production sector.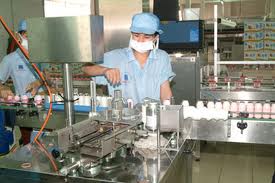 The VinaCapital Vietnam Opportunity Fund (VOF) and Daiwa PI Partners from Japan in mid-December announced an investment deal worth $45 million in IDP, a dairy producer that owns the Ba Vi brand.
After the deal, VinaCapital and Daiwa hold more than 70 percent IDP shares, while Nguyen Tuan Khai's family and IDP CEO Tran Bao Minh hold the other 30 percent of shares.
Andy Ho, managing director of VinaCapital, confirmed that he wanted to enter the dairy sector. He believes the industry has great development potential, and investments in dairy companies would bring high profits in the future.
IDP is one of the top five dairy producers in Vietnam with estimated turnover of $80 million in 2014.
Go Fujiyama, head of the overseas investment division of Daiwa PI Partners, said the current Vietnamese dairy product consumption per capita is 14 kilos, equal to the Japanese consumption level in 1960s.
He noted that the growth chart of Vietnamese dairy consumption would not be similar to the Japanese one, but the demand in the 90 million consumer market would steadily increase.
Nova Group, the owner of Anova Milk, has announced a multisided cooperation program with Irish Kerry Group to develop high-end nutritional powdered formula milk products.
The group plans to inject $50 million into Kerry in the first 5-year phase of the cooperation program to build an Anka-standard cow-farm chain in Ireland.
According to Nguyen Hieu Liem, vice president of Nova Group, the cooperation program would help the group implement a plan to launch a new group of products in the home market (meat, fish, eggs, milk).
Nova Group, established in 1992, is well known for Annova, an agricultural and chemical product brand, and Novaland, a real estate brand.
DFB Hanco Nutrition has decided to pour VND700 billion into GABA, a milk and grain factory in Dong Nai province.
The dairy market is so attractive that Hoang Anh Gia Lai Group, which has never been involved in dairy production, has jumped on the bandwagon by signing a cooperation agreement to develop cows and milk products with Nutifood and Vissan.
The appearance of big players in the market has caused Vinamilk, now holding 50 percent of the liquid milk market, to be concerned about the competition.
Mai Kieu Lien, a well-known businesswoman in Asia, and president of Vinamilk, expressed concern about the company's smaller market share at a shareholders' meeting held earlier this year, and emphasized that it was necessary for the company to increase investments.
Thanh Lich