Dams release water, flood several areas
VietNamNet Bridge – Seven dams and reservoirs in Quang Nam and Thua Thien-Hue provinces have begun releasing water as the central region experiences torrential downpours.
VietNamNet Bridge – Seven dams and reservoirs in Quang Nam and Thua Thien-Hue provinces have begun releasing water as the central region experiences torrential downpours.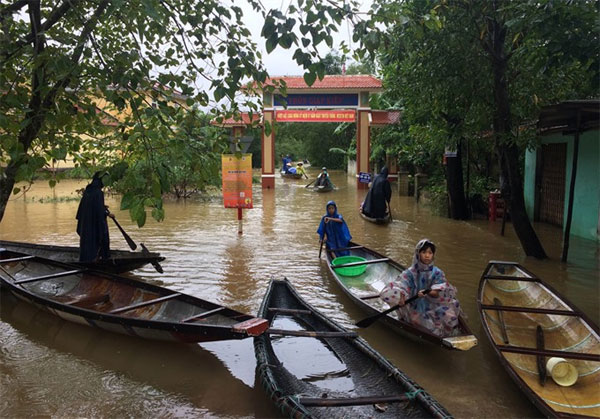 Central Thua Thien-Hue Province was hit by heavy rains, with 100-200mm falling in places due to a strong cold spell. The province is working to ensure local residents' safety and limit losses. — VNA/VNS Photo
According to the National Centre for Hydro-Meteorological Forecasting, the tropical depression that made landfall in the south-central region over the weekend, together with a cold spell coming down from the north, have brought heavy rain to four localities in the mid-central region, including the provinces of Quang Tri, Thua Thien-Hue and Quang Nam, as well as Da Nang City.
The weather centre has issued alerts on potential flash floods, landslides and flooding in lowland areas in these localities.
The three biggest dams and reservoirs in Thua Thien-Hue Province were ordered to release water on Sunday night. The Ta Trach Reservoir was releasing water at the rate of 80 cubic metres per second, while the Huong Dien and Binh Dien dams did so at the high rates of of 1,994 and 1,809 cubic metres per second, respectively, as of early Monday morning.
Thua Thien-Hue has experienced downpours since Sunday, with water levels rising rapidly, according to a Viet Nam News correspondent based in the province.
Several roads in Hue City and the Quang Dien and Huong Tra districts are already flooded.
The Thua Thien-Hue hydro-meteorological station has said that rain would continue until Saturday, with the total amount of rainfall potentially reaching up to 300-400mm.
Five mountainous communes of Phong Dien, Phu Loc, Huong Thuy, Nam Dong and A Luoi have been placed under red alert for landslides and flash floods.
Torrential rain in Quang Nam Province also forced four hydropower dams to release water down into the downstream sections of Vu Gia and Thu Bon rivers.
As of 9am on Monday morning, A Vuong dam released water at the rate of 137 cubic metres per second, while the Dak Mi 4, Song Bung 4 and Song Tranh 2 dams did so at 127, 260 and 290 cubic metres per second, respectively.
Heavy rains, combined with the release of water by dams, flooded several areas in Dai Loc and Nong Son districts. Flooded roads have isolated three communes in Dai Loc and another four in Nong Son from the district centre.
Damage in HCM City
Heavy downpours and strong winds last Saturday evening also destroyed the roofs of many houses and uprooted hundreds of trees in Binh Duong Province and HCM City's Districts 9 and Thu Duc.
In HCM City, around 149 houses had their roofs blown off and several roads, such as Nguyen Van Linh and National Highway No. 50 were severely flooded, causing numerous vehicle breakdowns and traffic snarl-ups.
In Binh Duong, around 100 houses lost their roofs while two collapsed.
Many parts of Di An Town suffered from a power outage.
In the town's Dong Hoa Ward, a 50-metre antenna tower collapsed on three houses.
No casualties were reported.
Medical supplies sent to storm victims
A donation of 5,000 food packages worth VND2 billion ($88,000) from Carlsberg Viet Nam, a member of the Carlsberg Group in Denmark, has been sent to flood victims of storm Damrey in the central provinces of Quang Tri, Thua Thien-Hue, Da Nang and Quang Nam.
The supplies, including rice, fish sauce, instant noodles, cooking oil, and milk, have been delivered to the communities affected.
Chung Ang University Hospital of Korea also donated US$18,000 worth of medical equipment to support central Quang Ngai Province's health sector as part of annual co-operation between the hospital and the province.
Landslide blocks north-south train route
A landslide disrupted a train journey on the Hai Van pass on Monday, essentially blocking the north-south rail route.
Authorities are yet to say when normal service can be resumed.
The north-south train SE3, running from Ha Noi to HCM City, was forced to a sudden halt at around noon after several big rocks fell on to the railroad section between Lang Co and Hai Van pass in Thua Thien-Hue's Phu Loc District.
The 15-carriage train, of which 13 are passenger cars, had to return to Lang Co, the previous station, instead of proceeding to Da Nang.
After 247 passengers on board, including both Vietnamese and foreigners, were brought back to Lang Co, several decided to leave the train and find their own ways to Da Nang.
Torrential rains are believed to have triggered the landslide.
Viet Nam Railways Deputy Director General Doan Duy Hoach said that heavy rain was hindering repair work at the site.
All north-south trains will stop at Lang Co Station until the train route can be resumed, Hoach said.
Source: VNS