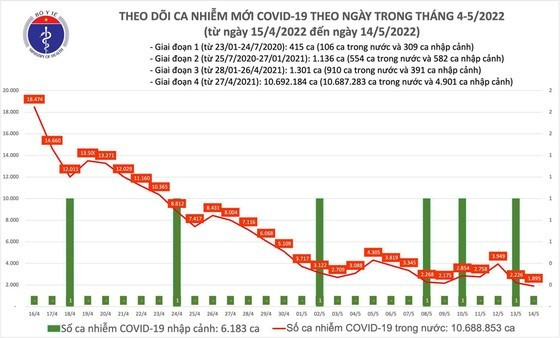 According to Dr. Nguyen Trong Khoa, Deputy Director of the Department of Medical Examination and Treatment under the Ministry of Health, although the daily number of new Covid-19 cases is still high, the death rate from Covid-19 has decreased very low compared to the previous period, especially in 2021.
Even so, the death rate from Covid-19 is at 0.37 percent, still higher than the rate from other infectious diseases which is at 0.09 percent. Therefore, in order to reduce mortality, it is necessary to continue to be vigilant in addition to detecting cases early and improving the capacity of the resuscitation system and limiting cross-infection in hospitals.
The Ministry of Health yesterday said that during the week, the country recorded more than 15,600 new Covid-19 cases, an average of about 2,234 cases a day including five deaths. On average, the number of deaths recorded in the past 7 days was one death a day. Worse, about 100 severe Covid-19 patients are still requiring supplemental oxygen and being monitored closely in the country.
Meanwhile, Associate Professor Duong Thi Hong, Deputy Director of the National Institute of Hygiene and Epidemiology, said that Covid vaccine immunity is waning over time; similarly, Covid-19-infected people's immunity will reduce gradually. Therefore, she advised people in high-risk groups including people with diabetes, heart and lung conditions, weakened immune systems, kidney disease and more need to get booster vaccines to prevent disease.
In the coming time, the health sector will integrate Covid-19 vaccine vaccination into the national expanded vaccination program; however, medical workers don't administer regular injections, but each health station will have 3-4 sessions of Covid-19 vaccination a month.
Source: SGGP