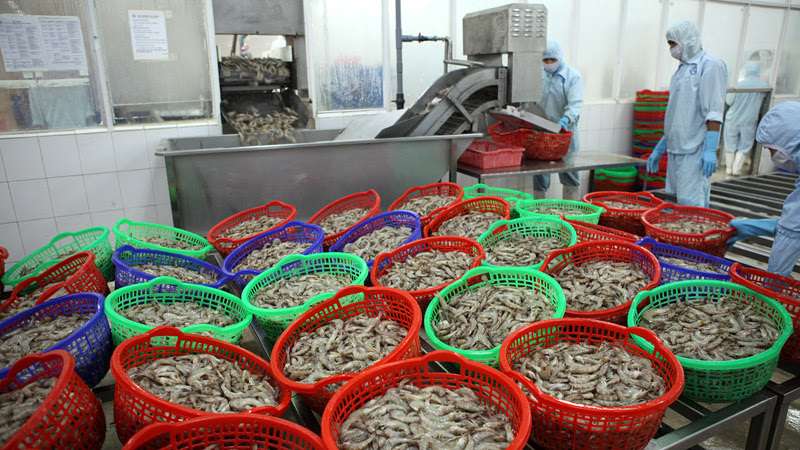 According to Vietnam Association of Seafood Exporters and Producers (VASEP), Vietnam's seafood export turnover to China reached $1.4 billion in the last two consecutive years, which accounted for 17-18 percent of total seafood exports.
However, the exports to the market have declined since the beginning of the year. As of the end of Q3, the exports to China accounted for only 11 percent of total seafood export turnover.
Since April 2021, exports to China have decreased by 11-51 percent because of tighter control over frozen seafood imports at major ports in the country, which caused congestion and higher costs to Chinese importers and affected import/export companies.
Vietnam's seafood exports to China saw a sharp fall of 36 percent in August and 51 percent in September, after the Covid wave that broke out in mid-July.
As such, seafood exports to China had decreased by 20.5 percent as of the end of September compared with the same period last year to $768 million. The shrimp and catfish exports dropped by 23 percent and 20 percent to $298 million and $279 million, respectively.
The black tiger shrimp exports decreased by 12 percent, and lobster 82 percent. Crab exports brought turnover of $36 million, down by 21 percent.
VASEP attributes the continued decrease in seafood exports to China's tight control policy over SARS-CoV-2 in seafood imports, which has caused congestion at ports.
Since Q3 2020, China has many times stated it has found SARS-CoV-2 on packages of frozen seafood products imported from India, Ecuador, Russia and Indonesia. Hundreds of export companies from these countries have stopped exporting products to China for 1-5 weeks. India alone has 70 such companies.
GACC (General Administration of Customs China) stated it will strengthen control over cold chain seafood. By October 29, GACC had inspected more than 400 international cold chain food producers and suspended 154 import companies because of infection from workers.
GACC took 3.2 million import food samples and found 499 samples tested positive for SARS-CoV-2. The agency suspended imports from 221 international companies for one to four weeks.
According to Le Ba Anh from Ministry of Agriculture and Rural Development (MARD), China has recognized 748 Vietnamese seafood processing workshops, 20 fresh seafood export facilities, while 48 seafood species and 128 seafood products are allowed to be exported to the country.
China is maintaining examination of SARS-CoV-2 on packages, frozen seafood transport means and fresh seafood, which places difficulties for export companies as their products have to wait at ports.
VASEP estimated that seafood export turnover to China would be around $1 billion this year.
Tam An

Vietnam's aquatic product exports are forecast to rake in 8.4 billion USD this year, equivalent to the figure in 2020, according to the Vietnam Association of Seafood Exporters and Producers (VASEP).

The lack of input materials and workers, the increase in production costs, and failure to fulfill orders of partners all have pushed seafood companies into a deadlock. Seafood exports have plummeted.