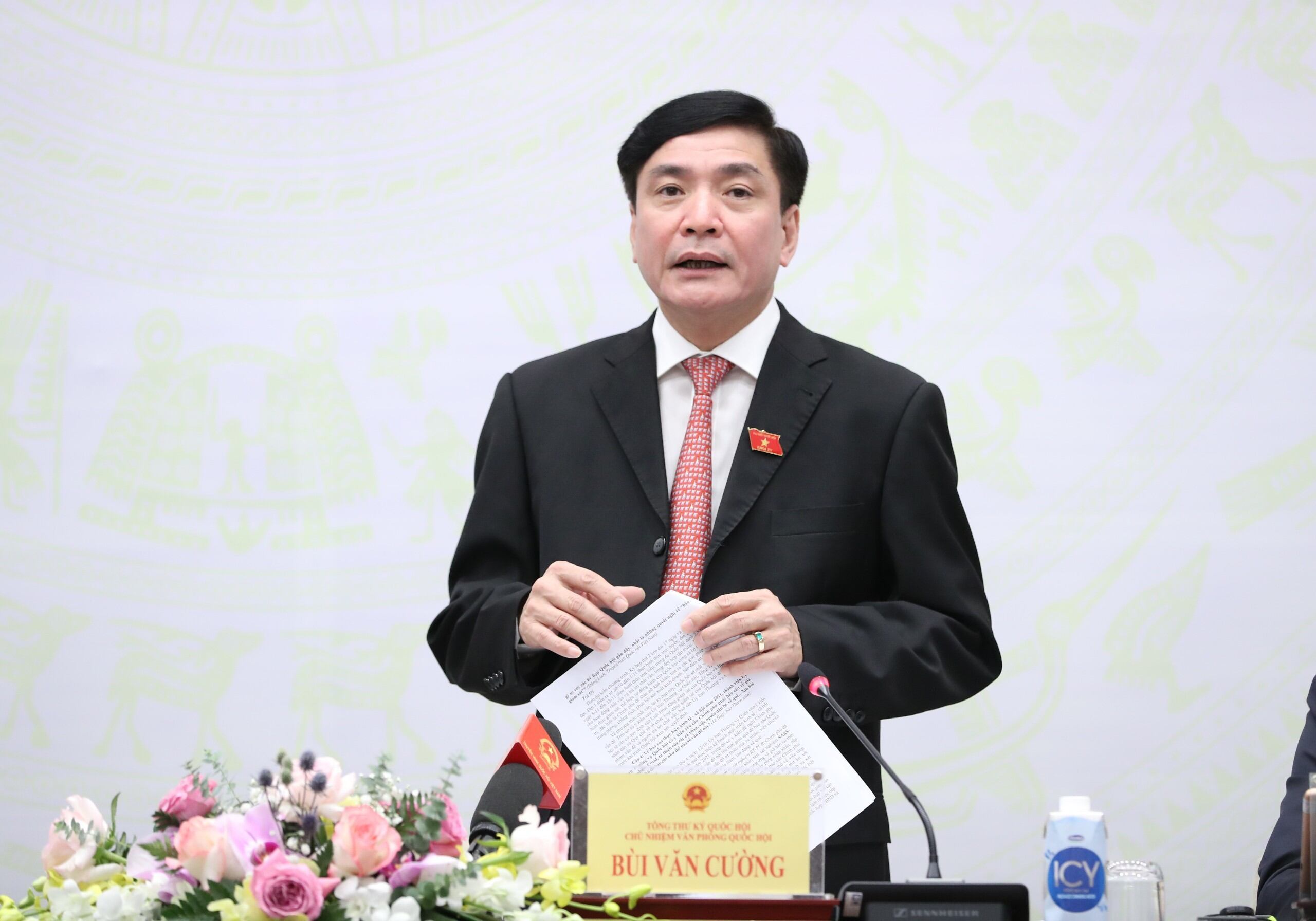 National Assembly Secretary General Bui Van Cuong
The National Assembly Office on October 19 held a press conference on the tentative agenda of the second session of the 15th National Assembly.
VietNamNet asked: "One of the contents the National Assembly will discuss at this session is the delay of wage reform implementation. As such, reform has been delayed two times. What will wage policies be in the time to come? Will the old wage mechanism be applied, or will there be changes?"
National Assembly Secretary General Bui Van Cuong said things have been prepared well for reform, because it is a very important issue which will affect the lives of civil servants and public employees.
However, cadres and civil servants agree with the resolution of the 4th Plenum of the 13th Party Central Committee on delaying wage reform to reserve the budget for COVID-19 pandemic prevention and control efforts.
"The Covid-19 pandemic has had a serious impact on the socio-economic situation. We have had to spend big money on pandemic prevention and control activities, from testing kits, vaccines, and medical equipment to frontline workforce and grassroots cadres," Cuong said.
Meanwhile, production chains are in danger of getting disrupted. Analysts believe that Vietnam will obtain a modest GDP growth rate of 3 percent this year if it tries its best.
"So, it's necessary to allocate resources to investment for development and social security," he said.
Asked when wage reform will be implemented, Cuong said the Government, relevant agencies and the National Assembly have been assigned to consider and report to appropriate agencies on the issue.
The groups of people with low incomes will get the wage increase first. This means that an increase for those who began receiving pensions prior to 1995 will be considered first.
Dang Thuan Phong, Deputy Chair of the National Assembly's Social Affairs Committee, said the Central Party Committee at the fourth Plenum agreed on the delay of the wage reform for an indefinite time and reform will be reactivated at a reasonable time.
He went on to say that the solutions to prepare resources for wage reform have been prepared thoroughly, but resources remain insufficient.
Meanwhile, all national resources have been gathered to serve the fight against the pandemic.
Localities have asked the National Assembly's permission to use resources initially allocated for wage reform to fight the pandemic.
Mekong Delta provinces are receiving a high number of returnees, but they don't have money to spend on this issue because this was not anticipated. 
Thu Hang

The fourth session of the National Assembly (NA) Standing Committee is set to open on October 11 in Hanoi, 

In preparation for the second session of the 15th National Assembly, General Secretary Nguyen Phu Trong and members of the Hanoi National Assembly Delegation had an online meeting with voters in some districts in Hanoi, on October 9.