Delicious dining at a snail's pace
Overlooking Ngoc Khanh Lake in Hanoi's Ba Dinh District, Oc Thi No restaurant has a pleasant view that helps diners feel relaxed as they enjoy a variety of dishes of freshwater snails.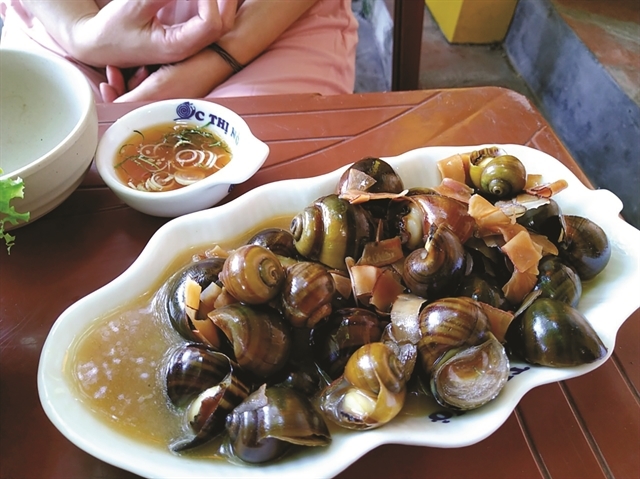 The restaurant is not at all posh, bearing a modest tone with wooden furniture and murals of Hanoi. It's a great place to enjoy a gentle breeze from Ngoc Khanh Lake, though, especially if you reserve a table on the balcony or the terrace.
It offers almost every single snail dish you can think of. Foreigners will find it easy to order from the menu as each dish comes with a photo. They can be divided into three types: fried, steamed/boiled, and hotpot.
As usual, to start off I ordered nem oc (snail spring rolls), cha oc (snail nuggets), and ha cao oc (snail dumplings) -- all fried dishes. Each has a separate dipping sauce that gives the taste a boost.
At first glance, the snail spring rolls look like the traditional spring rolls you see at feasts in Vietnamese homes. The difference here is that the filling has snail and piper lolot leaves, which are not found in regular spring rolls. All ingredients are mixed together and wrapped in rice paper, and then deep-fried until they turn yellow and crispy.
Be sure not to miss the chance to enjoy a range of steamed dishes. Snails are steamed with lemongrass, fermented rice, and ginger, while snail balls are steamed in bamboo tubes. Each has its own taste and decoration. My favourite is oc hap me(snail steamed with fermented rice). Me is a popular ingredient in traditional Vietnamese cuisine, used to create a sour touch. This dish strikes a balance between sour, hot, spicy, and sweet.
The restaurant doesn't just serve snail dishes originating from the north. Gourmands can try dishes like snails stir-fried with coconut flakes, from the south, or snails stir-fried with laksa leaves, from the central region. Dishes like snail in shacha sauce and snail salad bear the culinary features of China and Thailand, respectively.
You should always try the most popular snail dish when in Hanoi: snail noodle soup. It's one of the most common breakfast options among Hanoians, alongside pho (beef noodles) and bun rieu (crab noodle soup).
The snail noodle soup served at Oc Thi No is quite close to the traditional Hanoi version. People nowadays often add too much protein to the dish, such as pork, beef and even duck embryo. But there is no "meatification" going on at Oc Thi No restaurant, as the chef is keen to preserve the traditional taste of the dish. I enjoyed the perfect taste of crunchy, fatty snails and the sourness of the rice wine residue. The bowl was also eye-catching, in the colours of tomatoes and spring onions.
If you go in a large group of four or more, be sure to try the hotpot, which combines round stone snails, grilled tofu and green banana. You can treasure both the dish and the time sitting around the boiling pot with friends.
I've lost count of how many times I've been to Oc Thi No restaurant. Throughout all those visits I've tried each and every dish on the menu and always leave feeling satisfied.
VNS

People in Vu Dai Village in the northern province of Ha Nam are busy preparing their braised fish which is a traditional dish for the Tet Holiday.