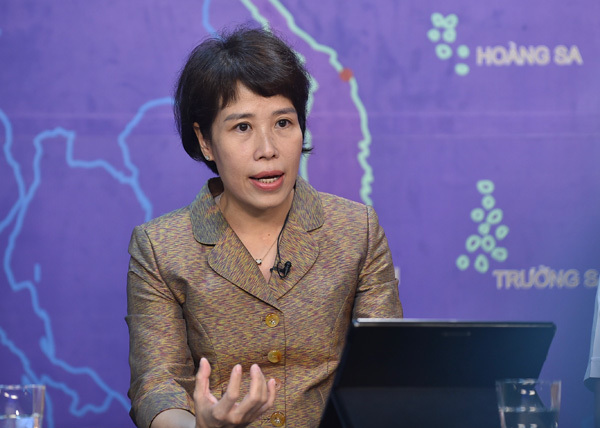 Deputy Minister of Planning and Investment Nguyen Thi Bich Ngoc. Photo: VGP
FDI indicators in the first nine months came as result of the Government's consistent effort in creating favorable conditions for socio-economic development amid COVID-19 pandemic?
Deputy Minister of Planning and Investment Nguyen Thi Bich Ngoc: As of September 20, Vietnam housed 34,141 valid projects with total registered capital of US$403.19 billion. Total disbursed volume was estimated at US$245.14 billion, representing 60.8 percent of the total registered capital.
In the first nine months, total foreign investment inflows were estimated at US$22.15 billion, up 4.4 percent against the same period last year while disbursement decreased by 3.5 percent to US$13.28 billion. Export value of the foreign-invested sector stood at nearly US$18.2 billion (including crude oil) and US$17.1 billion (excluding crude oil).
The above figures indicate the great efforts made by the whole political system, localities and business community in working together to overcome the negative impacts of the COVID-19 pandemic.
Local authorities have put in place measures to timely and effectively reduce impacts of the pandemic on business and production activities. Enterprises strictly comply with regulations and instructions on COVID-19 prevention and control adopted by the Ministry of Health and provincial/municipal People's Committees in order to maintain safe production.
Many initiatives like "three-on-spot production" and "one route, two destinations", quick test for workers, and cost savings, etc., have been deployed at industrial parks, economic zones, high-tech zones.
Enterprises have demonstrated solidarity and sharing spirit with the Government by providing support and assistance through multiple forms, including contributions to the national COVID-19 vaccine fund, donations of medical equipment and supplies to localities, etc.
Enterprises have played a key role in leading economic growth as they have exerted great effort to adapt to new situation and maintain production activities.
Prolonged COVID-19 pandemic has resulted in disruptive supply chains, what the Government has done to ease difficulties faced by foreign investors? How do FDI enterprises assess about Vietnam's current investment climate?
The National Assembly and the Government have adopted a series of solutions to control and push back the pandemic, as well as resolutions and decrees on tax and fee reduction, exemption as well as tax deferral to support businesses to overcome difficulties.
The Prime Minister has issued a number of directives to ensure timely response to the pandemic, established two special working groups led by two Deputy Prime Ministers in order to: (i) review and remove difficulties and obstacles arising in the implementation of investment projects, (ii) review and remove difficulties encountered by businesses and citizens.
Most recently, the Ministry of Planning and Investment advised the Government on issuance of Resolution No. 105/NQ-CP dated September 9, 2021 on supporting enterprises, co-operatives and business households in the context of COVID-19 pandemic. The Government has directed ministries, agencies and localities to expeditiously concretize and organize the implementation of the resolution in accordance with the roadmap for resumption of economic activities right from this month's end.
The Government consistently requests localities to directly handle enterprises' issues with maximum support from ministries and agencies in order to help enterprises maintain and restore operations.
Regarding business environment, the Ministry of Planning and Investment coordinated with the Viet Nam Business Forum and its business associations to conduct a survey with the participation of 500 foreign corporations and companies. Findings show that the COVID-19 pandemic has negatively affected these enterprises. However, the surveyed enterprises still highly valued the Government's efforts in responding to the pandemic and expressed their belief in Viet Nam's recovery prospect. They pledged to continue long-term investment in Vietnam, especially when the Prime Minister ordered a roadmap for safe adaption to the pandemic.
 (i) European enterprises are optimistic about Vietnam's business environment in 2021, with 67% of the surveyed respondents rating our country's business environment as positive.
 (ii) Japanese enterprises are optimistic that the Vietnamese economy may see recovery soon, with 47% of them planning to expand investment in Vietnam.
 (iii) Korean enterprises say they have new plans for investment in Vietnam, with 61.9% committing to expand investment in the Southeast Asian country.
 (iv) The majority of American enterprises speaks highly of the Government's efforts, and expresses their belief that the pandemic will be contained soon.
 (v) Despite the pandemic, the number of big FDI projects (worth more than US$50 million each) rose by 57% compared to the same period of previous years.
The aforesaid positive signals reflect foreign investors' confidence in Vietnam's robust recovery prospect in the time to come and the country remains a safe promising and potential investment destination.
However, we still need to make more efforts to quickly contain the pandemic in order to restore production activities.
The Post-pandemic Recovery and Development Plan is being presided over by the Ministry of Planning and Investment. Businesses are very interested in the progress of the Plan, especially the specific roadmap and steps to reopen. Could you please provide more details?
Regarding the Economic Recovery and Development Plan for 2022-2023, the Ministry of Planning and Investment has consulted ministries, sectors and localities and is now urgently finalizing the draft plan to submit to the Prime Minister this September.
During the draft building process, the ministry has also carefully researched and learning from various proposals from the business community to ensure that the plan brings practical benefits for the business community.
The Plan will aim at the following main objectives: (i) catching up, taking advantage of opportunities from the rapid recovery trend of major economies; (ii) promoting structural reform, improving productivity, efficiency, competitiveness, and resilience of the economy to resist from external shocks; (iii) contributing to macroeconomic stability, implementing 3 strategic breakthroughs and the 5-year Socio-economic Development Plan for 2021-2025; (iv) supporting job creation, labor restructuring and sustainable income enhancement for employees.
Support policies are expected to focus on the micro enterprises, small and medium-sized enterprises (SMEs), business households, and labors which have been heavily affected by the Covid-19 pandemic but hold high potential to recover quickly, among them are tourism, accommodation and gastronomy, processing of agricultural and fishery products, digital transformation, digital economy.
Regarding roadmap toward reopening, the Ministry of Health (MoH) is currently developing a Guidance for returning. For reopening the economy, key criteria which will be taken into consideration include vaccination rates, the risk of COVID-19 transmission, and healthcare system capacity.
Source: VGP

The Ministry of Planning and Investment (MPI) plans to submit its economic recovery project to competent authorities for approval in October, with the 2022 to 2023 period to be identified as the ideal time for recovery efforts.

Vietnam's commitment for success of FDI companies and foreign investors can be seen through the Government's efforts to improve the investment climate over the last few years.