VietNamNet Bridge – The Ministry of Construction's (MIC) proposal to stop licensing housing projects, despite strong opposition from the real estate sector, has gotten the nod from the Deputy Prime Minister Hoang Trung Hai.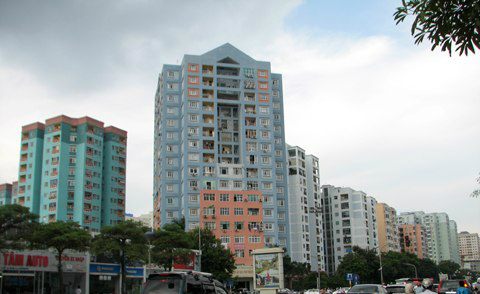 Deputy Minister of Construction Nguyen Tran Nam said on Friday that, despite improved liquidity, there are still 2,800 unfinished projects out of the 4,000 licensed ones. Nam was speaking at the Central Steering Committee's meeting on the accommodation policies and real estate market.
In order to help clear the oversupply, MIC has proposed a moratorium on the licensing of new housing projects.
According to the ministry, the total inventory value is roughly VND92.7 trillion. This includes the 19,210 unsold apartments, worth VND28.582 trillion, and 9 million square meters of land, worth VND33.88 trillion.
Agreeing with the MIC's opinion that there is no need to develop new projects at this moment, Chair of the Construction Federation Tran Ngoc Hung said only 40 percent of villas has been occupied.
However, Hung, while suggesting halting the licensing of new projects and revoking licenses from unfinished ones, said that MIC should be flexible in its approach.
"We still need more projects in those market segments which have high demand," he said.
HCM City's Vice Mayor Nguyen Trung Tin has warned that the licensing interruption would create difficulties for investors who have spent time following legal procedures and fulfilled the site clearance work, only to be told they now cannot proceed with their projects. Tin argued that he does not think MIC's proposed solution would help defrost the real estate market.
"The halting of licensing is just like an action to free the market," Tin commented. "It is necessary to apply essential measures to clear the current big stocks, but it is not advisable to go to extremes by prohibiting new projects," he said.
Minister of Construction Trinh Dinh Dung argued that clearing the huge housing inventory should be seen as a top priority for now, and in order to do this, it is necessary to check the licensing.
He blamed the frozen real estate market on the oversupply that recently arose once too many housing projects were approved. Many licensed projects have not moved forward because investors are well aware of the low demand in the market.
Dung denied the criticism that MIC is doing battle with market forces when it blocks housing project development. "The real estate market needs the state's intervention to be able to go on a right track. This does not mean that we are in a non-market economy," he said.
Deputy Prime Minister Hoang Trung Hai put an end to the argument when he concluded that, given the current oversupply, Vietnam does not need more housing projects. He said the national economy will continue to have difficulties if investors continue pouring money into new real estate projects. Credit should be prioritized to be disbursed for half-finished projects.
"Only the very important and special projects will get the licenses," Hai said.
VNE