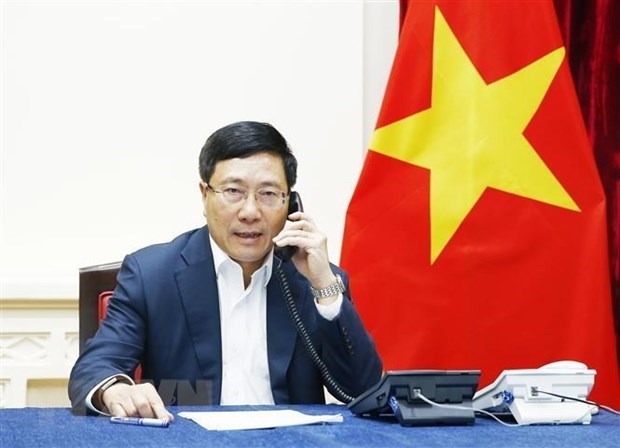 Deputy Prime Minister and Foreign Minister Pham Binh Minh
The two exchanged ideas on the Vietnam – RoK relations and cooperation. On this occasion, Minh talked about the Vietnamese government's decision to suspend the unilateral exemption of visa for the RoK citizens starting from 0:00 a.m. on February 29.
This had earlier been notified to the RoK side to strengthen the ability to control the spread of the epidemic, under which RoK citizens holding popular passports are still allowed to enter Vietnam after acquiring the suitable visa.
Minh asked the RoK side to closely coordinate with Vietnam in the prevention and fight against the epidemic in general and to support the citizens and businesses working and living in the respective country in particular, and hoped that the economic cooperation and trade between the two sides will be maintained as usual.
For her part, RoK Foreign Minister Kang made known of the efforts by her government aimed at coping with the COVID-19; affirmed the government's continued efforts to contain the epidemic; and stressed it will provide free medical assistance under WHO standards to the Vietnamese citizens in the RoK.
Vietnam ready to coordinate with RoK in COVID-19 fight: spokeswoman
Vietnam stands ready to share and continue to closely coordinate with the Republic of Korea (RoK) in the prevention, fight and control of the epidemic, Spokeswoman of the Foreign Ministry Le Thi Thu Hang said on February 28.
Concerning the decision to suspend the unilateral exemption of visa for the RoK citizens, the official said the Northeast Asian country on February 23 raised its alert to the highest level in face of the complicated development of the COVID-19 acute respiratory disease in its Daegu city and Gyeongsangbuk province, and in that context, the Vietnamese government has decided on the move, effective from 0:00 am on February 29.
This is a temporary measure aimed at fighting the disease, preventing its outbreak and spread in the community, thus ensuring the safety and health for the peoples of the two countries, Hang stressed, adding Vietnam has notified the RoK side on this././.VNA

Vietnam will suspend a visa-waiver program for travelers from South Korea today, following a spike in confirmed cases there of the novel coronavirus, creating a knock-on effect for Vietnam's already struggling tourism industry.  

Vietnamese citizens who return from South Korea's coronavirus-stricken areas will be isolated and monitored for 14 days starting at 9 p.m. on Wednesday.