Diary of a first-time mountaineer
A young lady recounts the itinerary of her very first mountain trip made to conquer the 2,000 meter-plus Ngoc Linh Mountain in the Central Highlands.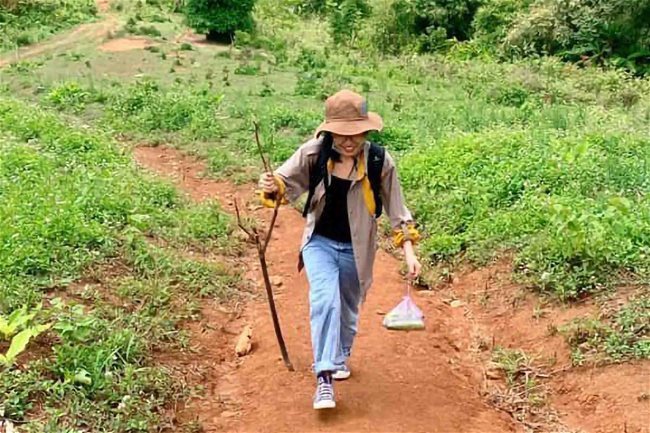 A mountaineer should hold a stick and walk slowly to keep his or her breath in thin air
When I received a phone call from my colleague asking me whether I could join a trip of Ngoc Linh Mountain, I felt a little confused because at the time, I had no mountain climbing experience. I wondered whether my physical health was suitable for such a trip. At the last minute, however, I nodded to her as I wanted to challenge myself.
The 2,000-meter-plus mountain is no problem to experienced mountain climbers. But it seemed a quite difficult task to a novice like me.
Ngoc Linh, or Ngoc Linh Lien Son, is a majestic mountain range stretching over the four provinces of Kon Tum, Gia Lai, Quang Nam and Quang Ngai. Its highest peak, around 2,600 meters above sea level, is in Tu Mo Rong District of Kon Tum Province. It was also the final destination of my trip. Aside from the dramatic landscapes, Ngoc Linh is home to a rare species of ginseng. The mountain is also the roof of the Central Highlands, the most famous highland region of Vietnam.
On the morning of that day, I and my colleagues caught a coach at Mien Dong Coach Station in HCMC to travel to Kon Tum Province. We arrived at the province's Tu Mo Rong District on the day that followed.
We first came to a replanted forest where our mountain trip would soon begin. Mr. Nhim—a person of the local Tay ethnic people—was our tour guide. We were advised to wear a jacket that could cover the neck and a wide-brimmed hat. We also had to apply oil balm to our feet to keep forest leeches at bay.
My first mountain climbing trip started now. The higher we reached, the thinner the air became. I sometimes felt a little bit scared as in front of my eyes were zigzag paths embedded in clouds. Occasionally, we saw some small houses perching on the mountainside.
On the way, I sometimes felt very hard to breathe or even suffocated. Mr. Nhim gave me a stick and told me to lessen my pace. Doing what he said, I carefully moved ahead to avoid a slip. On the way, I chatted with other mountaineers, which helped me feel better.
A few hours later, we reached the peak of Ngoc Linh Mountain. My feeling then was indescribable, perhaps the happiest moment I ever had in my life. Finally, I had been able to conquer the highest mountain in the Central Highlands on my first trip as a mountaineer.
Source: SGT

The market, the biggest festival of the northwestern mountain tribes, is expected to attract more tourists after the Covid-19 pandemic.