in accordance with a decision issued by the Ministry of Culture, Sports and Tourism on January 22, 2020.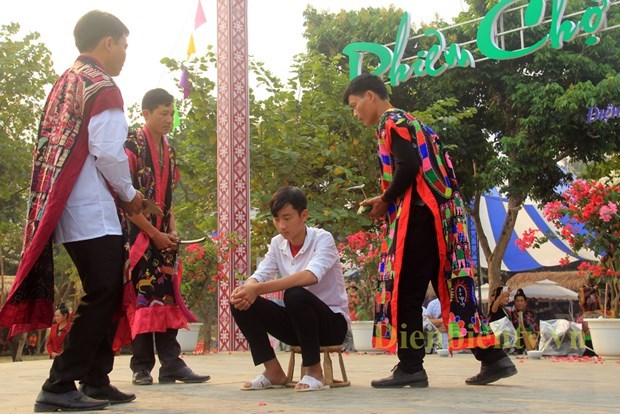 The "cap sac" (maturity ritual) of the Dao Quan chet ethnic minority people in the northwestern mountainous province of Dien Bien's Tua Chua district has been recognised as a national intangible cultural heritage. (Photo: Dienbientv)
A certificate of recognition was handed over to local authorities at a ceremony held by the district People's Committee on December 7.
The "cap sac" ritual is a rite of passage declaring the coming-of-age of Dao men in the locality.
This is the most important ritual ceremony in the life of a Dao man and is a necessary part of being recognised as an adult. Only after passing can a Dao man be considered mature.
In Dao society, only those who pass the "cap sac" ritual can become family owners or village heads and worship the ancestors.
The Dao people believe that a Dao man who passes the ritual is "grown up", even though he is still actually quite young. He can join important community events in the village and become a teacher, sorcerer, or medical practitioner, the three jobs considered important among the Dao people.
For these reasons, no matter how rich or poor he is, a Dao man must be initiated.
The ceremony is usually held from December 4 to 7, when local people enjoy free time following the harvest. For the Dao, these are the best days and month of the year.
The cultural practice features many stages, including a welcoming ceremony and a thanksgiving ritual for the ancestors, the presentation of offerings, musical performances, and the rounding off of the ceremonial ritual.
Dien Bien province is now home to 10 recognised national intangible cultural heritages./.VNA