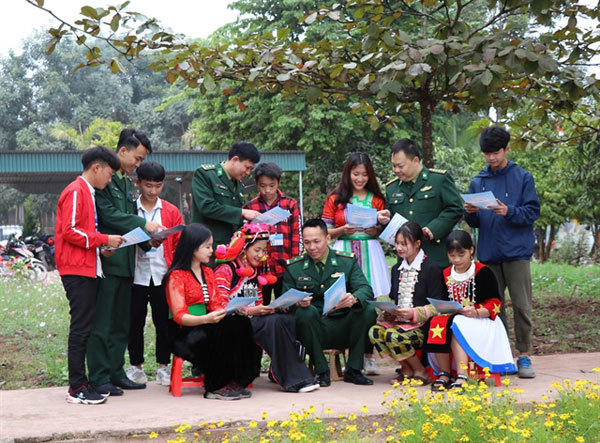 Dien Bien border guards disseminate information on national defence and security laws for students at Muong Nhe High School.  VNA/VNS Photo Xuan Tien
Nearly 100 officers and soldiers of Regiment 741, Military Command of Dien Bien Province, travelled 200km this month to reach Pa My Commune where the temperatures often fall sharply in the winter to support villagers.
As well as giving villagers clothes and blankets for winter, the soldiers have helped the elderly repair houses and assisted local people to clean up and renovate roads.
Major Mua A Khuong, political chairman of Regiment 741, said the soldiers instructed villagers how to prevent winter diseases for themselves and their animals as well as disseminate Party and State policies on religion and free migration.
In one month at the village, the unit aimed to repair 5km of roads connecting villages, construct five wooden houses for old people living alone or from policy beneficiary families and build wooden bridges across streams, he said.
According to Giang A Tru, Secretary of Pa My Commune's Party Committee, Pa My is a highland commune in extremely difficult conditions. Due to the mountainous terrain, for many years, local people have lacked land for production, increasing the rate of poor households. More than 80 per cent of local households are classified as poor.
Most of the villagers are of Mong ethnicity and work in the fields every day. Due to extreme weather, they often suffer from respiratory diseases. Soldiers teach local people preventive healthcare knowledge so villagers can protect themselves better in the winter.
"Villagers feel excited being helped by soldiers to repair houses and expand roads. It is always freezing in the winter here but this year we are no longer afraid of the cold weather thanks to cotton blankets and warm clothes," said Chao Phu Tin, a 68-year-old living in Huoi Pet Village.
Major Mua A Khuong said the mission was conducted by the unit every year, focusing on communes in extremely disadvantaged circumstances in border districts.
Dien Bien Province has a border of more than 455km with China and Laos. Nearly 25,500 households from 16 ethnic groups live in the province, mostly in difficult conditions.
Soldiers have performed well in dissemination work, earning trust from local people, helping change the appearance of the border areas in a positive direction, consolidating the people's confidence in the Party and State, upholding territorial sovereignty, political security, social order and safety in the border areas.
That is the premise for people in border areas to overcome difficulties and escape from poverty, Major Mua A Khuong said.  VNS

Le Nguyen Cong Huy lost his father when he was just three years old.  

Thirteen-year-old Po Loong Chuyen used to get up at 5am every Monday to walk to a boarding school 10 kilometres from his house. He only went home at the weekend and helped his grandfather on the farm.