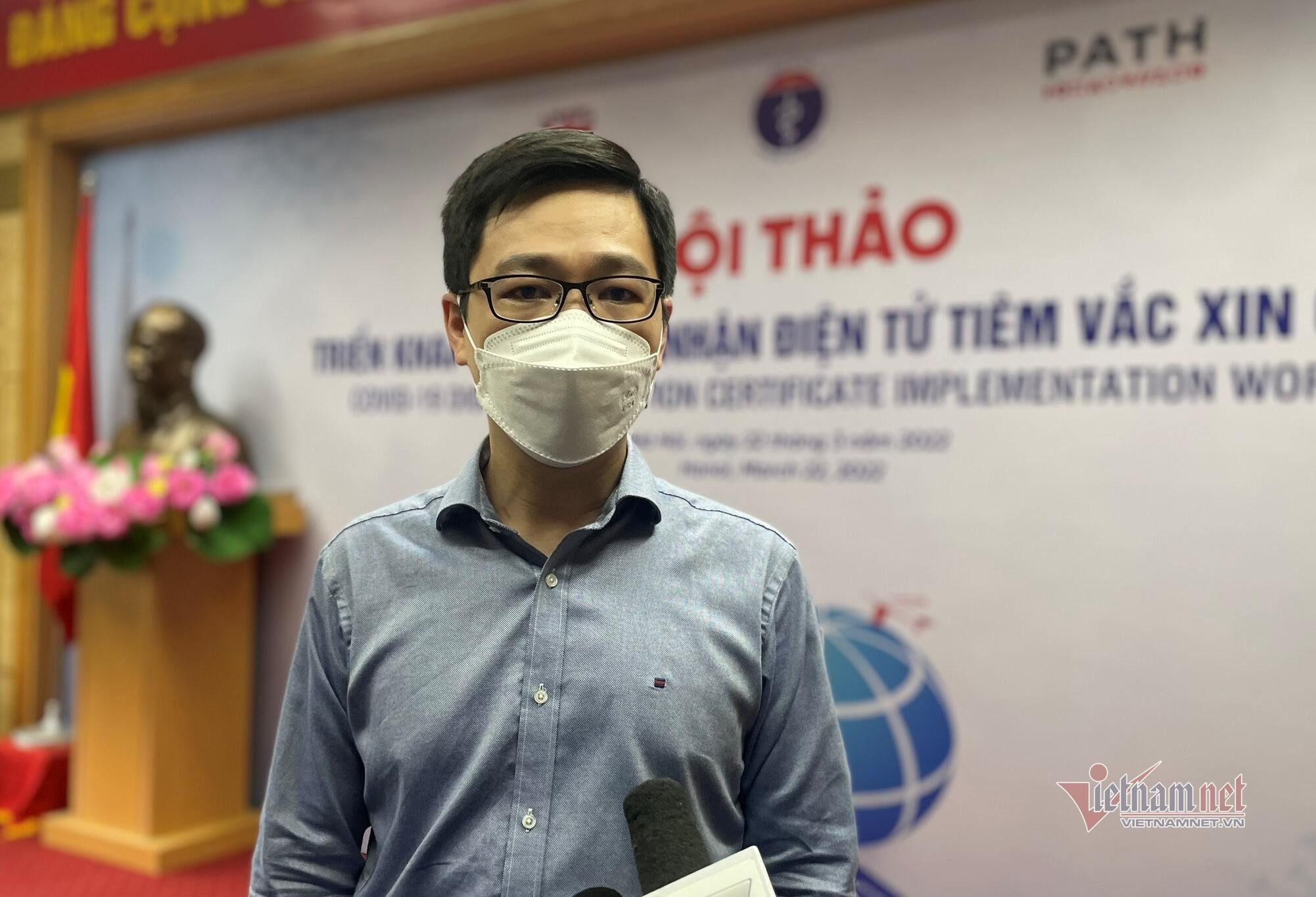 Nguyen Ba Hung, deputy director of medical data center under MOH's Department of Information Technology
Talking to the press on the sidelines of a workshop on digital vaccination certificates on March 22, Nguyen Ba Hung, deputy director of medical data center under MOH's Department of Information Technology, said that the ministry on December 20, 2021 issued Decision No 5772 on the standard form and procedures for vaccine passport granting.
After the decision, MOH joined forces with the Ministry of Information and Communication (MIC) and relevant agencies to build a vaccine passport issuance system and adjust the function of a digital signature on the vaccination management platform.
MOH last week carried out the issuance on a trial basis at three hospitals – Bach Mai, K and E. The trial showed that the system is ready for the issuance of electronic vaccine passports.
"We plan to organize a conference next week to deploy the electronic vaccine passport issuance nationwide after the trial period," Hung said
According to Hung, a digital vaccine passport has the same validity as a paper vaccine passport, but a digital vaccine passport makes it more convenient in traveling and international exchange.
The Ministry of Foreign Affairs (MOFA) reported that Vietnam's vaccine passport form has received bilateral recognition from 17 countries.
"Soon after MOH released Decision No5772, we received a lot of questions from people about when Vietnam will issue vaccine passports. Some people even came to the Department of Preventive Medicine and Department of Information Technology to ask about this, especially since March 15 when Vietnam officially reopened tourism," Hung said.
Asked which agency will be responsible for issuing digital vaccine passports as the number of vaccinated people is very high, Hung said under Decision No 5772, vaccination facilities will apply the digital signature.
The Department of Information Technology is building up a plan under which Departments of Health or CDC (Centers for Disease Control and Prevention) will implement digital signatures, depending on the local conditions.
"Digital signatures will be carried out in lots, i.e. thousands of people will get signatures at once. Therefore, the process of issuing digital vaccine passport is very simple," he said.
What do vaccinated people have to do to get a digital vaccine passport? Hung said people have the responsibility of providing accurate personal information, while immunization units are responsible for checking information and connecting the national database to verify information.
"As such, people don't have to do anything except provide information. All other steps will be implemented by immunization facilities," Hung said.
"When we deploy the digital vaccine passport issuance, all vaccinated people who have information on the vaccination management platform will have a QR code shown on PC Covid-19 app, or electronic health book. This is for control when people go abroad," he explained.
The Department of Information Technology under MOH is working with MIC to build up the vaccine passport display function. This means that if people have accurate information on this app, a vaccine passport will be automatically displayed.
"The result is one QR code in accordance with international standards which can be used by people when traveling abroad," he said.
Vietnam is now one of six countries with the largest vaccination coverage. Nearly 100 percent of people aged 18 and higher have had at least one, 99 percent two and 43.5 percent one booster. Meanwhile, 99 percent of people aged 12-17 have had one jab and 94 percent two jabs.
Do Truong Duy, Director of the Department of Information Technology, said 202 million vaccine doses have been administered so far. Of this, information about 93 million jabs, or 96 percent, has been entered into data system.
MOH's departments are working with the Ministries of Public Security (MPS) and Information and Communications to verify information and compare with the data on population managed by MPS.
Duy stressed that the verification of information on the vaccination management platform is the most important factor for vaccine passport granting.
MOH has released some documents requesting vaccination facilities to properly enter input and join forces with local police to verify information. However, there is still much information which has not been 'cleaned' and verified.
MOH is joining forces with MIC and relevant agencies to amend Decision 5772 on the form and procedure for vaccine passport issuance.
"When negotiating with the EU and some other countries on vaccine passport recognition, suggestions about changes to the form were made. We will cooperate with relevant parties to do this," he said. 
Nguyen Lien

Vietnamese COVID-19 vaccine certificates are still not available two months after the Ministry of Health officially introduced the template forms and issuance procedures due to technical issues.

Vietnam has temporarily acceptd vaccine passports from 72 countries and territories.