Digital World 2021 contributes to global tech transformation
The International Telecommunication Union (ITU)'s Digital World 2021 opened with a launch ceremony yesterday evening in Ha Noi.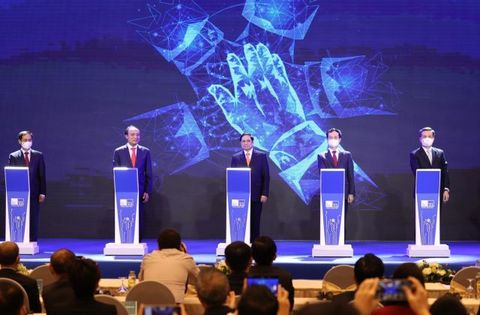 Prime Minister Pham Minh Chinh and participants at the opening ceremony. 
Addressing the opening ceremony, Prime Minister Pham Minh Chinh emphasised that the event would contribute to the exploration of digital transformation and digital technology, in the interest of a collaborative and sharing digital economy, for the benefit and progress of all people around the world.
PM Chinh said the world was undergoing rapid and profound changes, especially due to the impact of the COVID-19 pandemic. The rapid development of science, technology and the digital transformation process all over the world was creating both opportunities and challenges. "However, one thing is certain – digital transformation is vital, in order to both secure a new normal in the digital space and ensure economic recovery while prioritising the health and safety of citizens," he said.
The PM noted that as a country affected by the pandemic, Viet Nam's economy was still expected to grow in the mid to long term, as the pandemic was gradually brought under control, while Viet Nam's macro-economic factors were secured, its political and social stability was maintained, and its growth drivers were sustained. Viet Nam was, step by step, adapting safely and flexibly to the situation, restoring its production and business activities, and advancing socio-economic development.
The Government of Viet Nam considers digital and data infrastructure alongside its national digital platforms to be key factors. In this process, the Government always places its trust in Viet Nam's digital enterprises as a key player in the success of this process.
The goal is for Viet Nam's digital sector to account for 20 per cent of GDP by 2025, and 30 per cent by 2030.
"ITU Digital World 2021 is an opportunity for organisations and businesses from various countries to showcase their technological products, services and solutions. It will bring about unique opportunities and demonstrates the readiness, creativity and collaboration for a safe, peaceful and prosperous digital world," said Chinh.
Minister of Information and Communications Nguyen Manh Hung said: "Nearly two years since the outbreak of COVID-19, all countries are facing tremendous difficulties. The pandemic will be over, sooner or later. But the big question is whether we can adapt to the new normal, to turn challenges into opportunities, for digital transformation."
Expanding digital access
"Digital infrastructure plays a key role in digital transformation. In Viet Nam, our ministry is working with telecom operators to provide access to the remaining unconnected villages, so that by the end of this year, 100 per cent of our people can access the internet. 5G trials have been conducted since last year. We are now preparing to issue commercial and frequency licences, so 5G services will be available nationwide in 2022."
Hung said in the strategy for digital transformation, the Government played a vital role, in transforming public services and key sectors, such as education, healthcare, agriculture, transportation and finance. "We have very strong support from the Government, from the Prime Minister, in creating and enabling the environment and mobilising every resource for digital transformation in Viet Nam."
Delivering a speech at the conference, Secretary-General of the International Telecommunication Union Houlin Zhao thanked Prime Minister Chinh for his support and praised the Government of Viet Nam for hosting this event.
Zhao expressed a desire that ITU Telecom events would witness unforgettable moments, like when Nelson Mandela travelled to Geneva to address ITU TELECOM 95. He can still remember him talking about the rift between what he called the "information rich" and "information poor" and calling for more international investment partnerships.
Under the framework of ITU Digital World 2021, the ITU ministerial roundtables and workshops will discuss development trends, management policies, and technology solutions to promote the digital economy and digital society. The ministerial conferences will be divided into six sessions on digital transformation investment and promotion.
Participants will look into policies, measures and initiatives to develop digital infrastructure and digitalise our daily lives to accelerate digital transformation. Like an on-site exhibition, ITU Digital World 2021 will include online exhibition activities and an online forum.
Participating in the online exhibition, organisations and businesses will demonstrate 2D and 3D online booths, display their products, services, and digital solutions. The booths will be maintained for a month from October 12 to November 12, 2021.
The online exhibition is an opportunity for Vietnamese businesses to promote their brands, expand markets, and approach customers and partners from ITU's 193 member countries. Other events on the sidelines will include a digital festival, investment promotion forum, a seminar on digital creativity, a digital job festival, a start-up space and a talk on digital skills.
In 2020, the first online ITU Digital World was held under the initiative of Viet Nam, with the participation of delegates from 149 countries around the world. The success of this event contributed to consolidating and enhancing Viet Nam's position internationally and affirming the technological capacity of Vietnamese enterprises.
Source: VNS

Digital transformation is an inevitable trend and a process of changing all socio-economic activities intensively and extensively, said PM Pham Minh Chinh at the opening ceremony of the ITU Digital World 2021.

At the ITU Digital World 2021, Vietnam will bring concerns related to its digital transformation for discussion at the Ministerial Roundtable.