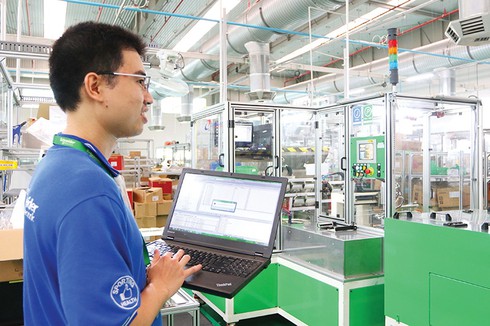 Domestic groups can compete with foreign rivals if they embrace the digital future. 
Over the past few years, Trung Hau Construction JSC has been applying digital solutions, which have helped the company's leaders carry out their work more easily. For example, all company data is systematically and methodically managed and simultaneously stored in the company's database, streamlining the entire operation process.
Speaking with VIR, the company's chairman Vo Dai Khoi explained the role of automation in liberating leadership and increasing capacity for his business, which currently consists of six subsidiaries – five in Vietnam and one in Australia.
"I used to be busy answering consecutive calls and using laptops and a range of other devices for work, but during the past year, all communications and operations have been encapsulated into a single smartphone. One of the reasons for this comes from the digitalisation of the group's operations and business activities," Khoi said.
The digitalisation of administrative documents creates the necessary data for the next steps of digital transformation. Besides that, the installation of cameras helps leaders to monitor construction progress and ensure the quality of large-scale projects in real-time, instead of having to visit each building in person.
"Investing in technology not only contributes to increasing labour productivity, but also improving design and construction capacity, which helped the company earn customers' trust," Khoi said.
"Our offers for tender packages are 5 per cent lower than those of other contractors, thanks to optimising resources instead of cutting materials. As a show of the increased capacity, previously, the company needed 200 employees to complete the construction of one project. However, the figure is now a quarter of that, while the construction time is a sixth faster," Khoi added.
Khoi said that 100 per cent of partners select Trung Hau again as an engineer-procurement-construction contractor for their expansion in Vietnam. In one example, the eight factories of Pungkook Co., Ltd. in Vietnam, Indonesia, and Myanmar were developed by Trung Hau.
The story of Trung Hau is one instance of enterprises successfully adopting the digital transformation to increase their competitiveness against both foreign and local rivals.
Double pressure
Digital transformation is no longer just a vision – it is a reality. Change is a compulsory requirement due to not only the development of technology across the globe but also the fierce competition in business and investment. Vietnam has become an ideal investment destination for new investment in recent times.
The opportunity is understandable as foreign groups, especially large-scale groups such as Canon, Samsung, Hyundai, Nokia, Toyota, and LG plan to increase localisation rates in Vietnam. Their ranks will grow thanks to the increase of overseas investment inflows, as well as the relocation of facilities from China to Vietnam. However, the majority of local groups are facing difficulties in getting selected as suppliers and partners by international corporations due to their limited management capacity.
Hoang Dinh Trong is the founder of PDCA Training Consultant Co., Ltd., a company specialising in training and advising small- and medium-sized enterprises (SMEs) under the plan-do-check-act cycle for carrying out change.
He explained VIR that SMEs lack standardisation in the operating and manufacturing stages thus face massive hurdles in controlling the effectiveness of personnel as well as the quality of products and services. As a result, their products cannot meet the demand, especially in the areas of delivery time and precision.
"The issue is exacerbated when businesses undergo fast growth in a short time. The problem is resolved only when their manufacturing systems are brought up to standard through digital transformation. It helps leaders monitor personnel, manufacturing activities, and business results with a number of applications on their mobile phones or computers," Trong said.
In addition, competitive pressure will double when large foreign groups invest in Vietnam and bring out satellite suppliers to serve their operations. These suppliers have deep awareness and methodical investment in digital transformation. Thus, if local businesses, especially SMEs, neglect their digital transformation or invest haphazardly, they will lose in the long run.
"Having the right digital plan and IT infrastructure in place will not only empower SMEs to compete effectively with larger competitors, it will also enable them to become part of the supply chains of large global companies," he said.
According to the APAC SMB Digital Maturity Index, which was jointly developed by global tech firm Cisco and global research group IDC, SMEs in Vietnam are making initial technology investments in the cloud, cybersecurity, and IT software and hardware upgrades, as a large majority of them begin their digital transformation journeys.
The APAC index, which is based on an independent survey of 1,340 respondents, looked at the digital maturity of SMEs across four business dimensions: technology adoption and application, digital transformation strategy and organisation, processes and governance, and the capability to source, manage, and retain the right talent. It showed that in Vietnam, 18 per cent of surveyed businesses invested in cloud, 12.7 per cent in security, and 10.7 per cent in upgrading IT software.
The country's global innovation index is constantly increasing and is currently leading the group of average-developing countries. According to the National Digital Transformation Strategy, by 2025, around 50 per cent of Vietnam's SMEs will shift to digital platforms and develop at least 80,000 digital technology businesses.
Hoang Dinh Trong told VIR, "Vietnamese businesses are aware of the importance of digital transformation and have made initial investment. However, their transformation has only just begun – many companies are still in the planning stage. In general, it takes businesses at least two years to restructure operations and production activities, thus the next three to five years are the most exciting ones to watch, as increased investments by SMEs in digital transformation will truly propel Asia-Pacific economies to the next stage of growth."
Dealing with the issues
During this digital transformation race, SMEs are also facing hurdles as they reach for the finish line. Respondents of the above survey said they are being held back by the lack of digital skills and talent (17 per cent), lack of a robust IT platform to enable digital transformation (16.7 per cent), and the lack of a digital mindset or cultural challenges in the organisation (15.7 per cent).
According to statistics revealed by FPT director-general Nguyen Khoa at the FPT Techday 2019 held in November, the proportion of Vietnamese businesses that have not yet adopted digital transformation is about 1.5 times higher than the global average. The biggest problem for businesses is that they did not know where to start with the process.
Along with such factors, according to Khoi, another barrier for domestic businesses is the wrong mindset and lack of determination in leaders. If they are not aware of the importance of technology and do not know how to build a systematic and methodical business, their hard-earned digital transformation basis will become worthless.
With the experience of advising and training thousands of CEOs, Trong said that the failure of the digitalisation progress comes from applying the wrong methods, rather than a lack of capital or experience.
Last but not least, SMEs also need to pay attention to training human resources because technology is a powerful tool, and humans will be in charge of the operation.
"Businesses in different sectors face different challenges and have unique growth prospects, which then vary from country to country. In order to succeed, it is important to understand these factors for SMEs in different sectors and countries, and the kind of technologies and solutions they can embrace to address them and thereby unlock long-term growth," Trong said. VIR

Prime Minister Nguyen Xuan Phuc has stated that the Government will create more favourable conditions for small and medium-sized enterprises (SMEs), which now account for 90 percent of the total in the country.

Vietnam considers domestic private enterprises as an important driving force for the economy which is looking to become an integrated and modern one.