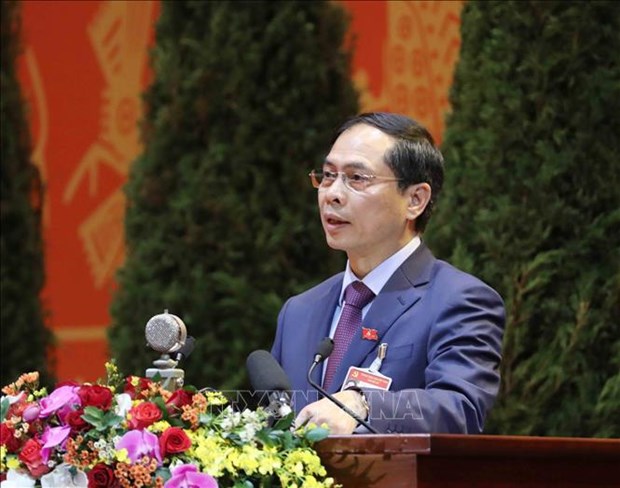 Bui Thanh Son, Deputy Minister of Foreign Affairs, speaks at the January 27 working session of the ongoing 13th National Party Congress. (Photo: VNA)
In a presentation at a working session of the ongoing 13th National Party Congress on January 27, Son said the sector has made noted contributions over the past five years through a good combination of Party, State and people-to-people diplomacy.

During the 12th tenure, despite great difficulties and challenges, with the latest the COVID-19 pandemic and the global economic downturn, fierce competitions between powers, along with emerging security issues, Vietnam's diplomacy has joined hands with the entire Party, people and army to successfully implement external affair guidelines set by the 12th National Party Congress.
In the past tenure, Vietnam has set up comprehensive partnership with five more countries and upgraded relations with two others to a strategic partnership, raising the total numbers of its strategic partners to 17 and comprehensive partners to 13, including all permanent members of the United Nations Security Council and ASEAN member nations.
The diplomatic sector has partnered with national defence and security forces in safeguarding the country's sovereignty over its sea and islands.
Amidst the complex development of the East Sea issue, Vietnam has been able to mobilise international support to oppose unilateral infringement, advocate the settlement of disputes through peaceful measures in line with international law, while maintaining stable relations with relevant neighbouring countries, Son said.
Regarding land border, the official highlighted the ratification of two legal documents recognising the completion of 84 percent of work in border demarcation and marker planting between Vietnam and Cambodia.
The country has also coordinated well with Laos and China in managing their common border lines.
Thanks to such efforts, the country has built and consolidated a land border of peace, friendship, cooperation and development with all neighbours, he stressed.
The sector has also helped to attract huge resources for national socio-economic development and reform, he said, citing the signing of five free trade agreements (FTAs), including new-generation, high-standard ones with key partners, which put Vietnam at the centre of a network of 16 regional FTAs.
In his report, Son also reviewed citizen protection work in the 12th tenure, with about 80,000 Vietnamese citizens brought home from more than 60 countries and territories worldwide amidst COVID-19. More than 50,000 citizens, including nearly 10,000 fishermen, have received protection during the past tenure.
Overseas Vietnamese have put more trust in the Party and the State, and actively contributed to national construction in terms of both knowledge and economic resources, sending home nearly 90 billion USD in remittance during the 2016-2020 period, according to the official.
Son said diplomacy has played a significant role in raising the country's position, as reflected through its hosting of the Asia-Pacific Economic Cooperation (APEC) forum in 2017, the World Economic Forum on ASEAN in 2018, the 26th Annual Meeting of the Asia-Pacific Parliamentary Forum in 2018, the summit between the US and the Democratic People's Republic of Korea (DPRK) in 2019, its ASEAN and AIPA Chairmanship last year, and non-permanent membership of the UN Security Council for 2020-2021.
Son attributed those achievements to the Party's sound, comprehensive and absolute leadership, the flexible application of President Ho Chi Minh's diplomatic ideology, as well as the country's flexible adaptation to changes.
He proposed key tasks in external affairs in the upcoming tenure, including deepening political trust and combining interests with 30 strategic and comprehensive partners, with development put at the centre of relations, and Asia-Pacific as the strategic region, while enhancing relations with other potential partners in the region.
It is a must to step up international integration intensively and extensively, advance multilateral diplomacy, and more actively engage in such multilateral mechanisms like ASEAN, the UN and Mekong cooperation, he continued.
More efforts are needed to promote multilateralism and international law, he said, highlighting the significance of economic diplomacy in national development.
Diplomacy should join in preventing and eliminating security risks early on and from afar through promoting dialogues, building trust, and advocating preventive diplomacy and respect for law, the Deputy Minister emphasised.
Diplomacy will continue to serve as a firm bridge connecting 5.3 million Vietnamese abroad with their homeland, enabling them to contribute to national development and integration, Son said.
Official: Party diplomacy contributes to 13th National Party Congress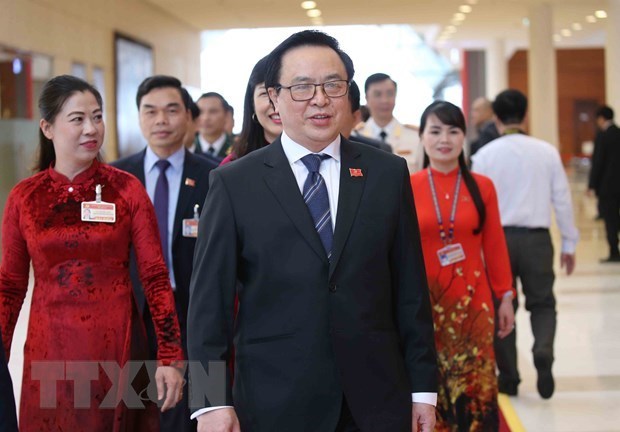 Head of the Party Central Committee's Commission for External Relations Hoang Binh Quan

The Party, State and people-to-people diplomacy contributed to fulfilling goals during the tenure of the 12th National Party Congress, said head of the Party Central Committee's Commission for External Relations Hoang Binh Quan.
In an interview recently granted to the Vietnam News Agency, Quan said Vietnam was a symbol of the world in the past struggle for national independence and reunification, and also set example during national renewal and development. Therefore, international friends are eyeing the 13th National Party Congress. Many political parties, international organisations and heads of states sent messages and letters of congratulations to the Vietnamese leaders on this occasion.
Quan added that a number of world leaders consider Vietnam an exemplary model of development. At present, Vietnam has been hailed worldwide for its success in meeting the dual goal of fighting COVID-19 pandemic and restoring socio-economic development thanks to the sound leadership of the Communist Party of Vietnam (CPV), drastic actions of the Vietnamese Government and unity of the Vietnamese people.
He said international friends expect that the 13th National Party Congress will open up a new period of development for Vietnam.
According to him, important progress has been made in Party diplomacy over the past five years. Vietnam strengthened ties with political parties globally in both width and depth, including ruling communist parties from neighbouring socialist countries, and parties from traditional friends and major partners, contributing to consolidating political trust, cultivating friendship with countries as well as improving leadership capacity.
He said the CPV is adopting mechanisms of holding theoretical seminars with eight important political parties, policy dialogues and consultations with major parties and political parties worldwide.
Vietnam also signed training agreements to send thousands of officials to the Communist Party of China, Singapore People's Party and political parties in Australia each year, along with many other training courses for officials and cadres at all levels.
In his view, the CPV is one of the important parties with respected voices at forums of the communist and workers' parties globally such as in Europe and Latin America where Vietnam has held ties with the communist and left-wing parties, contributing to improving Vietnam's stature on international arena.
About orientations to promoting the Party's external relations, he highlighted the effective combination among the Party, State and people-to-people diplomacy to uphold collective strength of the nation on the diplomatic front.
He also mentioned the goal of maintaining an environment of peace and stability for development, and protecting sovereignty and territorial integrity.
As the world is evolving rapidly, complicatedly and uncertainly, he suggested the CPV further broaden ties with political parties worldwide, and stay flexible and creative to adapt with the new situation.
In 2019, the Politburo issued Directive No.32-CT/TW on strengthening and improving the efficiency of the Party's foreign relations in the new situation.
He called for continuing to enrich the brainpower of the Party by pooling international resources, including Party leadership experience, science-technology, human resource training, material and spiritual resources in service of the national renewable and development, contributing to accomplishing tasks by the 13th National Party Congress.
Vietnam aims to elevate bilateral, multilateral relations
Vietnam will elevate bilateral and multilateral relations in the time to come as stated in the draft documents submitted to the ongoing 13th National Congress of the Communist Party of Vietnam (CPV).
Talking to reporters on the sidelines of the Congress at the National Convention Center in Hanoi on January 27, Hoang Binh Quan, head of the Party Central Committee's Commission for External Relations, said Vietnam will make efforts to make its bilateral relations more substantive and effective, focusing on increasing political trust.
Currently, the CPV has a resolution to enhance Vietnam's multilateral relations in a spirit that the country will both actively and proactively engage in multilateral mechanisms and initiatives, he said.
"This is a development step in the foreign policy of the Party and Government of Vietnam in the coming term," he noted.
Regarding the effectiveness of Vietnam's foreign policy, Quan said that Vietnam has joined nearly 20 free trade agreements, which means the country's trade and investment space is very large. For a country like Vietnam, with its current level of development, this is a great international integration effort, he affirmed.
The task for Vietnam now is to better its policy system and infrastructure, especially digital facilities, so that it can participate in the world's playgrounds more confidently and practically, he went on.
"Vietnam will make every effort to effectively and responsibly implement its international commitments as well as those to multilateral institutions," he said, adding that the country will promote international integration with higher quality to take advantage of international cooperation and support for its renewal cause.
The 13th National Party Congress will last until February 2. With the motto "Solidarity - Democracy - Discipline - Creativeness - Development", it will review not only the implementation of the Resolution of the 12th National Party Congress but also 35 years of implementing the "Doi Moi" (Renewal) process, 30 years of implementing the 1991 Political Platform, 10 years of implementing the amended Political Platform (supplemented and developed in 2011) and the National Socio-economic Development Strategy 2011-2020.
The Congress will also set out socio-economic development orientations and tasks for 2021-2025 (the 50th anniversary of the liberation of the South and national reunification); and determine goals and orientations to 2030 (the 100th founding anniversary of the Party) and a vision for national development to 2045 (the 100th founding anniversary of the Democratic Republic of Vietnam, now the Socialist Republic of Vietnam)./.VNA

Leaders of the Ministry of Public Security, the Ministry of National Defence, and the Supreme People's Court on January 27 stressed the importance of comprehensive reform