Dire threat to famed Con Dao flora, fauna
VietNamNet Bridge – The famous Con Dao Island's ecosystem and its biodiversity is seriously threatened by overexploitation and low environmental awareness of visitors and locals.
VietNamNet Bridge – The famous Con Dao Island's ecosystem and its biodiversity is seriously threatened by overexploitation and low environmental awareness of visitors and locals.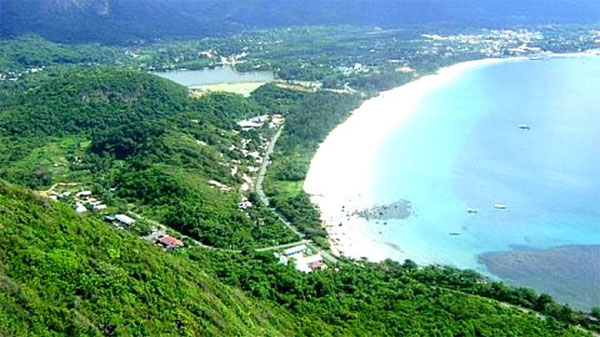 An aerial view of Con Dao National Park. — Photo condaopark.com.vn
Concerned officials as well as residents are calling for strong protective measures that can prevent the slide into irrecoverable loss.
"The commercial hunting of marine resources and pollution of their natural habitat have resulted in a loss of natural regeneration of marine fauna," Tran Dinh Hue, deputy head of Con Dao National Park's Management Board, told the Lao Dong (Labour) newspaper.
"Out of ignorance, many people have been hunting for endangered species using different methods," said Nguyen Van Son, owner of a restaurant in Con Dao District.
He said some visitors to the island still wanted to buy products from rare species like the eggs of vich (Cheloniidae), a kind of sea turtle.
This demand would impact efforts to save and preserve the turtle, he said.
While the depletion of natural resources is increasingly evident, inadequate penalties posed a challenge for forest rangers trying to prevent and discourage violations, Hue said.
A large number of fishing vessels can be seen in waters near the island every day.
Instead of using traditional methods, fishermen can be seen using cyanide fishing – where the poisonous substance is sprayed to stun the fish, or using light to attract fish to specific areas to harvest them. Both methods are prohibited, Hue said.
In addition, fishermen are also illegally fishing in the wetlands of Con Dao National Park, posing risks to all marine organisms.
Natural disasters have also damaged the island's ecosystem rendering it more fragile, so the harm caused by human actions is compounded.
The Linda storm, which hit the island in 1997, destroyed one third of its forest area and damaged about 1,000 coral reefs and sea grass.
The El Nino phenomenon exacted a heavy toll on local coral reefs in 1998, 2010 and in April and May this year.
Nguyen Khac Pho, deputy head of the national park, said rising sea levels had narrowed the number of nesting locations for sea turtles and affected their reproduction.
Tourism impacts
"The park's biodiversity is also threatened by tourism activities," Pho said.
The fact that many tourists choose Con Dao Island for its beautiful, pristine natural beauty is a challenge to conservation efforts, he said.
He said turtles will not crawl ashore to dig their nests, or they will stop preparing their nests and return to the sea if they detect noises and light at night.
Pho also blamed tourists for purchasing products of endangered species for the increase of violations in the field.
A number of people have tried to catch and trade meat and eggs of vích, a rare and endangered animal, for high profits, he said.
Besides sea turtles, yen hang (Collocalia), another endangered birds, need to be protected.
The numbers of this special bird have been dwindling rapidly over the past few years, Pho said.
Patrol team
Faced with these challenges, the Con Dao National Park Management Board has set up new rules to conserve marine resources and implement forest protection commitments.
It plans to expand its patrol team to 70 people, assigning some to guard the nesting areas of endangered species.
The board will also co-ordinate with relevant agencies in dealing with violations.
Located on the Cn Dao archipelago, the national park covers nearly 20,000ha with 6,000 ha of forest and the rest belonging to the marine protected area.
It is home to many plant and animals species endemic to Viet Nam and South Asia.
According to the park management, 29 species of mammals, 85 species of birds, 46 species of reptiles and amphibians and about 1,080 vascular plant species have been recorded at the park.
Surveys conducted by Nha Trang Institute of Occanography have shown 1,323 species of marine fauna and flora, including 44 listed in the Red Data of Viet Nam.
The coral reef at Con Dao used to be the most pristine in Viet Nam, covering around 1,000ha.
The Park was recognised as the country's six marine Ramsar site in 2014. Ramsar, or the Convention of Wetlands, is an intergovernmental treaty that provides a framework for conservation and wise use of wetlands and their resources.
VNS