Doctor turned politician still dedicated to treating poor people
Over the past 20 years, after finishing work Mau Van Phi usually drives his old motorbike to offer medical check-ups and treatment to impoverished people, mostly of the Raglai ethnicity, in Khanh Vinh District in the central province of Khanh Hoa.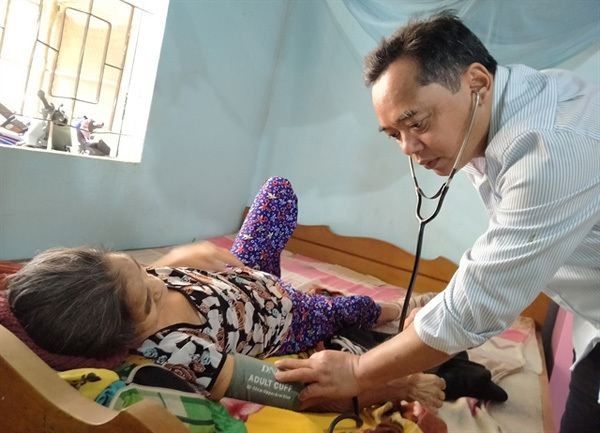 Doctor Mau Van Phi measures blood pressure for 95-year-old Cao Thi Linh who resides in Lien Sang Commune in Khanh Hoa Province's Khanh Vinh District. — VNA/VNS Photo Thanh Van
He often carries two big bags. One is filled with medicine to cure common ailments such as headaches, while the other contains basic tools for medical examination including a stethoscope, blood pressure monitor and scissors.
Although Phi is now Secretary of Khanh Vinh District's Party Committee, he still spends his free time helping others.
Cao Thi Xi Tin, a resident of Lien Sang Commune, said her husband had suffered a stroke while she often faced pneumonia.
Despite having health insurance cards they don't want to go to the hospital for treatment as there is no one else to take care of their house, crops and grandchildren. They have been treated by Phi for about four years now.
"Thanks to doctor Phi, who regularly visits, my husband's and my health is getting better. My husband now can walk," Tin said.
Ninety-five-year-old Cao Thi Linh is another of his patients.
Though she has suffered from heart disease for many years, she doesn't want to be hospitalised.
Cao Thi Sau, Linh's daughter, said she was grateful to doctor Phi who has treated her mother for a long time, adding that he also gave her medicine free of charge.
"Every time she has a fever or feels tired, I call him."
"Doctor Phi also tells us to go to see the doctor when we are sick and not to believe in superstitions," Sau said.
Khanh Vinh District is home to 15 ethnic minority groups and the Raglai people account for 48 of the population.
Seeing the tough living conditions in the area, Phi decided to do something to help local residents and studied hard to become a doctor.
He was an excellent pupil during his 12 years of education and his efforts paid off when he passed the entrance exams to the Central Highlands Medical University.
In 1997, after graduating, Phi was assigned to work at Khanh Vinh District's health centre, becoming the district's first Raglai doctor.
Six years later, he was appointed as deputy director of the centre. Then he was elected as vice-chairman of the district's People's Committee in 2005 and deputy secretary and secretary of district's Party Committee in September and October last year.
Despite his political commitments, Phi always uses his spare time to treat poor people who are ill. His patients mainly suffer from malnutrition, diarrhoea, respiratory diseases and chronic conditions.
"Offering check-ups after I've finished my office work has become a habit and I have a strong desire to do the work," Phi said.
He said he wanted every citizen to be healthy and equipped with medical knowledge to take care of themselves.
"At first, I offered medical examinations and treatment to serve the people. Then, I wanted to promote the role of a Party member.
"Party members must be close to the people and listen to the people so that it is easier to convince them when it is necessary," he said.
Talking about Phi, Nguyen Tan Tuan, chairman of Khanh Hoa Province's People's Committee, said he has become the pride of the local Raglai ethnic group.
As the secretary of the district, he has nurtured many plans to improve the living conditions of local ethnic minority people and has never forgot his responsibility as a doctor.
"Phi acts as a motivation for many young people in the mountainous district to have aspirations, studying hard to have jobs and serve their homeland," he said.  
Thanh Van (VNS)

Young doctors who volunteer to work at district-level health facilities in provinces across the country have made significant changes to the public health care sector.

Vietnam is one of the few countries with a complete healthcare network which had been widely expanded to villages to provide primary treatment to local people, Deputy Minister of Health Do Xuan Tuyen said.