VietNamNet Bridge – Several recent cases of alcohol poisoning, many resulting in deaths, have sounded the alarm about the state's lax management of alcohol and alcohol abuse among Vietnamese.
On the market today are hundreds of alcohol products with different labels. There are also alcohol products without labels, which are called "ruou que" (rural wine) or "quoc lui" (national rice wine). Wine of unknown origin is sold everywhere and is almost totally uncontrolled.
Where is the law?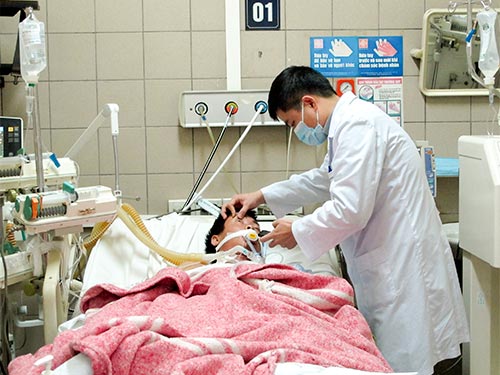 A victim of alcohol poisoning at the Hanoi-based Bach Mai Hospital.
The village of Van in Bac Giang Province is one of the most famous wine producing villages in the north. There, more than 200 household distilleries boast a daily output of thousands of liters of wine, all of it illegal and unregulated. Despite the issuance of a decree on alcohol production and trading early last year, not one household has curtailed its business.
And in the northern province of Bac Ninh, the village of Dai Lam is also famous for wine. Over 100 families operate without licenses or quality certification, says the chair of the commune, Mr. Nguyen Van Ton.
"The local authorities are not in charge of wine quality so we can only remind the families to protect their traditional wine brand," Ton maintains.
According to the Vietnam Craft Villages' Association, there are about 40-50 traditional wine villages throughout the country. Most of wine producers in these villages have not registered for business or product quality.
Statistics from the Vietnam Association for Anti-counterfeiting Goods and Brand Protection indicate that about 800 million liters of alcohol are sold in the market annually, in which the wine produced by registered firms accounts for only 20 percent. The rest is produced by households, out of the oversight of any quality control authority.
To control the origin and quality of wine, particularly wine processed by households, the Government issued a decree on wine production and trading which took effect on the first day of 2013. Under the new regulations, all facilities producing wine for business purposes must register and meet legal requirements on environmental protection, quality, food safety and labeling.
However, after more than a year since the decree took effect, nearly 100 percent of the household-scale wine production businesses are still out of control.
Why?
Mr. Tran Quang Trung, Director of the Food Safety Department of the Ministry of Health, complains that it is very difficult to manage traditional wine products.
The decree on alcohol management, despite its good intentions, does not work in reality. Many moonshiners are not even aware of the new regulations, while enforcement agencies feel powerless to do much.
And according to a number of enterprises in the liquor business, even for registered producers, the quality of wine products is poorly controlled. As a rule, wine producers must verify their own product quality and take responsibility for it. However, many disregard this rule, either failing to test product quality altogether, or only checking a small portion of the product.
In late 2013, six people died after drinking liquor produced by a Hanoi-based company. The liquor is one of the company's three products that were recalled after tests showed the methanol levels of the liquors to be 2,000 times higher than the legal level. The incident roused the public and once again the question about state management over this product was raised.
According to current regulations, alcohol-based products are managed by four agencies: business licenses are granted by the Department of Planning and Investment; liquor manufacturing licenses are issued by the Department of Industry and Trade; trademarks are licensed by the Department of Science and Technology; and food safety certificates and certification of product standards for alcohol products high in methanol are granted by the Department of Health.
More alcohol-related mental patients
Dr. La Duc Cuong, Director of Central Mental Hospital I, says the hospital has seen dozens of people with alcohol-related mental disorders. Alcohol is responsible for many types of mental disorders, says Cuong. Many alcoholics develop paranoia, convincing themselves that others are plotting to harm them. Consequently, they have very dangerous behavior.
According to research of Central Mental Hospital I, alcohol-related psychosis typically occurs after drinking alcohol for 5-10 years, depending on each person's health and level of consumption. Up to 67 percent of suicides are related to alcohol. 80 percent of alcoholics have symptoms of depression and 55 percent of drug addictions are related to alcohol use, the research says.
NLD