Domestic firms ignore AEC challenges: Experts
VietNamNet Bridge
- Vietnamese businesses are oblivious to the pressures of competitiveness in the wake of ASEAN moving up the ladder from AFTA to ASEAN Economic Community (AEC) by the end of 2015.
VietNamNet Bridge - Vietnamese businesses are oblivious to the pressures of competitiveness in the wake of ASEAN moving up the ladder from AFTA to ASEAN Economic Community (AEC) by the end of 2015.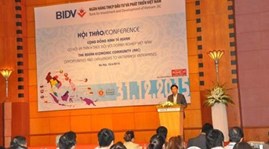 A research by National University revealed that up to 60% of Vietnamese enterprises believed that the AEC's establishment will not have much effect on the country.
This was revealed at a conference, the ASEAN Economic Community: Opportunities and challenges to Vietnamese enterprises, held by Bank for Development and Investment of Vietnam (BIDV) in Hanoi on June 10.
The BIDV's general director PhanDucTu said that this year will be the year of profound integration for Vietnam, with a number of FTAs (free trade agreements) concluded or under negotiations. Vietnam has signed two FTAs with South Korea and the Eurasian Economic Union (EEU) and is expected to conclude another one with the European Union this month. In Southeast Asia, the AEC is scheduled to be formed by Viet Nam and other ASEAN member states by the end of this year.
"Integration is an inevitable trend and is expected to have a large and profound impact. For an economy, integration helps expand markets, boosts trade turnover, and serves as a magnet for FDI inflows," Tu said.
Competitive pressures
However, it has also brought substantial challenges, he noted, adding that the country's economy and business community will be subject to greater competitive pressures, while, with low competitiveness, the size of the economy and businesses will remain small. The huge FDI inflows will result in macroeconomic imbalance, unless proper regulations are still put in place. In addition, the participation in FTAs will jeopardise Vietnam's sovereignty in certain economic development policies. There will be risks associated with integration, such as human resource challenges, trade investment disputes, and intellectual property issues.
Sharing Tu's ideas, Pham Dinh Doan, vice chairman of Vietnam Retailers Association cum chairman of Phu Thai Group, said domestic firms have not paid much attention to the AEC as businesses' trade rotation inside the region accounted for only 20-25% of their total turnover. It meant that Vietnamese businesses have mainly depended on markets outside ASEAN, such as the United States, the European Union, and Japan.
Doan noted that it will be hard for the retail sector to retain its market share as goods from other countries in the region have already started flooding Vietnam's markets, although the AEC has not been officially established.
"Several countries have penetrated Vietnam to acquire supermarkets or set up several distribution companies," he added.
Policy changes urged
He proposed that Vietnam needs policies and changes from the Government so that enterprises can take advantage of the integration. Domestic retailers have small-scale businesses, making it difficult to compete with foreign companies.
The chairman noted that this could also make local producers to lose their position in the retail system. Hence, Vietnamese firms should become more professional and internationalise, while increasing the power of associations for a better support system.
He suggested that the Government should further improve administrative procedures to help businesses.
Can Van Luc, the BIDV's deputy general director, agreed, adding that few Vietnamese enterprises are taking advantage of export opportunities in ASEAN.
The rate of the export turnover of other ASEAN countries was 24%, while in Vietnam, it was only 15%.
Last year, Vietnam's exports to ASEAN rose by 3% despite its export growth rate of 14%. However, Vietnam has been doing well in attracting FDIs from ASEAN states, on a rate of 28%, especially from Thailand, Singapore and Malaysia.
"Integration will bring challenges not only for producers but also for the banking sector," Luc said, adding that under the committed schedule, Vietnam will have to open up its market and eliminate restrictions in the banking, insurance and capital market sectors this year.
The cap on foreign ownership currently is 30% in the banking sector and 49% in the insurance and securities sector. However, in accordance with a commitment to the liberalisation of services, member countries will have to open up all service sectors, allowing a minimum of 70% foreign equity.
A lot of commercial banks from ASEAN countries, such as Bangkok Bank, UOB, DBS, Maybank, and Public Bank, have set up their representative offices, branches and joint ventures in Vietnam.
"Not just banks, many insurance and securities corporations and firms are also expected to enter Vietnam's market when the AEC comes into existence," he said.
He suggested that banks should diversify products for businesses, including international payment, commercial funding, and risk prevention for exchange rate, as well as interest rate and securities prices to compete strongly in the integration.
VNS