Domestic office market sees difference in demand of foreign tenants
Hanoi and HCM City have seen different demands among business tenants from Japan and South Korea, according to Savills Vietnam.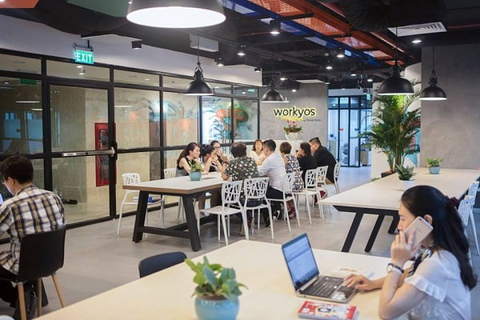 Japanese enterprises have similar office space in Ha Noi and HCM City, showing that the business potential of these two markets is equal. — Photo officespace.vn
South Korean businesses have given priority to setting up offices or opening business headquarters in Ha Noi when entering the Vietnamese market. They are quite dependent on the Korean business community.
Office space in Ha Noi leased by South Korean firms is 60 per cent, higher than in HCM City. In fact, Samsung Group is currently the South Korean enterprise with the largest investment in Viet Nam, focusing on the two largest production and development technology centres in Bac Ninh and Thai Nguyen.
Meanwhile, Japanese businesses entering Viet Nam often target the manufacturing segment.
Japanese enterprises have similar office space in Ha Noi and HCM City, showing that the business potential of these two markets is equal.
According to a survey conducted by Savills on all office tenants in the Ha Noi and HCM City markets as of the first quarter of 2021, the two markets attracted the main groups of industries that dominate office space for lease, including finance, insurance, real estate, manufacturing and information technology (IT).
HCM City is considered a major economic centre, multi-national corporations have often chosen HCM City to set up their headquarters. However, Vietnamese businesses still prioritise opening offices in Ha Noi.
Vietnamese businesses account for 46 per cent of the total office space in Ha Noi and 35 per cent in HCM City.
Hoang Nguyet Minh, director of Commercial Leasing, Savills Hanoi, said that the office supply in Ha Noi is still not meeting the huge demand at present, but business tenants still have many choices in office buildings with high quality and professional management. Large enterprises, IT and technology enterprises or start-ups should look for Grade A offices in the West or downtown Ha Noi to have flexible rental options.
Tu Thi Hong An, director of Commercial Leasing, Savills HCM City, forecast that in HCM City, there are potential districts to develop office buildings due to high demand of tenants such as District 2, District 7 and Thu Duc District.
However, these areas have not yet formed a new centre in HCM City, so when tenants look for Grade A offices, their first choice is still District 1, An said.
High-end offices have often prioritised key areas of a large city such as Hoan Kiem District in Ha Noi and District 1 in HCM City. However, because of limited land fund and real estate development costs in central areas are high, developers of office real estate in Ha Noi and HCM City have moved or expanded office projects to outside of the central districts.
This change started 10 years ago in Ha Noi and two years ago in HCM City. Now, Ha Noi has formed three centres with Grade A offices, including Hoan Kiem District, the inner city area and the West area of ​​​​the capital, according to Savills.
"The early change has had a positive impact on rents. About 10 years ago, the two areas, inner city and the West, had to reduce rents to attract tenants, but now they have recorded stability and growth," Minh said.
"The rent in these areas is not as high as the central district, but tenants enjoy certain benefits and the building quality is very good. Therefore, the demand for Grade A office is high in these two new centres, even higher than in Hoan Kiem District."
Meanwhile, "the office supply in HCM City continues to increase in the non-central business district areas. By 2023, HCM City will not have a new supply of Grade A office space, but in the future will also form new areas where Grade A offices are concentrated as the Ha Noi market," An said.
By the end of the first quarter of 2021, Viet Nam's office market recorded positive recovery signals, according to Savills.
In Ha Noi, from the fourth quarter of 2020 to the first quarter of 2021, high-quality supply was offered from Capital Place, Thaiholdings Tower and Leadvisors Tower projects.
By 2023, Ha Noi is expected to have new Grade A projects in Ba Dinh District (inner city area) and Cau Giay District (Western area), the average rent of Grade A in Ha Noi is expected to increase to $35-37 per sq.m per month.
In HCM City, the demand from businesses is forecast to exceed supply and Grade A office rent is expected to continue to grow at 3 per cent per year. — VNS

Foreign investors have shown increasing interest in grade A offices in Ha Noi, according to Savills Viet Nam.