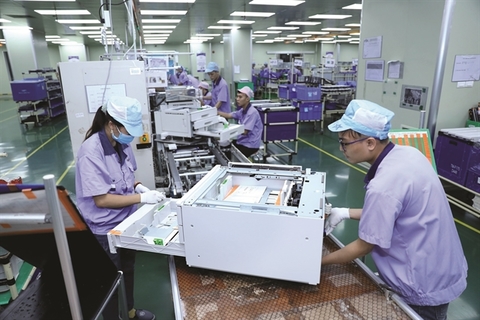 The Hong Kong-invested EVA Hai Phong Precision Co. Ltd's factory at the VSIP Hai Phong Industrial Park. 
Foxconn, Luxshare, Pegatron, and many leading manufacturers of components and products for 'giants' such as Apple, Sony, and Microsoft have recently invested in Bac Giang Province and Hai Phong City in Viet Nam's north.
Analysts believe these big names could create a new wave of investment in the country.
The People's Committee of Bac Giang Province has recently issued an investment certificate for the Fukang Technology factory project invested by Foxconn Singapore PTE Ltd at the Quang Chau Industrial Park, with registered capital of US$270 million.
The factory will produce iPhone, iPad and MacBook for Apple in Viet Nam, with a production scale of 8 million units per year.
The Foxconn Technology Group, meanwhile, has constantly expanded its scale of investment and established a range of companies since 2007.
Its total investment in Viet Nam stood at $1.5 billion as of last December, of which Bac Giang had received about $900 million. It expects to invest an additional $700 million in the province this year.
Total registered FDI into Viet Nam was $28.53 million last year. In total, 33,070 FDI projects were operating in the country as of the end of last year, with total capital of $384 billion and disbursed capital at $231.86 billion.
Bac Giang also granted investment certificates to three FDI projects in the electrical and electronic sectors in the early days of the new year.
Risesun Investment Pte Ltd from Singapore will invest $75 million in a plant producing plastic and composite products and $6 million in another factory manufacturing PVC decorative film at the Hoa Phu Industrial Park.
Ja Solar Investment (Hong Kong) Ltd will invest $210 million in a photovoltaic manufacturing plant at the Quang Chau Industrial Park.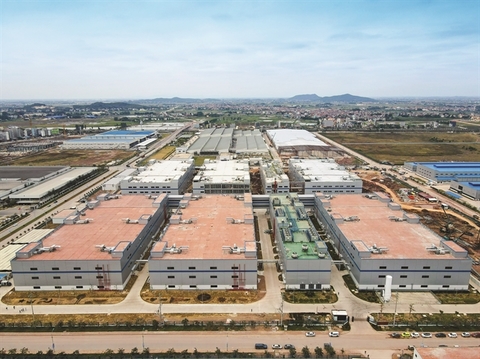 Foxconn's under-construction factory in Bac Giang Province. Many experts believe the arrival of large, high-tech foreign investment represents the beginning of a new investment wave. Photo ricons.vn
The northern port city of Hai Phong, meanwhile, granted investment licences to three investment projects of the Pegatron Group, a supplier for Apple, Microsoft and Sony, in March last year.
Pegatron also plans to invest $1 billion in an electronics manufacturing plant in the city.
Total investment in the three projects of the group at the Nam Dinh Vu Industrial Park stands at around $1 billion.
It is also planning to move its R&D centre from China to Viet Nam at an appropriate time.
After being granted an investment certificate four months ago, Universal Global Technology (Taiwan), a member of the ASE Holding Co., officially began construction of a factory at the city's DEEP C Industrial Zone producing electronic circuit boards for wearable devices (watches, phones and earphones) for leading global electronics companies.
New investment wave
Many experts believe that the development of large, high-tech FDI investors in Viet Nam represents the beginning of a new investment wave.
Talking with Nguoi Dua Tin (The Herald) newspaper, Nguyen Van Toan, vice president of the Viet Nam Association of Foreign Invested Enterprises (VAFIE), said the top suppliers, manufacturers and assemblers for Apple, Microsoft and Sony recently selecting Viet Nam was a positive sign and confirmed the country's success in attracting foreign capital with high science and technology content.
The appearance of leading tech corporations in Viet Nam showed that the country's investment environment was sound, he said.
Toan said he believed "a good legal framework and reasonable incentives for investors is the best method of promotion".
"Viet Nam is a suitable choice because of many factors, especially in the context of the country successfully controlling the COVID-19 pandemic," he noted.
"This has brought about a robustness to the economy and local businesses," he said.
"When COVID-19 first hit, the digital economy was given priority in promotion and had unexpected effects."
Moreover, Viet Nam is a good destination given there is a combination of innovation, continuous improvements to the business investment environment and legal framework, and determination in institutional reform.
Its attraction of foreign investment is also due to its sterling role as ASEAN Chairman and a non-permanent member of the UN Security Council. It also boasts a young workforce that is quick with technology and quite creative.
"Viet Nam has been participating in low-value segments, making simple components and accessories. It must direct itself to a higher and more sophisticated contribution," Toan said.
"To do this, it must have capital in addition to management capacity, to buy technologies and engage skilled engineers. Capital can be supported by the Government or mobilised by businesses themselves."
Viet Nam had signed bilateral trade agreements with many countries and also multilateral agreements with blocs such as ASEAN and the EU.
It had therefore become a true production venue, not just a home to factories.
He recommended that it identify what to produce and which industries are suitable for future development.
It had been orienting towards high technology, increasing its value in the global supply chain, Toan noted. VNS

The number of foreign direct investment (FDI) enterprises continues to increase in Vietnam, but more are reporting losses. 

Foreign investors had poured more than $28.5 billion into the Vietnamese market as of December 20, equivalent to 75 percent of the amount in the same period last year.