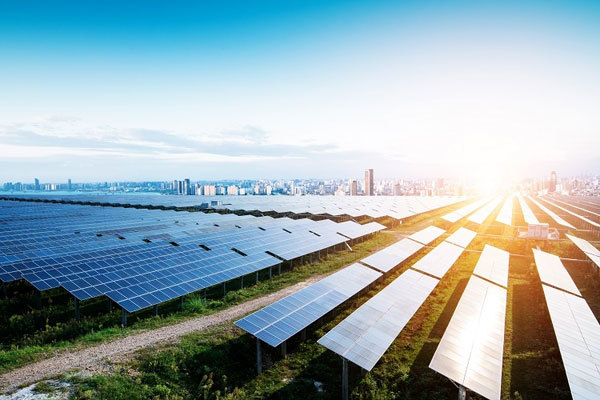 DPPA pilot to prompt low-carbon adoption. -- Illustration photo
To meet renewable energy targets and promote private sector investment in energy, Vietnam is currently reviewing and finalising a direct power purchase agreement (DPPA) mechanism that will allow businesses in Vietnam to procure electricity directly from private companies producing renewable energy and enable them to power their operations with 100 per cent renewable energy.
The Electricity Regulatory Authority of Vietnam under the Ministry of Industry and Trade has released a draft circular guiding implementation of a DPPA pilot programme between private renewable power generation companies and power consumers.
Global businesses had been ramping up calls for such a pilot over the years, with 26 leading international companies and organisations, who purchase more than 16 million megawatt-hours of electricity and have the total investment in Vietnam worth $1.57 billion, signing a declaration of support for DPPA in Vietnam in 2019.
HEINEKEN Vietnam sustainability manager Bui Thi Loan, at the Vietnam Low Emission Energy Program, which assisted with formulating a DPPA in Vietnam, said, "We are willing to take part in a DPPA as that is the only chance for us to reach our ambition for sustainability commitments."
Loan explained that pursuing sustainability is the right thing to do not only for the business, but for the country the company operates in. "We have six facilities across the nation so the demand for energy is high. HEINEKEN Vietnam has set an ambitious target to achieve zero waste, 100 per cent water balance, and use 100 per cent renewable energy by 2025."
International clothing brands, which rely heavily on Asian garment factories including Vietnam, are under pressure from shareholders and consumers to reduce emissions in their supply chains.
Nike's government public affairs director Giang Vu said that half of Nike products sold globally are made in Vietnam. "From now to 2025, Nike aims to reduce CO2 emissions by 6 per cent from rooftop solar and 5 per cent CO2 from the DPPA pilot at partner factories," Vu said. "Since Vietnam is Nike's largest supplier, the implementation of a DPPA is of great significance, and has an impact on our global commitments."
In Adidas' annual report for 2020, the sportswear giant said it is working closely with key suppliers in Vietnam, providing technical guidance and expertise to enrol and access the first off-site renewable energy pilot. "The pilot programme features DPPA mechanisms between renewable energy developers/power generation companies and private power buyers/consumers. DPPA mechanisms are surging around the world as a new driver and catalyst for renewable energy projects," it said.
As part of its 2021 carbon priorities and goals, Adidas aims to accelerate initiatives that drive low-carbon manufacturing within its supply chain. "That is why, in 2021, we will focus on scaling the adoption of renewable energy at existing Tier 1 and Tier 2 facilities," said Adidas' senior director of social-environmental affairs Tracy Nilsson. "Through the adoption and scalability of renewable energy and coal replacement, our aim is to keep our emissions flat against the 2017 baseline year by 2025."
This trend is growing rapidly as large companies are paying more attention to the sustainability of their businesses through their commitments to reduce their CO2 emissions. Moreover, pressure is growing on businesses to become more sustainable, thanks to initiatives such as the Paris Agreement, national and local targets to cut carbon emissions, and more environmentally-conscious consumers. Customers and employers are also demanding sustainable products.
Lorenzo Mancini, regional sales director of Total Solar Distributed Generation, said that off-site PPAs are common instruments in the United States and Europe which however are mature and liberalised electricity markets. "The generators are a separate entity from the transmission and distribution company; the transmission and distribution company sits between the generators and the consumers and is the market enabler tasked with transferring the energy smoothly and efficiently from one to the other," he said.
"In Vietnam, on the other hand, the power market is still concentrated, with a single, state-owned player which is both generator and distributor. Enabling a market-based structure in such an environment is a challenge," Mancini added.
This is because the supply side is one and the same with the market settler (the grid operator), so the market price is artificially set. In effect the grid operator could set one purchase price to solar photovoltaic developers and a different one to its own gas or coal generating facilities.
"The grid operator then delivers the electricity at the customer connection point (and is paid distribution and transmission charges to do so). This is where it really gets tricky," Mancini wrote. "Because the grid in Vietnam is struggling to cope with surge both in demand, due to new factories being built and in supply, due to solar being injected in the grid. The grid operator has already warned that blackouts and brownouts will be unavoidable in the next two-three years, while grid upgrading work takes place." 

Compared to the previous draft DPPA decision released at the beginning of 2020, the new draft circular still follows the virtual model where the power consumer will indirectly purchase power from the power generation company through the Vietnamese wholesale electricity market while introducing several new requirements for participating power generation companies and power consumers.
- Pilot scheme to be implemented nationwide from 2021-2023 and limited in scale to 1,000MW;
- Participation is via competitive selection;
- Participating generators limited to wind/solar plants (greater than 30MW) and prior power development plan approval;
- Participating offtakers limited to industrial consumers who purchase electricity at 22kV or more;
- Projects must reach commercial operation date no later than 270 working days from the date of the scheme's commencement;
- Generators must submit a binding in-principle agreement with power consumers and supporting project financing documents as part of the selection process;
- Generators to sell physical power to Electricity of Vietnam (EVN) at the spot price under a standard form PPA;
- EVN to supply power to offtakers at a price equal to the sum of the energy cost (at spot) and DPPA charges/fees; and
- Generators and offtakers to enter into a binding in-principle agreement based on a contractual strike price.
 VIR

In a bid to ensure sustainable development and economic growth, the government has enacted a fresh action programme on continuing response to climate change, with new mechanisms in favour of private investment.

After basically containing the spread of COVID-19, Vietnam is becoming the first developing country to adopt carbon pricing in the post-pandemic period to help guide a cleaner recovery, the site eastasiaforum.org reported.