Drama spotlighting reality of gay life released in Saigon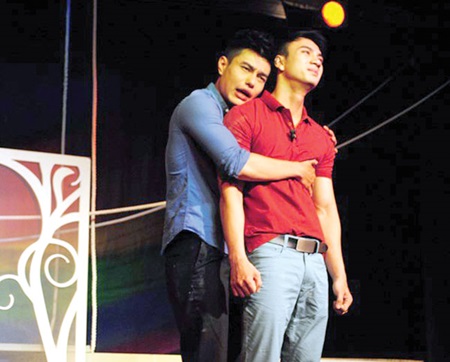 Cau Vong Khuyet (Part of the Rainbow), a play by Kim Khanh staged at IDECAF yesterday to mark World HIV//AIDS Prevention Day, December 1, gave the audience a glimpse into the challenges faced by gay people.
In Viet Nam and around the world, homosexuals continue to face discrimination and stigma, and the play's message is that they should not be punished for their choice in love.
It is about a man with a wife who also has a male lover. But with the latter not happy to share his love with the woman, he takes on another lover. The play is about the events that occur in the characters' lives.
Kim Khanh is a film-drama actress and singer who first hit the headlines for coming second in a Miss Athletic pageant in 1995.
She graduated in film direction from the HCM City Cinema and Drama School, and Cau Vong Khuyet is her maiden stage work.
In 2003 she won the Golden Kite Award for best actress for Luoi Troi (Heaven's Net).
Cau Vong Khuyet was staged once last Friday and will be staged again at IDECAF on December 6, the HCM City University of Social Sciences and Humanity today and the HCM City University of Technology this Friday.
The play is sponsored by the US consulate in HCM City through the US President's Emergency Plan for AIDS Relief that supports HIV/AIDS prevention, care and treatment in Viet Nam.
Hanoi hosts Korean ginseng festival
The third Korean ginseng festival will be held from December 5 to 7 at Vincom Mega Mall Royal City, No 72A Nguyen Trai Road, Thanh Xuan District.
Six South Korean companies including Star Korea, Jinsanscience Co. Ltd, Cheong Jeong Insam Co. Ltd and Hongsam365 (Hongsammin) Co. Ltd will offer products made from ginseng, like wine and tea, as well as dried ginseng and ginseng juice.
Customers will be able to get free medical check-ups from Korean specialists and acupuncturists from Daejeon University's Oriental Hospital. They will also have the chance to taste Samgyetang, insam kimchi and fried ginseng for free. Korean chefs will make the samples from 11.45am to 4.15pm each day.
The Embassy of the Republic of Korea (RoK) in Vietnam, the Korean Cultural Centre in Hanoi, the Vietnam Food Safety Authority under the Ministry of Health, and Business Network International (BNI) are sponsoring the event.
RoK sold about 22,000 tonnes of ginseng last year, mainly exported to Japan, Hong Kong and Vietnam, according to statistics given by the organisers.
This year's event is expected to lure around 40,000 visitors, as opposed to last year's 30,500.
French film festival to feature Hanoi inner-city life
Once again, Vietnamese culture will be shared through film, as Dap Canh Giua Khong Trung (Flapping from the Middle of Nowhere) is set to screen November 25 to December 2 at a festival in Nantes city, France.
The full-length film zeroes in on the mundane realities of inner-city life in Hanoi for a pregnant teenager, by young and upcoming director Nguyen Hoang Diep, and provides a candid representation of sexuality and adolescence in Vietnam.
The film, scheduled for six screenings, will compete against nine others including those from Singapore, Argentina, the Republic of Korea and the Philippines.
The Festival of the three continents is an annual film festival held since 1979 in Nantes, France and is devoted to the cinemas of Asia, Africa and Latin America.
UAE-Viet Nam ties growing from strength to strength
On their 43rd National Day, UAE envoy Shohail Al-Qahtani highlights the prosperity of seven emirates
On December 2, the United Arab Emirates marks its National Day, celebrating 43 years since the state was established in 1971.
For citizens and expatriate residents of the seven component emirates of the federation, Abu Dhabi, Dubai, Sharjah, Ra's al-Khaimah, Ajman, Umm al-Qaiwain and Fujairah, it has been another year of prosperity, despite the turmoil affecting much of the Middle East.
The economic recovery witnessed over the last few years continued building momentum, with a notable, positive impact on business confidence.
During the past four decades, the UAE's achievements have transformed it into one of the most dynamic economies in the world, with well-developed infrastructure, high-tech science and technology, and an ideal environment for investment, commerce, tourism and employment.
Indeed, it was a great honour for Dubai and the entire UAE that it was selected to host the World EXPO in 2020 and the World Energy Congress in 2019.
This is the first time either event will be hosted by a city in the Middle East.
During the process of its construction and development, the UAE has always been admired and encouraged by international friends, including Viet Nam.
The success of the Second Session of the Joint-Government Committee and the first political consultation between the two ministries of foreign affairs, held in Abu Dhabi in 2014, broadened the two countries' partnership.
The UAE is among Viet Nam's top 10 export markets and one of its key partners in the Middle East. Trade has expanded, along with the bonds of friendship and trust between them.
Economic co-operation between the UAE and Viet Nam has grown significantly in recent years. Bilateral trade climbed from a modest US$67 million in 2002 to US$4.4 billion in 2013.
Bilateral agreements have provided a solid legal foundation on which trade has been able to thrive.
However, even more important than the sound leadership is the entrepreneurial spirit our people have shown, driving this fine relationship forward.
Major UAE groups such as DP World, Mubadala, Borouge, Nakheel, Limitless, Etihad Airways, Emirates Airlines and many other companies have been strengthening their investments in Viet Nam.
On the other hand, the physical distance between the two countries has been significantly shortened: 14 direct passengers flights a week and five cargo flights connect Abu Dhabi and Dubai to HCM City.
This should improve tourism and investment from the gulf region, as well as promote Vietnamese exports to the UAE and other countries in the region.
One important feature of the UAE is the diversity of its population. It hosts millions of immigrant workers from more than 200 nationalities, including more than 8,000 Vietnamese studying and working.
Their presence is testimony to the cultural, social and religious tolerance that is a fundamental part of the philosophy that underpins the country.
The UAE strongly believes that its relationship with Viet Nam can be strengthened, as the two nations build on their fine political relations and multifaceted co-operative efforts, and take advantage of each others' talents.
Long wins photo gold in Spain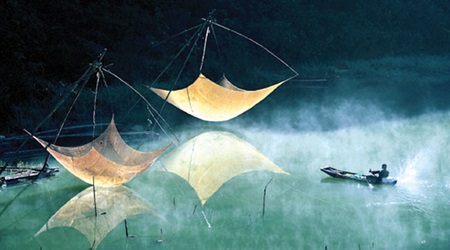 Ly Hoang Long has won the FIAP gold medal at the Trophy Gipuzkoa International 2014 held in Spain.
Long won for his photo Fishing Nets in the Free Colour category. The winning photos were selected from 4,500 entries of 431 photographers from 46 countries and territories. They were divided into three categories: Free Colour, Free Monochrome, and Light.
Gipuzkoa Photography Society organised the contest that the FIAP sponsored. Born in 1965, Long is a freelance photographer. He was previously honoured with the titles of Excellent Vietnam Association of Photographic Artists (EVAPA) and Excellent Federation Internationale de l'Art Photographique (EFIAP).
HCM City readies for int'l dance fest
Choreographers and dance troupes from eight countries and territories will perform at the second annual International Dance Festival in HCM City from December 7 to 16.
Representing the host country at the contemporary dance festival will be Arabesque and a troupe from the HCM City Ballet Symphony and Opera.
Together with artists from Italy, France, Japan, South Korea, Israel, the Philippines, Sweden, and Taiwan, they will perform at the Gem Centre and HCM City Opera House on December 12, 13 and 16.
The foreign choreographers will also conduct workshops, make presentations, and organise talk shows at various places in the city.
Arabesque will present Thieu than and the HCM City Ballet Symphony and Opera will perform Lost and Found.
The festival was organised for the first time last year to much acclaim from the public.
VN artist's work on show in Sweden
The Galleri Cupido in Stockholm put 35 Vietnamese and Swedish landscape paintings by Vietnamese painter Van Duong Thanh on display to celebrate 45 years of diplomatic relations between the two countries.
Titled Vision in Harmony, the exhibition gathered mainly oil and lacquer paintings. Thanh has been working as a lecturer in Sweden for 25 years.
Leading researcher of Ba Na culture passes away
Le Huu Phong, a leading researcher of the Ba Na ethnic culture, passed away on Friday, leaving behind several unfinished works.
Phong died suddenly due to unspecified reasons, when he was at a training class in Pleiku city in the Central Highlands province of Gia Lai.
Born in the northern province of Hung Yen in 1965, Phong moved to Gia Lai Province to work in the cultural and educational sector in 1984. He was named rector of Mang Yang District's Ethnic Minority Boarding School in 2007. He was working as the head of Mang Yang District's culture and information office.
During the past 30 years, Phong spent a lot of time studying the local culture. His great passion for the Central Highlands culture and music helped him to integrate with the life of the local people.
He was also known as a Ba Na linguist, who authored the first Vietnamese – Ba Na bilingual dictionary, published in 2008, and several other books on the Ba Na culture.
Bai choi achieves national heritage status
Bai choi, a traditional game combining folklore singing and lottery picks, recently gained national cultural heritage status, and experts believe it will achieve world heritage status in the near future.
Last month, the game was honoured in a ceremony held in central Phu Yen Province, one of the localities that own bai choi.The game is popular in the central stretch of Thua Thien-Hue, Quang Nam and Binh Dinh, as well as Phu Yen and Khanh Hoa.
The game was invented nearly 400 years ago and serves as a community game for the Tet (Lunar New Year) holiday in the central region. The game often takes place on a wide yard in front of communal houses and gathers the entire community together.
According to experts, the game combines beauties from rural work, folklore singing and the Tet customs of rice farmers.
Bai choisinging includes the traditional values and tunes of numerous kinds of Vietnamese music but is a truly unique art form, said Nguyen Thi My Liem, associate professor of the HCM City Music Academy.
In 2010, the Ministry of Culture, Sports and Tourismworkedwith Binh Dinh cultural authorities to revive the game in the central region after decades of idleness. It is now popular in Hue, in Hoi An during the festival and in Binh Dinh every week for visitors.
According to Nguyen An Pha, chairman of the Binh Dinh Union of Culture and Art Associations and abai choiresearcher, the ministry has assigned Binh Dinh to chair the profiling for bai chois UNESCO heritage status.
"We are working on a complete profile for UNESCO and expect better conservation of the art form from the surge of contemporary art," Pha said.
VNS/VNA/VOV/SGGP/ND