Dried persimmon – a delicacy of Da Lat
Da Lat is more than a land of romance and brings different feelings to visitors depending on the season.
In summer, the mountain streets of the city in the Central Highlands province of Lam Dong may bring a bit of boredom to tourists with rain. But in autumn, the orange colour of persimmon will spread among the gardens. That means it's the harvest season for the ripe fruit.
Walking on any road, one can easily find persimmon trees full of fruit. The orange colour of ripe persimmon looks like lights in the daylight. The harvest season starts in mid-September. But the trees look best from October when all the leaves fall and remain only ripe fruit on branches.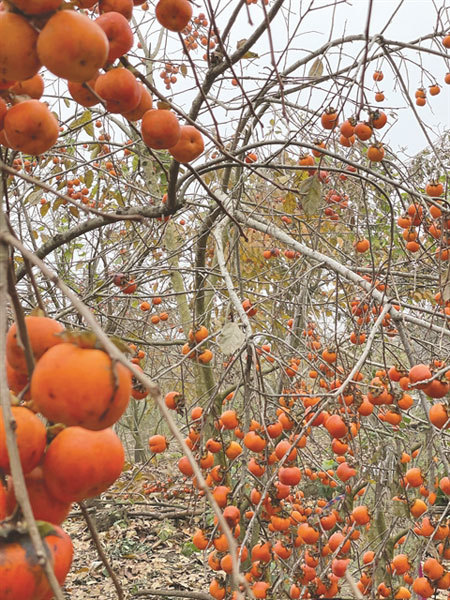 A garden of ripped persimmons. VNS Photo Thuy Lien
Tourists coming to Da Lat in this season can visit gardens of ripe persimmons in yellow sunlight.
One can also taste sweet persimmons in the gardens and bring them home as gifts for family and friends.
Such gardens can be found in Khe Sanh Road, Mimosa Pass Road, Xuan Truong area and Trai Mat area.
Some cafes in Da Lat also have persimmon gardens like Túi Mơ To (Big Bag of Apricots), In the Forest and Vĩ Tuyến Số 6 (The 6th Parallel) cafes.
Da Lat persimmons can be processed into various kinds of food. Many people like eating them fresh as they are sweet, soft and juicy. But some others may like them crispy.
The best persimmons will be put into plastic bags and tied up for 10 days. Then the fruit can be eaten with crispy bites.
The persimmons with more flaws will be selected to dry for further preservation.
Persimmons hung in a cool, sunny place for drying. Photo kenh14.vn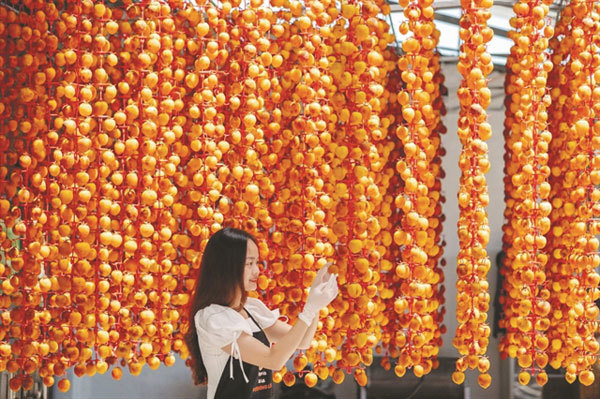 Persimmons are hung for a few weeks. Photo caudatfarmstay.com
In the past few years, many local farmers have applied Japanese technology to make dried persimmons.
According to Dang Thi Thu Van, a woman who runs a persimmon processing workshop in her garden, this kind of persimmon requires lots of energy through various stages.
First, people should select suitable fruit, which should reach a certain maturity where the fruit is big enough, tender, with an orange cover, and does not have any insect bites or bruises on the body.
The fruit should have a short stalk to tie a string on. Locals often choose oval-shaped or square-shaped persimmons from Don Duong area in Da Lat for this.
The fruits are peeled, except the stalk to tie the string on. They are then cleaned and tied up in a string. The fruits should be hung separately so that they do not scratch each other.
They may be then dried in an oven for three hours at 50-60 degrees Celsius.
Then the persimmons should be hung in a windy, cool area with sunlight but should be safe from rain and fog, free from insects and birds.
After 5-10 days, the persimmons will be softer and turn a dark orange and light brown colour. The workers should do gentle 'massages' on the fruits so they gather honey and avoid being hard outside or too soft in the middle.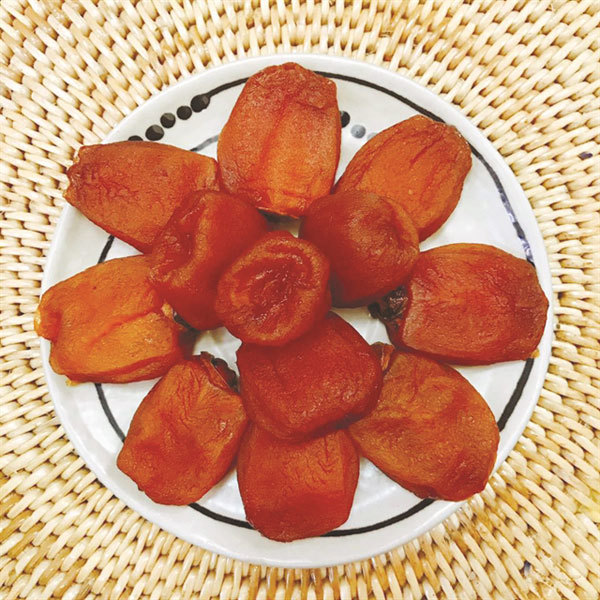 Naturally dried persimmon is a delicacy of Da Lat. VNS Photo Thu Hien 
After some three weeks, at 25-30 degrees Celsius in sunny, dry weather, the persimmons can be harvested. On average, some 7-8kg of fresh fruit will be condensed into 1kg of dried fruit. Hence, the price is fairly high compared to fresh fruit, some VND400,000 – 500,000 (US$17.2 - 21.5) for a kilo of dried persimmons.
Van said the workers should make sure there is no mold or fungus on the fruit during the hanging period and no preservatives are added.
According to food and health experts, persimmon contains a high amount of ascorbic acid (vitamin C) and can supply 80 per cent of daily vitamin C need for the body. It supplies 20 per cent of the daily need for fibre, which is useful for digesting food.
Persimmon contains a lot of other vitamins, including vitamin A, beta-carotene, lutein, lycopene and cryptoxanthin, all of which prevent fatigue and weakness in eyesight and muscles.
Kali in persimmon can help prevent heart and vein diseases as well as high blood pressure. VNS
Nguyen Thu Hien

The making of dried persimmons, which is hailed as the most delicious dried fruit made in Da Lat city, Lam Dong province, requires a lot of time and sophisticated techniques.

In September-October, persimmon gardens in the suburbs of Da Lat (Lam Dong province) are in the ripe season, attracting young people to visit and take photos.