Drivable destinations for your next weekend getaway
With travel just beginning to open families are looking for getaways around Vietnam again.
However, with many still a little reticent to fly, according to Agoda's Return to Travel Survey, which indicated a quarter of travelers in Vietnam are looking to nearby and drivable destinations for the time being, the digital travel platform has compiled a list of drivable getaways for people in each of Vietnam's three largest cities.
Southern escapes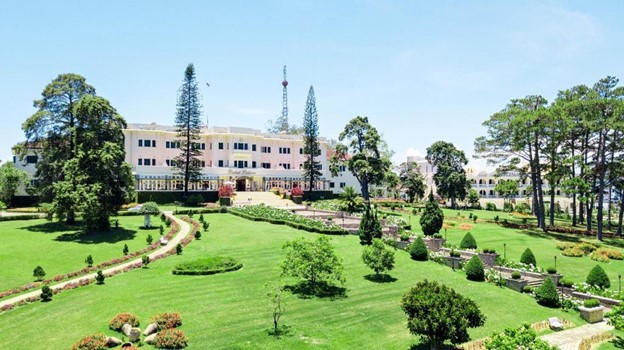 Dalat Palace Heritage Hotel in Dalat – Photo: Agoda


Southerners have always had two choices – flee to the sea or head for the hills!

Dalat is the obvious hilltop choice, and if traffic is any indicator, Saigonese have already worked this out, with the mountain retreat fully open and reporting high occupancies – so instead of joining the Highway 20 chaos, why not take the scenic route and spend a night in the Tue Uyen Ta Dung Homestay stunning Dak Nong Lake District. Once in Dalat, travelers choices run from the stunning and historic Dalat Palace with its gorgeous lakeside vistas to cozy and friendly options such as The Kupid Homestay.
As for the beaches, Vung Tau and Phan Thiet are hotspots for good reason, but why not check out the road in between, offering an assortment of options in Ho Tram such as the InterContinental Grand Ho Tram as well as emerging destinations around Lagi with its cool homestay culture at places such as Lara Homestay or the breathtaking new Azerai Ke Ga Bay.
Central getaways
Aside from its heritage listed neighbor in Hoi An – and its own natural blessings of its famed coastline – people looking to mount-up on their motorbikes or pile-in to their cars from Danang have one of the world's great drives just north of the city center. So skip the tunnel and take the long-way-round to take in the breathtaking vistas that long draws tourists to Hai Van Pass from around the world.
With the Pass passed, various options for overnight stays await. The first involves the nearby beaches of Lang Co, where the barefoot luxury of Banyan Tree Lang Co and its sister hotel Angsana Lang Co are ready to welcome travelers looking to break their journey home.
For those looking to get off-the-beaten track head further north to historic town of Hue. Situated on the Perfume River and boasting some of the nation's most storied imperial architecture – not to mention its standout cuisine – check yourselves in and check that town out! Some of your best choices for lodgings include La Residence Hue, or a host of boutique options including Forest Tag homestay with hosts keen to showcase their hometowns to all comers.
Driving the north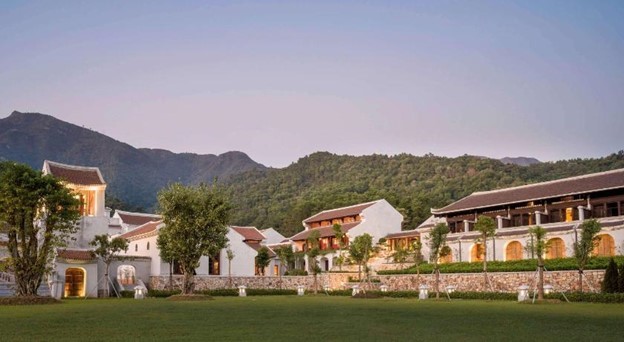 Legacy Yen Tu – Photo: Agoda

For people who call the Capital home, Ha Long Bay and the mountains of Ba Vi have long been the default getaways, but don't forget to look further at other gems close by.
The later months of the year see Ha Giang in full bloom, with Buckwheat Flowers lighting up the hillsides between October and the year's end. The breathtaking scenery of Ha Giang are welcoming visitors now, with the warm hospitality of the region's peoples more than making up for the chillier climes of its autumnal and winter months. Look to stay like a local with Agoda Homes including The Art - Golden Jungle House or Hoang Su Phi Lodge for a breathtaking view from your bungalow.

New on to the visitors radar is the stunning Yen Tu. Just two and a half hours from Hanoi, Quang Ninh Provinces' Yen Tu boasts some of the nation's most famous religious attractions that draw pilgrims from Vietnam. Known as Vietnam's home of Buddhism, the area is famed for its picturesque landscapes and its ancient pagodas. Guests can feel local heritage and spirituality by staying at Legacy Yen Tu - MGallery, which offers a secluded getaway for discerning visitors to the area.
No matter where you reside in Vietnam, the nation's famed travel destinations are all re-opening now, and offering safe, hygienic travel experiences for Vietnamese people looking to hit the road and take in the sights. Check with local authorities or accommodation to confirm any Covid tests or protocols that your destination may need.
While getting there is definitely half the fun – the other half lays in finding the perfect destination and the perfect place to stay when you are there.
Mai Lan

As many as 60% of Vietnamese anticipate restriction-free domestic travel within six months, while only 40% expect international travel to be reopened, according to newly a released survey by Agoda.