While many retail chains have had to shut down or reduce operations because of Covid-19, drug retail chains have been thriving because of the increased demand. This has prompted retailers to expand their chains.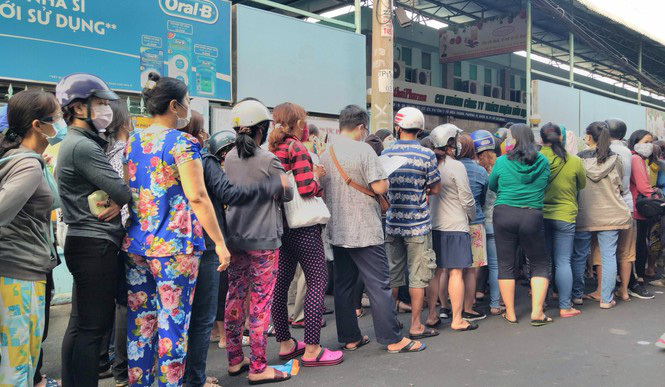 The long queues of people standing and waiting for their turn to buy face masks show the great potential of the drug and medical equipment market.
Pharmacity is the drug retail chain with the highest number of stores. Established in 2011, it had 328 stores as of April 2020. The chain plans to open 350 more stores this year to increase the total number of stores to 602.
Long Chau drugstore chain said it has found 40 retail premises for the opening of new stores in Q2. It plans to have 200 stores by the end of the year. It has been expanding very rapidly. It had 83 stores in 19 cities and provinces as of late Q1 2020.
In 2017, The Gioi Di Dong, a mobile phone distribution chain, said that it would join the drug retail market. Nguyen Duc Tai, chair of The Gioi Di Dong, said he would expand the chain through M&A deals. It is expected that it will have 500 stores from the initial 10-15 stores.
To implement the ambitious plan, in 2018, The Gioi Di Dong poured capital into the Phuc An Khang chain, which was managing 20 medium-scale stores in HCM City.
Foreigners also have also jumped on the bandwagon. Century Pharma from Indonesia is one of them.
The chain of Century Healthcare stores took shape after the retailer bought Vistar, which then had 24 stores, located at large shopping centers in HCM City, including Bitexco, Saigon Center, Aeon Mall and Giga Mall.

The drug market is described as "the goose that lays golden eggs" because of its promised high profits.
Nikkei reported that the Japanese drug chain Matsumotokiyoshi Holdings is planning to expand business to Vietnam. The company said the activities in Vietnam would be carried out in cooperation with the HCM City-based Lotus Food.
Meanwhile, Guardian and Medicare are dominating the distribution of health care and beauty care products targeting individual consumption.
Great potential
The drug market is described as "the goose that lays golden eggs" because of its promised high profits.
BMI, a market analysis firm, believes that market value would rise from $7.7 billion in 2021 to $16.1 billion by 2026 with the CAGR of 11 percent based on Vietnam dong.
IMS Health predicted that the average spending for drugs would increase from $20 per head per annum in 2015-2017 to $50 in 2020. It is estimated that 25 percent of revenue of the pharmacy industry in Vietnam, or $2 billion in 2021 and $4 billion in 2026, would be poured into the drug retail market through drugstores.
Vietnam is increasingly attracting investors, especially after the government decided to reduce many business conditions and loosen requirements on foreign investors.
In early February, when Covid-19 broke out in many countries, Pharmacity got another $31.8 million from a series-C round.
In May 2019, MEF III also announced investment in Pharmacity, but the value was not unclear. Analysts guess the investment was worth $8-15 million.
Money not easy to be made
Analysts said the drug retail market is large, but there is no outstanding retailer that dominates the market. A report of Rong Viet Securities showed that there are 30,000 drugstores, which means that the market is fragmented.
Rong Viet believes that limited market share is a great challenge to retailers. At present, it is not drug retail chains, but individual stores, which dominate the market.
The stores have advantages in low rent and store owners who offer consultancy to buyers. They have high flexibility and competitive operation costs.
According to Rong Viet Securities, drug retail turnover in Vietnam just accounts for 30 percent of total revenue from the pharmacy market. The figures are 64 percent in Brazil and 80 percent in the Philippines.
Chair of The Gioi Di Dong Nguyen Duc Tai recently told the press that he doesn't intend to make heavy investment in An Khang drug chain because he thinks the environment is not favorable enough. 
Thu Ky

With EVFTA, Vietnam's pharmacy firms will have to compete fairly with the manufacturers from the EU.

Vietnam ranks 17th among 'pharmerging' markets, or markets expected to become a 'pillar' for the world's pharmaceutical industry, according to IMS Health.