Duan wins Hanoi Midnight marathon title, eyes SEA Games slot
Almost 10,000 elite and amateur runners registered to participate in the event. The number was double that of the first edition in 2020.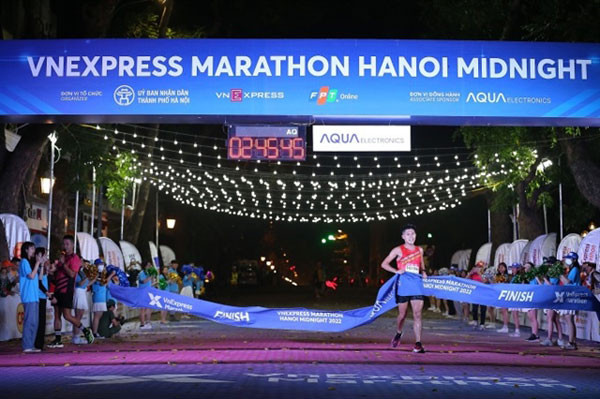 Vu Dinh Duan won the VnExpress Marathon Hanoi Midnight on Sunday and set himself a target of a place at the SEA Games.
Duan finished first in the men's 42km category with a time of 2:45.15, ahead of many strong runners.
Dang Anh Quyet, one of the top candidates of the tournament, came second clocking 2:46.02 and To Tan Tai was at third on 2:46.16.
Duan could not hide his happiness after winning his first gold medal from a full marathon event. It was his second title in a row after he won a duathlon event at Aquaman Vietnam last month.
Duan completed the 5km swim and 21km run after about 1:59.24 in Quang Ninh Province's Mong Cai City, where he is from.
"I am very happy with the victory because VnExpress Midnight marathon is one of the largest events in the running community as almost all the strongest runners participated," Duan said.
"After winning the Aquaman and now the Midnight marathon, I am confident in myself seeing that my results have been going up quite well. It will be a strong push for me if am to compete in the coming National Sports Games.
"I will not take part in any event until the Games in December. I will have to prepare my best for this important tournament. The high result will help me to complete my target of earning a berth in the national team for the 2023 SEA Games."
In the women's 42km, national team member Leo Thi Tinh finished first with a time of 3:08.31.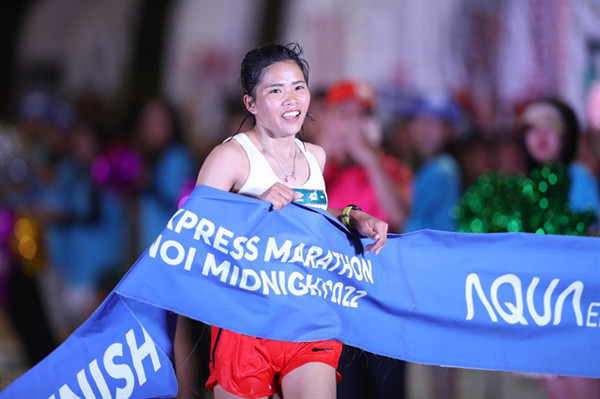 Tinh went ahead from the off and lead for almost all of the women's race. She set a big gap with the closest runners before touching the finish line and winning her first VnExpress marathon title after several misses.
Thai Thi Hong came second at 3:20.33 and Nguyen Thi Duong was third with a time of 3:27.28.
In the half marathon class, Nguyen Danh Cao made strong sprints to separate from the leading pack near the finish line.
His time was 1:15.15 was more than two minutes faster than runner-up Nguyen Hoang Hung. Hoang Huu Hanh came third on 1:17.56.
"I was a little worried as my rivals were strong," Cao said.
"They were close to me during the race. Luckily, I separated from them in the last kilometres and won. This result was in my plan and I am happy with it."
The women's 21km title went to Ha Thi Hau who ran 1:22.25.
Hau is a rising star in the running community as she has run for more than two years but grabbed victories in a number of trail tournaments. She has begun road races for several months.
Hau was behind only 11 male runners in this category.
"Winning whatever tournament gives me the same feeling, I am happy with the victory," said Hau.
"I do not set a winning target when running the Midnight race. I just run my best and encourage all runners that I met on the road."
In the 10km pool, Cao Ngoc Ha, Alexandre Videau and Tran Quang Do were the top three in the men's race while Nguyen Thi Nga, Dang Thi Viet Trinh and Nguyen Thi Anh dominated the women's race, respectively.
The 5km run saw Son Tien Phat and Truong Duc Anh Thu as male and female winners.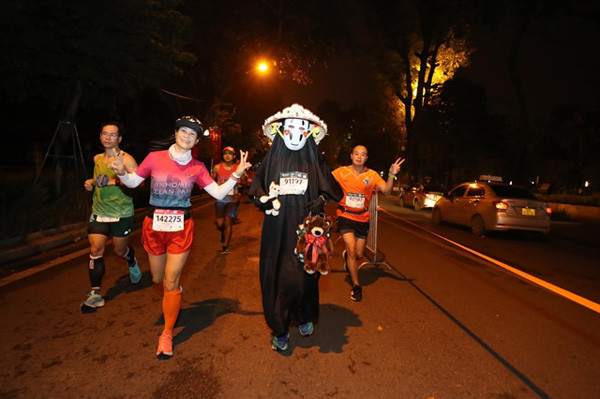 Almost 10,000 elite and amateur runners registered to participate in the event. The number was double that of the first edition in 2020.
Athletes competed in different categories of age groups, distances and genders, vying for a total bonus of VND1.5 billion (US$60,500) in prize money.
Among the participants were 2,000 children from six to 10 years old, running in the Kun Marathon on Saturday morning.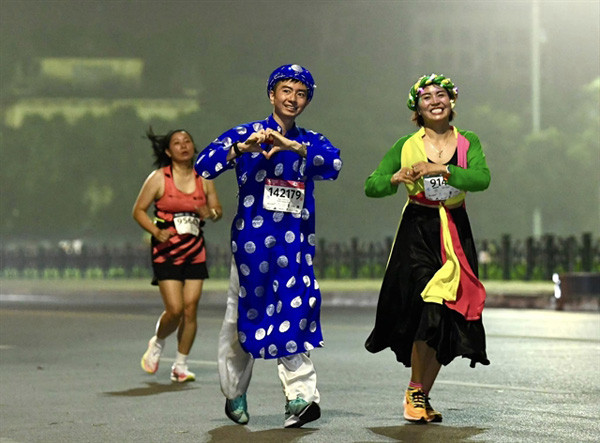 This year, organisers opened a new category for teams and 36 groups from different localities from Hanoi to HCM City vied for the top place.
A special award was given to athletes with the best cosplay costume this year.
Source: Vietnam News