Duong opens new chapter for Vietnamese boxing

Vietnam has waited more than three decades to see a Vietnamese fighter qualify for an Olympics and Nguyen Van Duong ended the drought after he secured a Tokyo Olympic slot at the Asia/Oceania Olympic boxing qualifying tournament.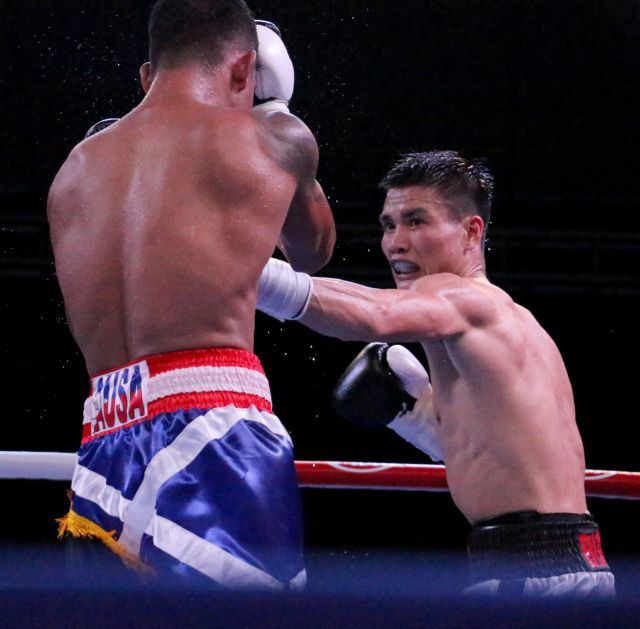 Nguyễn Văn Đương of Việt Nam (right) punches Jenel Lausa of the Philippines at the Victory 8 event last October in Hà Nội.
Thirty-two years of waiting is over!
Việt Nam has waited more than three decades to see a Vietnamese fighter qualify for an Olympics and Nguyễn Văn Đương ended the drought after he secured a Tokyo Olympic slot at the Asia/Oceania Olympic boxing qualifying tournament which closed on Wednesday in Amman, Jordan.
Previously, boxers Đặng Hiếu Hiền and Đỗ Tiến Tuấn fought at the Seoul Games in 1988 as wildcards.
Đương knocked out Thai Chatchai-decha Butdee in the men's featherweight (52-57kg) category in the quarter-finals and received a bronze and an Olympic berth.
"There is nothing that can compare with this happiness. I'm in heaven. I can't believe it even though I'm holding the certificate. It is a dream come true," Đương told Việt Nam News.
The victory was a turning point in not only his career but also for Vietnamese boxing which has been celebrated widely in the country.
"His berth was really not expected," said Hoàng Vĩnh Giang, Vice President of the Việt Nam Olympic Committee.
"His win came thanks to many elements. He was at his best, his rival was not at his peak and new rules were applied. His impressive result makes us all happy and moved because it has been dozens of years since such a boxing achievement," he said.
"It is wonderful news for Vietnamese boxing. It is also deserving after how he has worked for years. He is a high potential athlete of Việt Nam," said Nguyễn Thị Thu Nhi, the WBC Asia-Pacific's minimumweight female champion.
National team member Đinh Hồng Quân added that it was a milestone for Việt Nam after many years and his success would push boxing nationwide.
Born in 1996 in Bắc Giang Province, Đương discovered boxing in 2009 when he went for a trial at a class of the Public Security team.
The small boy was first refused because he weighed only 32kg at the age of 13.
"I actually didn't know if I have the character that fits boxing. It seemed coaches saw my determination and effort in the trial so they finally accepted me," said Đương.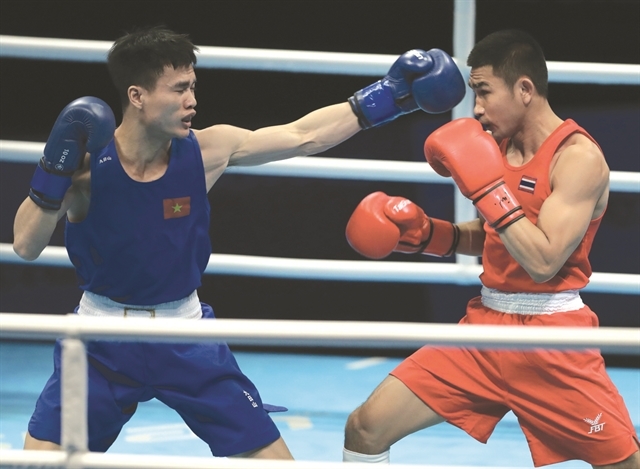 Nguyễn Văn Đương of Việt Nam (left) knocks out SEA Games champion Chatchai Decha Butdee of Thailand at the Asia/Oceania Olympic boxing qualifying tournament on Tuessday. Photo boxing.athlete365.org
Đương won three titles at the national championships for juniors and two other for seniors' tournaments before being a member of the national team in 2015.
He grabbed a silver medal at the Filipino Southeast Asian (SEA) Games last December.
The 24-year-old has pocketed three wins by points in three semi-professionals and one KO win in his sole pro bout so far. He has fought in a number of international events including the famous Victory 8.
At the Victory 8's first edition in Hà Nội last October, Đương entertained local supporters with a KO victory over experienced Jenel Lausa of the Philippines.
Đương had little experience compared to his rival, with only being a pro boxer for a year compared to Lausa's five years in boxing and MMA, without any losses in 11 bouts.
But Đương floored Lausa with a powerful right hook in the third round of a four-round match.
In Jordan, Đương was not a favourite to get an Olympic ticket as his category included SEA Games champion Butdee and world and Asian champion Mirazizbek Mirzakhalilov of Uzbekistan along with other strong rivals.
He knocked out Australian Charlie Senior in the first round to set up the fight with Butdee in the quarter-final.
It was a key match to decide the Olympic fate of both athletes and Đương was the underdog after losing to Butdee three months ago in the final of the SEA Games.
Further, while Đương is little known in the region, 35-year-old four-time SEA Games champion Butdee is an ASEAN legend. He won a bronze medal in the world amateur championships in 2013 and a gold in the Asian championship in 2015.
"I felt totally free and comfortable facing him. It was him who was worried," said Đương.
"I told myself if I could not beat him with a KO, I would definitely lose again because I am not as good as he is at all. Surprisingly, I did it!
"Sometimes, being lucky is better than being good," said the knock-out merchant who needed 47 seconds to floor his rival twice.
According to new rules, an athlete who is floored twice in one round or four times in the whole match lose by KO.
"It was an incredible tournament. I have learnt a lot from it. I have to improve my technique and tactics as well as mentality to prepare for coming events," said Đương.
"The Tokyo Games will be a new chapter in my career. It will be a tougher competition than any other. A medal here is just another dream but I will work hard to show the world Vietnamese boxing.
"And someday, a miracle may happen!" VNS
Thanh Ha

Boxer Nguyen Van Duong has become the fifth Vietnamese athlete qualified for competing in the coming Tokyo Olympics this summer.