Dwindling oil prices a double-edged sword for Viet Nam's economy

Oil logged its worst week since 2008 after the oil price war, initiated by Saudi Arabia early last week, delivered a double blow to nervous investors already rattled by declines in world stocks due to the spread of COVID-19.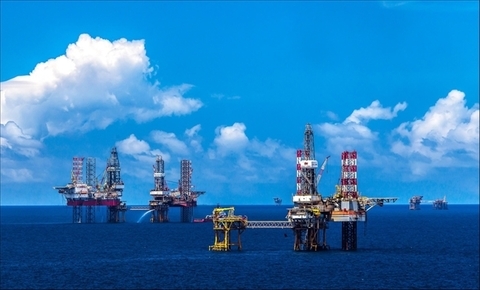 Bach Ho (White Tiger) oil field. Petrovietnam is building plans for short-term shock and long-lasting low prices at $30, $35, $40, $45 and $50 per barrel. — Photo courtesy of the company.
The world watches, and so does Viet Nam – where export of crude oil has been contributing significantly to the State budget.
Despite a rebound on Friday, Brent crude lost 24 per cent of its value last week, trading at US$34.97 per barrel – the biggest weekly drop since December 2008. The US West Texas Intermediate (WTI) crude also slipped about 20 per cent to $31.73 per barrel.
"Viet Nam will not be immune to the crisis," economist Nguyen Tri Hieu told Viet Nam News, but said the impacts could be double-edged.
When the crude oil price decreases, it would push down the cost of imported petroleum products, benefiting transport businesses and manufacturing industries which consume a lot of petroleum.
"Cheaper freight costs also result in lower cost for business which in turn helps curb inflation," Hieu said but warned that a steeper fall in oil price would threaten to hit the country's revenues.
Reverse in export-import
The year 2018 marked a milestone that shifted Viet Nam from a net exporter of crude oil to net importer after seeing a surge in importation to serve the country's refining demand.
In 2018, Viet Nam exported 3.96 million tonnes of crude oil, a steep fall compared to an average 8.3 million per year during 2012-17. Meanwhile, the import volume rose to 5.17 million tonnes, seven times higher than the annual import figure during 2012-17.
The export turnover in 2018 reached just over $2 billion, down substantially from $8.2 billion in 2012. By contrast, import turnover increased from $647 million in 2012 to $2.74 billion in 2018.
This trend continued in 2019, when Viet Nam exported 3.98 million tonnes of crude oil, fetching $2.03 billion, and imported 7.6 million tonnes for $3.6 billion. Import of refined petroleum products was 9.8 million tonnes worth $5.95 billion, data from the General Statistics Office showed.
Meanwhile, the contribution of oil revenue to the State budget is declining, from about 30 per cent in the early 2000s to about 3.5-4 per cent in recent years.
As of December 15, 2019, oil was estimated to contribute VND53.3 trillion (more than $2.3 billion) to the State budget, equivalent to about 3.5 per cent of total budget revenues.
However, the State budget revenue in 2019 was based on the planned oil price of $65 per barrel and in 2020, the oil price may be projected at $62-64 per barrel. According to many studies, the loss of $1 in oil price could affect the budget revenue by about VND1 trillion.
"Oil is still an important source of revenue for the State budget," Hieu said.
If the oil price fell below $40 per barrel, the net effect on the economy would be adverse while the price above this level could be acceptable, he said.
Scenarios for low oil prices
On Wednesday, Viet Nam National Oil and Gas Group (PetroVietnam) issued a directive providing urgent tasks and solutions to cope with the double impacts of the COVID-19 pandemic and the decline in oil prices.
The group has requested its units to prepare the plan for short-term shock and the situation of long-lasting low prices at $30, $35, $40, $45 and $50 per barrel. Details of the group's financial situation corresponding to the above prices and recommendations must be submitted for consideration.
The group also demanded its subsidiaries to actively monitor and update market information on supply and demand, prices of crude oil and petroleum products and build specific plans and scenarios for coping.
Oil prices are forecast to be volatile in the near future after Saudi Arabia and the United Arab Emirates pledged to raise production and lower prices following the collapse of talks on supply restraint between the Organisation of Petroleum Exporting Countries (OPEC) and Russia.
Though Russia is seen to have an upper hand with competitive production cost compared to most other oil producers in the world, OPEC may be in a better position at this time due to sharp declining demand from other economies which are suffering from the pandemic as well as from airlines with mass flight cancellations, according to Hieu.
"Russia may have to reduce production if demand continues to fall. This will depend on how the pandemic is evolving in the coming months and its impacts on the world economy," he said.
Goldman Sachs expected a record oil surplus of six million barrels per day by April.
The oil spat may be short-lived and the world is seeing "who will blink first". – VNS

The Government will establish a market for mechanic firms to develop, including facilitating the sector to seek for domestic and overseas markets for the country's oil and gas engineering sector's products.

While global oil supplies in 2019 were vulnerable, the fluctuations have not affected long-term petrol prices, yet business plans for some in the market in 2020 remain complicated.