E-wallets still competing for slice of the payment pie

Ewallets are still not reporting profits, though they have been making heavy investments in their businesses.
Nguyen Ba Diep, co-founder and deputy chair of M_Service, which owns MoMo e-wallet, asserted that the online payment market in Vietnam has great potential, and now is the 'golden time' for e-wallets to develop.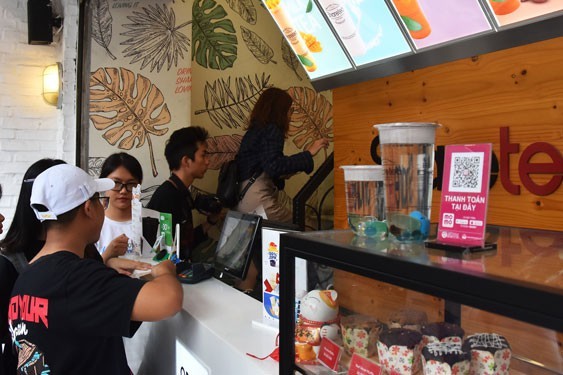 According to the State Bank of Vietnam (SBV), about 30 businesses have been granted licenses to provide intermediary payment service, mostly e-wallets. Commercial banks also have rushed to set up e-wallets, integrating e-wallets into their apps.

In the first seven months of 2019, the number of financial transactions via mobile phones reached 202 million, maintaining a 3-digit growth rate. And the competition among e-wallets is getting stiffer.

MoMo has big advantages with 12 million users, 12,000 partners, 100,000 POS and connections with 22 commercial banks.

Ewallets are still not reporting profits, though they have been making heavy investments in their businesses.
VietUnion, which is running Payoo e-wallet, pioneered non-cash payment service – QR Code, contactless and mPOS – for public transport. It reported that as of the end of 2018, the total value of transactions via Payoo had reached $3 billion a year.

ZaloPay's latest move is cooperating with Bamboo Airways in a project which allows clients to book air tickets and make payment on the e-wallet app.

ZaloPay also has advantages as it has technology and an ecosystem from VNG. ZaloPay allows users to make inter-bank remittances and transfer money via mobile phone numbers. All of these are free of charge, unlike other e-wallets and banks.

Vi Viet of LienViet Post Bank is also a rival. In early October. LienViet Post Bank and BC Card (which holds 26 percent of the card market share in South Korea) signed a strategic cooperation agreement to develop products, including the digital payment via QR Code with Vi Viet app.

Vietnamese clients can buy goods and make payment via Vi Viet at shops which are the POS of BC Card in South Korea, such as duty-free shops and shopping centers.

Diep of M_Service said that e-wallets are present in everyday life. People can take a taxi in the morning to the office and make payment with e-wallet. They can also pay for lunch, buy goods at supermarkets, book cinema tickets, pay for children's tuition and make payments for public administration service via e-wallets.

However, while e-wallets regularly update information about users and new services, they never issue reports about profits. Analysts say that most e-wallets are still taking losses and are trying to familiarize people with non-cash payments.
Linh Ha 

E-wallets are believed to be a very promising business field in Vietnam, but the market is now controlled by foreign firms.

Techcombank and Vietnamese ewallet service provider MoMo have warned their customers to be wary of scammers, noting that they should be more cautious when asked to provide their account details and personal information.