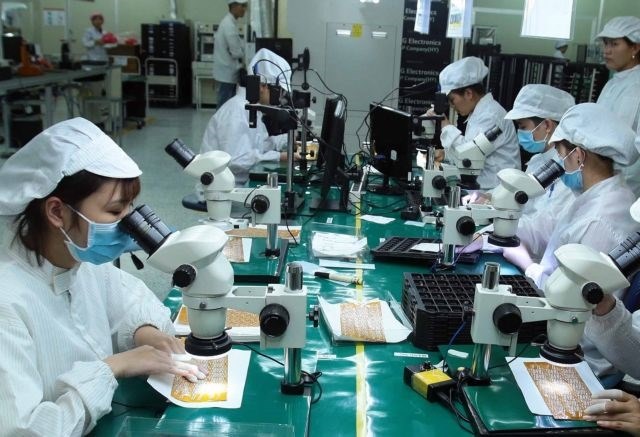 Electronics components are manufactured at 4P Company in Hung Yen province. Slowglobal growth in 2019could drag on demand for Vietnam's electronics exports.


Reports from the General Statistics Office (GSO) showed the growth rate of theprocessing and manufacturing sector slowed to 11.18 percent in the first halfof the year, from the 12.7 percent in H1 2018.

Analysts from Fitch Solutions forecast the slowdown would continue in thesecond half of the year due to easing external demand.

"We maintain our view that slowing external demand on the back of slowingglobal growth will weigh on Viet Nam's industrial activity, particularly forthe manufacturing sector, over the remainder of 2019, although we still expectmanufacturing to be the largest contributor to growth," the analysts told Vietnam News.

According to Fitch, global growth is expected to slow to 2.9 percent in 2019,from 3.2 percent in 2018, which would drag on demand for Vietnam's electronicsexports. The products currently account for 40 percent of the country's totalexports.

In fact, a cutback in gross fixed capital formation (GFCF) in economiesdownstream in the global electronics supply chain has been seen. For example,facility investment in the Republic of Korea fell by 16.1 percent year-on-yearin the first quarter of 2019, which suggests a pessimistic business outlookamong RoK businesses. Additionally, fixed capital formation in India slowed to3.6 percent year-on-year in the quarter ending March 2019, from 11.7 percentyear-on-year in the December 2018 quarter.
"Given Vietnam's position upstream in the global electronicssupply chain, we believe that this trend bodes poorly for Vietnam's exportgrowth outlook over the near term," Fitch analysts said, adding slowingeurozone growth, forecast to come in at 1.6 percent in 2019 from 2.1 percent in2018, would also weigh on demand for Vietnam's exports to the EU, whichconstitute 17 percent of the country's total exports.

GSO Director General Nguyen Bich Lam told a conference last week that exportturnover of some key export staples has been under downtrend and could notmaintain the growth momentum in the second half of this year.

Lam was concerned that in the second half of 2019, it would be difficult forthe processing and manufacturing industry to retain the growth rate as in thesame period last year.

Experts said easing external demand, together with unfavourable base effectsover the remainder of 2019, would weigh on Vietnam's growth, particularly inthe final quarter. Fitch forecast Vietnam's real GDP growth to come in at 6.5 percentthis year, down from 7.1 percent in 2018.

Positive signs
Despite some drag from manufacturing, experts also pointed outconstruction and services growth should remain resilient and provide somesupport to Vietnam's overall growth.

"Strong foreign direct investment (FDI) in real estate businesses over 2018 aswell as over the first five months of 2019 inform our view for constructionactivity to remain robust over the coming quarters," Fitch analysts said.

Fitch also expects the country's services sector to receive support from animprovement in the labour market and strong foreign investment.

The GSO's labour market data showed a decline in youth (15-24 years old) urbanunemployment to 9.8 percent in the second quarter of 2019 from 10.6 percent inthe previous quarter, despite overall urban unemployment remaining stable at3.1 percent. Over the same period, urban underemployment rose to 0.95 percentfrom 0.60 percent.

These figures suggest insufficient job creation in areas which urban youths areskilled in, and this is prompting these individuals to seek out employmentwhich does not adequately leverage their skillsets.

However, experts forecast this trend would likely be temporary as animprovement in the overall economic outlook on the back of the shift of businessoperations from China to Vietnam and a better export outlook supported by theEU-Vietnam Free Trade Agreement and Vietnam's ratification of the Comprehensiveand Progressive Agreement for Trans-Pacific Partnership, amongst others, shouldprovide strong tailwinds for job creation which cater better to thecapabilities of the workforce. A stronger labour market outlook should bolsterincomes and consequently retail services.

Additionally, overall FDI in Vietnam continues to be robust and this should alsosupport services activities, especially in warehousing, transport, finance andreal estate, over the coming months.

As the positive impacts are expected to mainly show in Vietnam's 2020 growthprints, Fitch revised up its 2020 growth forecast for Vietnam to 6.8 percentfrom 6.5 percent previously. – VNS

The good times are expected to continue with the right governmental support, business incentives, and corporate interest. Towards the end of 2020 we will see a rise in industrial property supply in Vietnam.

A study of Google and Temasek from Singapore reports that Vietnam's digital economy reached 3 billion USD in 2015 and 9 billion USD in 2019, and will reach 30 billion USD in 2025.  

The Vietnamese economy is expected to grow at around 6.7 per cent this year, the fastest rate in South East Asia, according to the Institute of Chartered Accountants in England and Wales' recent report.