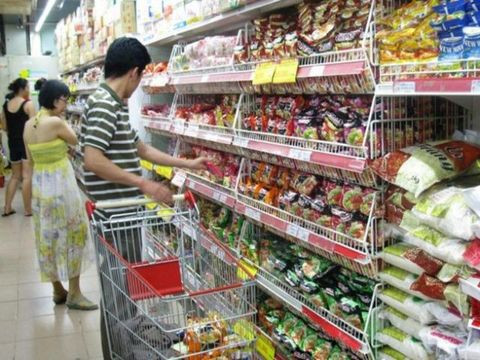 Vietnamese instant noodles on a shelf in a supermarket in Ha Noi. — VNA/VNS Photo
The decision will only take effect after all member countries have ratified it, which is expected to be done by the end of April.
If they support the recommendation, Vietnamese products will still be subject to 20 per cent random testing.
This move comes after the Department of Science and Technology under the Ministry of Industry and Trade (MoIT) recently held a working session with eight Vietnamese exporters of rice noodles and vermicelli to ensure the quality and safety of their products going to the European markets.
The MoIT has directed producers to employ several testing agencies with explicit instructions to follow the EU's testing regulations and standards strictly.
In February 2022, the EU listed several Vietnamese rice noodle and vermicelli brands under its Regulation (EU) 2019/1793, subjecting the products to a temporary increase of official controls and emergency measures governing entry into the European Union.
In response, measures have been taken by the MoIT and exporters to review and investigate the supply chain, as well as the production of such products.
During the last six months of 2022, no incidents were reported in which Vietnamese products were found to break EU safety and standard rules.
As a result, the SANTE Directorate-General for Health and Food Safety of the European Commission has officially acknowledged the country's efforts in addressing the safety of its brands in a meeting with Việt Nam's trade delegation in Belgium.
The Directorate is responsible for ensuring that EU policies and regulations relating to public health, food safety, and animal and plant health are implemented effectively.
During the meeting, the MoIT assured the directorate of the country's commitment and dedication to following EU regulations on import and product safety, as well as those of other markets around the world. — VNS