Economics professor in the UK: you can contribute to homeland from abroad
"I chose to stay in the UK, not because I can find a good job here, but I believe that I still need more time to accumulate experience and money before I return to Vietnam and do something bigger," said Trinh Quang Vu.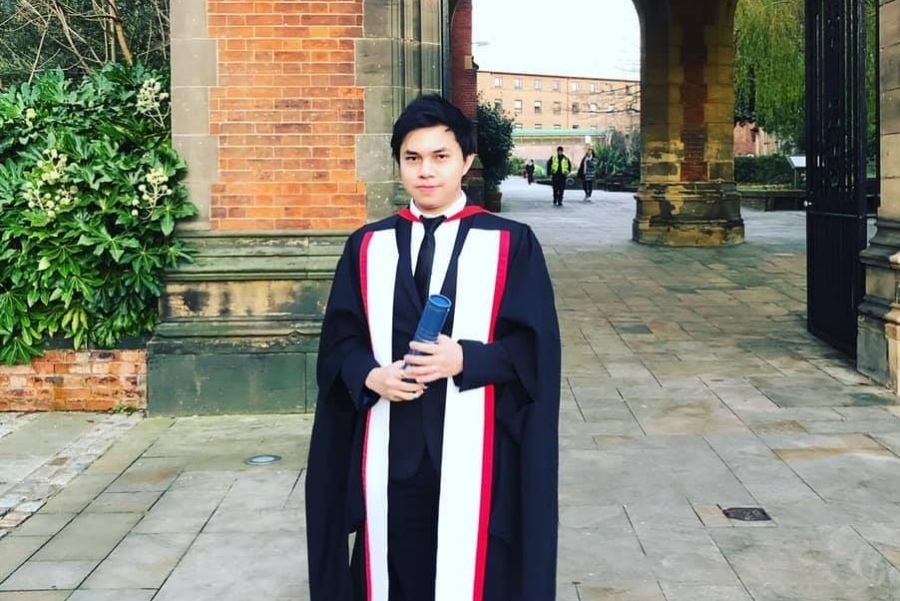 Trinh Quang Vu
Vu, 31, is currently a lecturer of finance and accounting at Newcastle University in the UK.
He was a student at HCMC Economics University, obtained a master's degree in finance administration from Northumbria University and a doctorate in finance from Newcastle University in 2019.
He has published articles in finance, accounting and banking in the world's prestigious journals. His major research field relates to corporate governance, CEO management, CEOs and boards of directors' work in relation with financial indexes and companies' important policies.
After receiving his doctorate when he was 28 years old, Vu decided to stay in the UK instead of coming back to Vietnam.
Except for people who study abroad on state-granted scholarships and have to return to Vietnam after graduation, 90 percent of young people want to stay and work in foreign countries, he said.
To become a lecturer in the UK
It's not easy to find a job at a university in the UK, according to the 9X lecturer, because of the fierce competition. A doctorate is the minimum degree required by most schools in the UK. Therefore, all candidates have very good CVs and special abilities.

I chose to stay in the UK, not because I can find a good job here, but I believe that I still need more time to accumulate experience and money before I return to Vietnam and do something bigger,"
Trinh Quang Vu
Before he set to work on his doctoral dissertation, Vu tried to apply for the post of lecturer at some universities. However, as the CV was not strong enough, he failed. This helped him realize what schools were seeking from candidates and prompted him to focus on building the virtues that schools wanted.
After obtaining a doctorate and publishing some scientific articles, an opportunity came to him.
Before getting the opportunity of becoming a lecturer at Newcastle University, Vu worked for Huddersfield University for one year.
According to Vu, no matter which school lecturers work for, they will be highly appreciated if they have articles published in prestigious academic journals. This is not only an obligation, but also a driving force for the career development of every researcher.
When Vu applied for Newcastle University, he knew that his competitors were impressive as they had many years of working experience. Finally, he was the one chosen by the school, thanks to the articles published in prestigious journals as the first author.
High-quality scientific articles on prestigious journals is a great advantage, but this was not enough.
"Another important factor is your presentation before the board of recruitment. A progressive attitude, confidence, right attitude and thinking, and sincerity will help candidates succeed," he said.
When interviewed, candidates need to show most clearly who they are, the plans they have, and if they can contribute to the school's development.
He had two days of interviews with different boards. In general, the strict recruitment process was necessary to be sure that the school can find the right people who can contribute to the school brand and development. Each school follows its own recruitment way and procedure.
Stay overseas if you have opportunities
Asked what he thought when deciding to stay in the UK, Vu said he did not have to spend too much time wavering between staying in the UK and returning to Vietnam.
He said the brain drain concept seems to be no longer applicable to the modern "flat" world.
Some people can make direct contributions to the country when they return to their homeland with the knowledge they receive overseas. Meanwhile, others can also make their contribution to the homeland in their own way, though they stay overseas. While the ways they follow are different, they will still reach the goal.
According to Vu, there are many talented Vietnamese scientists living and working in foreign countries. At top-tier universities in the UK, they are leading professors and influential lecturers.
Overseas Vietnamese can develop well, and are full of energy, work hard and seek opportunities, so the image of Vietnamese is highly appreciated, especially in the academic environment.
When Vietnamese people work overseas, they, with their different perspectives, can act as advisors to Vietnam. Moreover, when they rise to fame overseas, they can make great contributions to the homeland, not only in scientific knowledge, but also in financing.
"Some people think that Vietnamese students prefer staying overseas because of good jobs and high pay. But I believe that talented people can earn a lot of money, no matter where they are," he said.
They choose to stay overseas because they want to promote themselves, study the things they want, and then bring that value when returning to Vietnam and contributing to homeland development.
"Young people make choices depending on their conditions and viewpoints. But I believe that staying overseas to accumulate experience is the optimal choice for them," he said.
"Lecturers can accumulate experience in researching and working at universities in the world. When the right time comes and they become strong enough and have international relations, they should come back to Vietnam," he said. 
Thuy Nga

Tran Kha Vy, 23, has had quite an experience studying abroad at Minerva Schools at KGI (USA), which has an acceptance rate of only 1.8%.

Nguyen Thuy Dan won a scholarship from Columbia University in the US to pursue a doctorate in East Asian languages and cultures, with research on the formation and development of Vietnamese thoughts in medieval and modern times.