If previously, Singaporean education investors saw opportunities in opening new training facilities in Vietnam or joint training programmes with existing educational institutions, the market in recent times has witnessed the entry of more Singaporean funds into the edtech sector.
Clevai, a Vietnamese after-school tutoring platform for K-12 students, last month was the first edtech startup in Vietnam to be selected as an emerging giant in Asia-Pacific 2022 by HSBC and KPMG, based on estimated company value, total venture capital received, and future growth potential.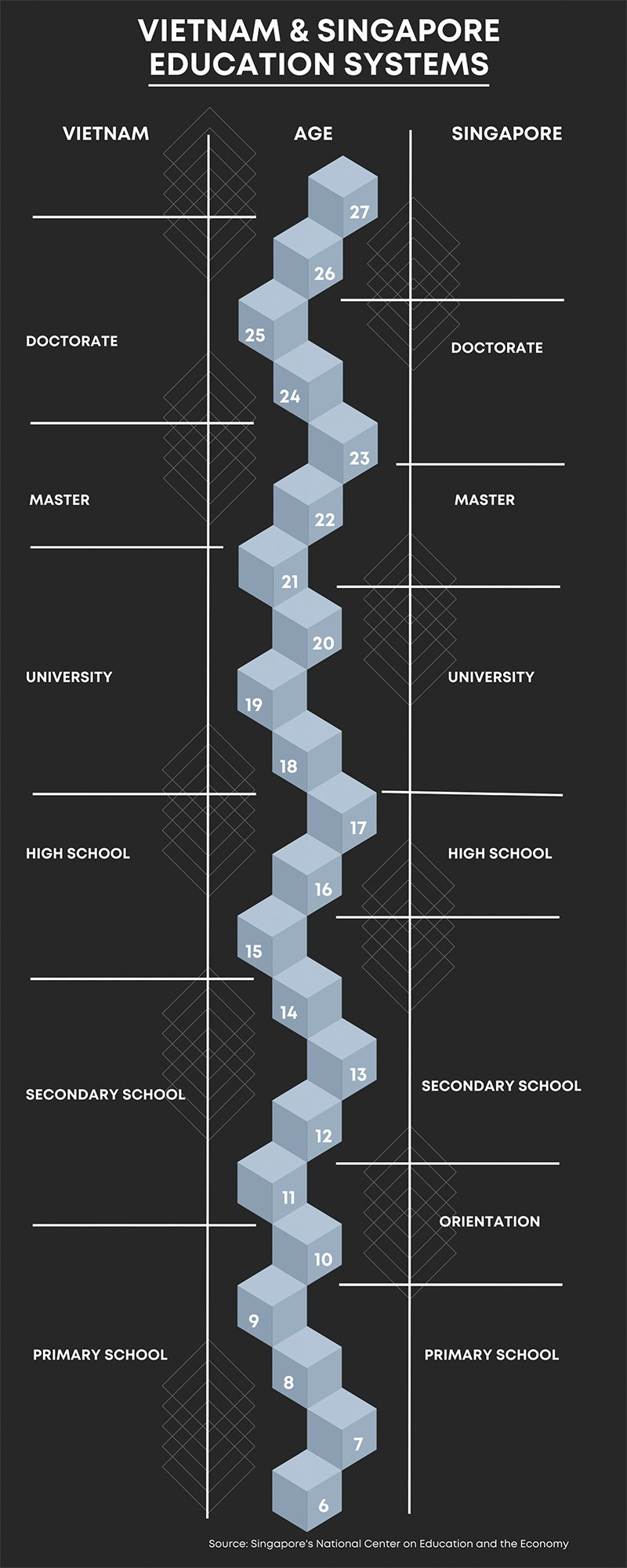 The joint report highlighted 10 emerging giants in Vietnam that will make a lasting impact on the regional and global landscape over the next decade. Last September, Clevai raised $2.1 million in a pre-Series A funding round led by Singapore-based Altara Ventures.
In the same year, English-learning platform Educa raised $2 million from Redefine Capital Fund. After-school learning app Marathon also reported securing $1.5 million in pre-seed from numerous funds and angel investors, including Singapore's Forge Ventures.
Educational cooperation has always been one of the highlights of the relationship between the two countries, with active participation from both the private and public sectors. According to the Ministry of Planning and Investment, Singapore ranks second in foreign-invested projects in education in Vietnam. The biggest cities are most attractive, but other localities are starting to receive investors' attention.
Present in Vietnam for over 20 years, KinderWorld Group is currently the largest Singaporean education investor in Vietnam, with 15 schools located in eight different cities and provinces. The group is currently in talks with the central province of Thanh Hoa to build a 200-hectare eco-tourism and education complex. Elsewhere, Vietnam–Singapore Training Centre marked its 20th anniversary in March. To date, the centre has organised almost 450 training courses for over 11,000 Vietnamese officials and trainees in logistics, public policy, cybersecurity, crisis management, media management, and public diplomacy.
In April, Ho Chi Minh City People's Committee and the Ministry of Education of Singapore signed an MoU with the aim to enhance the quality of university education in Ho Chi Minh City in selected fields through joint research projects and use of common laboratories in areas of mutual interest. The agreement is valid until 2027 and can be extended for another five years.
The shift to private investment with edtech being the main focus occurred gradually over the past five years. Northstar Singapore's $50 million investment in Topica Edtech Group in 2018 was one of the biggest deals for an online education company in Southeast Asia. At the time, Topica offered 2,000 short courses and a platform for 12 Southeast Asian universities to offer online degrees and curricula. The group is expected to go through another round of fundraising this year, with details in terms of amount and investors not yet disclosed.
In the same year, the education evaluation and course booking platform Edu2Review also received funding from Singapore's Nest Tech. Although the investment amount was not disclosed, Edu2Review at the time said the deal had raised Edu2Review's valuation to five times that of the same period in 2017.
Experts credit Vietnam's current market appeal for two reasons: the similarities in educational approach and a young and tech-savvy population. "Singapore and Vietnam both run similar systems of a centralised and structured approach where students are given a prescribed national curriculum and enjoy relatively uniform classroom teaching and practice," said Nguyen Trung Kien, director of KPMG Private Enterprise. "Singapore's education is also among the elites in the region, and is one of the most popular destinations for Vietnamese students seeking further education."
According to the Ministry of Education and Training, Vietnam currently has over five million children in preschool and kindergartens, almost 18 million students attending primary, secondary, and high schools, and over 1.7 million in tertiary education. With the internet penetration rate of over 70 per cent, the preference for online education is forecasted to remain high.
Despite the influx of investment and the rapid pace of development, at the moment, there is no specific legal framework for edtech under Vietnamese law. Many related laws such as those on investment, enterprises, and education are constantly being revised or supplemented as the government seeks to address inconsistencies. Experts assess that in the short to medium term, this reality may add an extra layer of complexity for investors who want to operate in Vietnam.
"There exist however challenges that investors must overcome to successfully realise Vietnam's market potential – and education is one of the few industries that are closely regulated both in terms of establishment and operation," Kien of KPMG added. "However, I believe in the government's genuine intention of enabling a more transparent and fair business environment for all so investors should interpret these changes as encouraging."
Source: VIR